Over the 4th of July, we did a fun roadtrip to the San Juan Islands.  Wow!  Such a stunning place.  And it's only a 2 hour drive + 1 hour ferry from Seattle so it's a great weekend getaway!
Here's a little photo journey of our trip  + lots of things to do in the San Juan Islands with kids!
our trip to the san juan islands
day one:  the ferry to friday harbor
We had evening ferry reservations so John took a half day and we left Seattle until after lunch.  The traffic was pretty terrible so we *almost* missed our boat, but thankfully we were able to drive right on & leave on time.  As usual, the kids ADORED the ferry.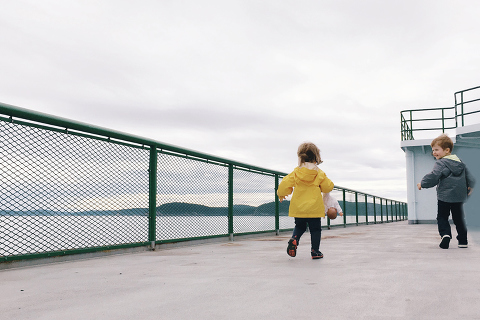 After arriving in Friday Harbor, we checked into our VRBO (two blocks from the ferry terminal!), and set out for dinner at Cask & Schooner.  YUM.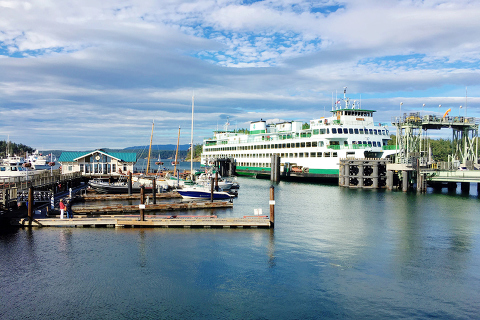 There's an ice cream shop right next to the ferry so obviously we had to give that a try.  After dinner we did a little driving around the island until the kids were worn out, and rested up for day two!
day two:  jakle's lagoon, san juan winery & san juan distillery
We began with a big breakfast at Rocky Bay Cafe and then headed to the southern portion of San Juan Island, specifically the American Camp/San Juan Island National Historical Park.  On the way we stopped at Jakle's Lagoon for a nature walk.  We did a little 1 mile 'self-guided' loop because we knew the kids would be able to handle that amount of walking/hiking.  We took a turn and unexpectedly ended up on a completely secluded beach in Griffin Bay.  It was low tide & absolutely stunning.  We didn't see another person the whole time we were on this beach.  The highlight of the entire weekend!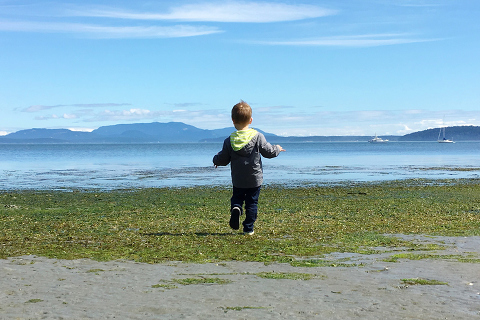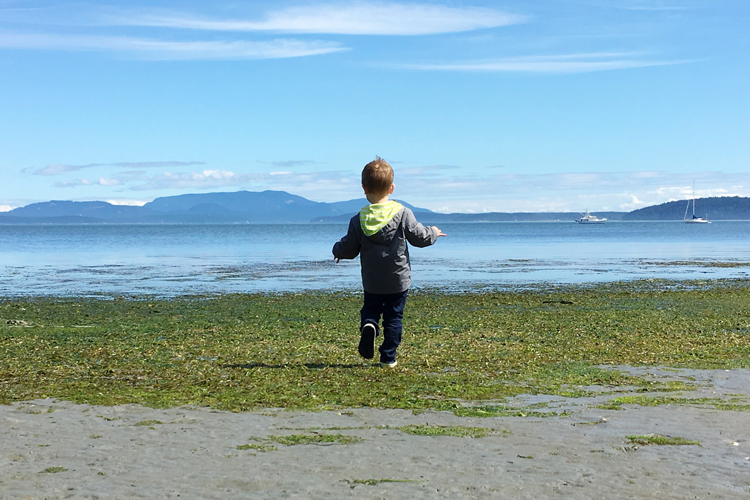 After the beach, we drove to the Lighthouse at American Camp… the kids fell asleep on that short drive (turns out a nature walk is great for wearing out young children!)  This is the view from the point:
With the kids asleep, we decided to drive to San Juan Distillery & Westcott Bay Cider to do a tasting.  We took turns (I handled the cider tasting & John handled the liquor) while the kids napped.  It wasn't a planned stop, but worked out perfectly.  Plus, the 'very dry' cider from Westcott Bay was delish!
The kids woke up after the tastings so we started heading back to the condo.  On the way we saw a sign for San Juan Vineyards and stopped for some yummy snacks & wine.  They have a great outdoor space where the kids had fun running around while we tasted a couple wines.  Random fact: one of their wines is named for Mona, the CAMEL that lives on the farm across the street (the kids loved waving at her as we drove by)!
We ate dinner at Backdoor Kitchen in Friday Harbor, which was recommended to us by someone at the winery.  We never would have found it on our own… it's hidden behind an industrial park… but the food was delicious!  A little bit fancier than we were expecting, but the kids did alright (thanks to some assistance from the iPad).
Day three: Roche Harbor, British Camp & Mt Young
For day three we headed to Roche Harbor to get donuts from Lime Kiln Cafe (recommended to us by the owner of our VRBO).  Roche Harbor is ADORABLE!  I was so busy oooohing and aaahhhing over all the boats and the cute 4th of July decorations that I didn't even snap photos (oops).  Don't worry, I didn't forget to photograph the donuts though.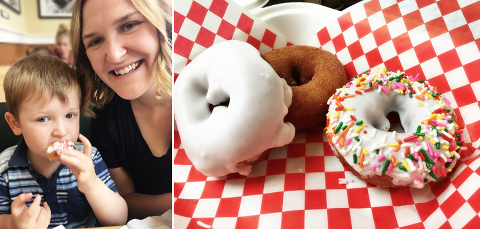 From there we headed to Mount Young, which is on the north side of the island in English Camp.  It's a 2 mile hike which we knew would be a stretch for Colin, but I'm so glad we gave it a shot.  He did better than I expected… walking about 75% of it on his own.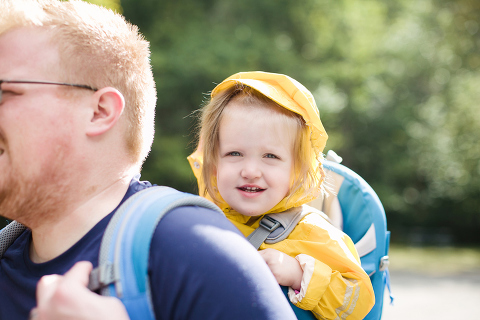 The view from the top was worth all the "pwwweeeease carry me, Mom!!"'s that I had to listen to for the mile hike up.
At the top, Colin kept us all entertained by sitting down next to a couple strangers (enjoying a quiet picnic lunch) and saying 'Hi, my name is Colin!  Dat's my sister, Jillian!  My mom is named Casey and my dad is named John!'  Sometimes I wonder how this little extrovert came from such happily introverted parents.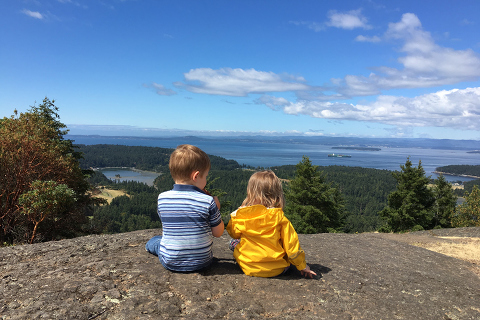 After the hike, we went back to the condo and I took Colin to see Finding Dory (there was a movie theater next door) while Jill took a very necessary nap.  It was Colin's first movie in the theater which was fun!
After the movie, we went to Hungry Clam for dinner.  It's VERY kid friendly… an old-fashioned diner with yummy food.  We then drove all the way back to Roche Harbor (it's so cute!) to get some ice cream right near the dock at The Ice Cream Emporium.  They bring in the ice cream from Lopez Island Creamery and it was SO GOOD.  (Way better than the ice cream at the place near the ferry terminal, if you ask me.)
day four: lime kiln state park & ferry ride home
For our final morning in the islands, we grabbed a quick breakfast at Cafe Demeter.  They were the only place we could find that was open (it was early on the 4th of July), but the baked goods & coffee were great.  Plus the kids were content too.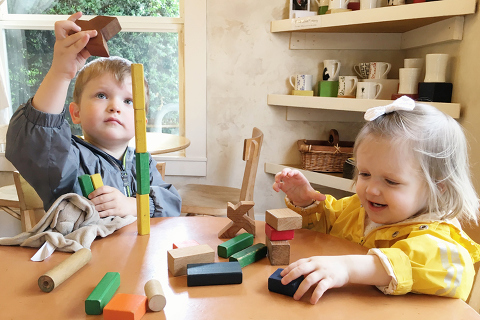 After breakfast we drove over to the west side of the island to Lime Kiln State Park.  There's a whale watching site, but we only stayed for a short while & didn't see any action (just a couple seals resting on the rocks).  We decided it would be best to head back to Friday Harbor early & get in line for the ferry because the BIG 4th of July parade shut down many of the streets downtown.  Thankfully, we made it on an earlier ferry and avoided the craziness (I'm not a big fan of parades).
Oh, the ferry ride through the islands is just amazing… so much beauty in this place.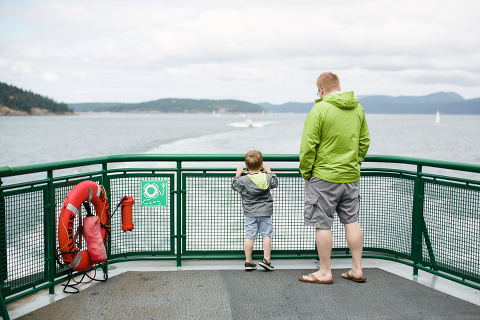 Farewell, San Juan Islands!  We LOVED our stay!