Earlier this month, John's mom & her husband came into town for a visit. People seem a lot more eager to visit us in Seattle than they ever did in Minneapolis. Either we got more interesting or it's the grandbaby. [Your guess is as good as mine.]
Anyway, this couple loves to travel. If you asked me 'where is John's mom right now?', I couldn't be sure. On a cruise ship in the Artic Circle? Touring Europe? Swinging by South America? [all within the last year] So, when they announced their visit, naturally they asked me to start researching a weekend getaway for us.
We landed on Victoria in British Columbia. Just a 2.5 hour ferry ride away, we thought it would be a great weekend trip. I booked seats on the Victoria Clipper ferry, our hotel & a tour of the Butchart Gardens through Clipper Vacations. All we had to do was show up at the dock, on time, and they took care of the rest. Easy peasy. [That's the way I like it when trying to leave the country with a 9 month old for the weekend!]
I posted a few photos on Instagram of the ferry & the harbor at night, but my favorite photos of the weekend are from the Butchart Gardens tour. We spent 2 hours there, but could easily have spent a full day. It's quite impressive.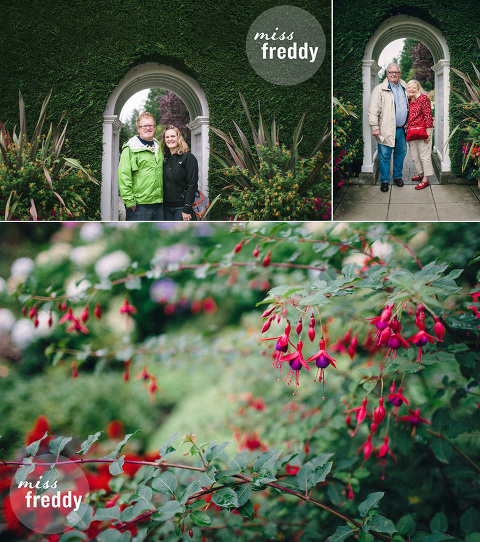 Out of the entire garden [well, at least the part we covered], the hot pink & purple flowers above were my favorite.
SO VIBRANT!
The flowers make a lovely background, but these guys are my favorite subjects…
It was a great trip & an easy option from Seattle. To be honest, it wasn't ideal for a 9 month old [early wakeup + long, confined ferry ride + immediately hopping onto a tour bus = overtired baby], but luckily he was a champ. Also, leaving the country involves a lot of time waiting in lines for immigration/customs, so while a single-day trip is available, my advice is to extend your stay for at least one night to make it worth it! Happy travels!