This time of year I frequently get asked by my clients for recommendations on where to order holiday cards. Since my digital files include a print release, my clients are welcome to take their photos anywhere they'd like, but I'm always thankful when they ask for a recommendation because there can be dramatic differences in quality & color across companies.  [and it makes me sad when I see beautiful photos ruined by horrible coloring from a cheap printer!]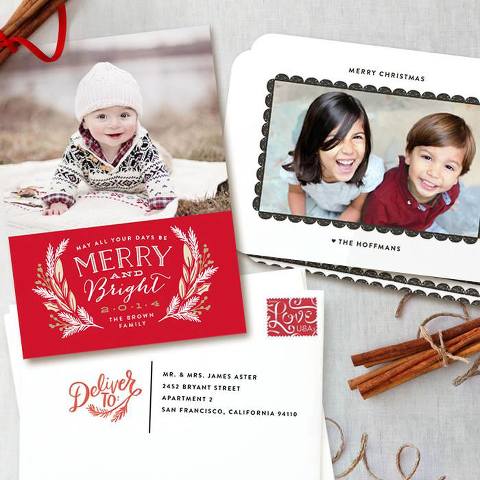 [photo credit:  minted.com]
Don't let bad color happen to you.  Stick with one of these awesome companies:
BEST OVERALL:  Minted is my favorite company.  They offer a wide variety of designs that are fresh & fabulous [a couple cards are pictured above].  They have excellent color/paper quality.  Their prices are pretty reasonable AND they often offer discount codes.  PLUS, this year they've released really fun envelope designs [also pictured above] and will even ADDRESS YOUR ENVELOPES!  What an amazing time saver!
BEST QUALITY:  Pinhole Press.  If paper quality is your deciding factor, look no further.  I was introduced to Pinhole Press when I attended a photography convention a couple years ago.  I was drawn to their booth because their products were stunning.  I love that their designs are clean & simple.  And the quality makes a statement.
BEST VALUE:  Tiny Prints.  They're owned by Shutterfly, but I find their quality & designs are superior.  Plus, they're always offering discount codes which makes everything really reasonable.  So, if you're looking for a cute card at a reasonable price- check them out!
Disclaimer:  This post contains affiliate links. If you purchase a product through an affiliate link, you will pay the same price but I receive a small commission.  I only share products I love from companies I trust!