Every year I celebrate Miss Freddy's "birthday" and this month she is is FOUR YEARS OLD!  In the past I've carefully selected a photo from every session I did that specific year (mini sessions excluded) for a "Freddy's Favorites" contest.  I've loved that tradition, but, truth be told, this year's Freddy's Favorites contest would contain approximately 3 photos because of the whole moving-to-a-new-state-and-starting-over thing.  So, instead, I decided to take a year off of the Freddy's Favorites and do TWO giveaways that will also honor my new Professional Photo Organizing services!  Double the fun! HOORAY!
Giveaway #1:  A photo organizing package from Miss Freddy!
This is QUITE the prize, my friends.  Valued at $600!  The lucky winner will receive 3 hours of photo scanning (or if your photos are already all digital then I'll do 3 hours of photo editing) + a custom-designed family yearbook (or a baby book if you need it!) + an annual video reel (or VHS tape conversion).  So many options means this will work for anyone!  I can't wait to help you organize your photos into a format your family will LOVE!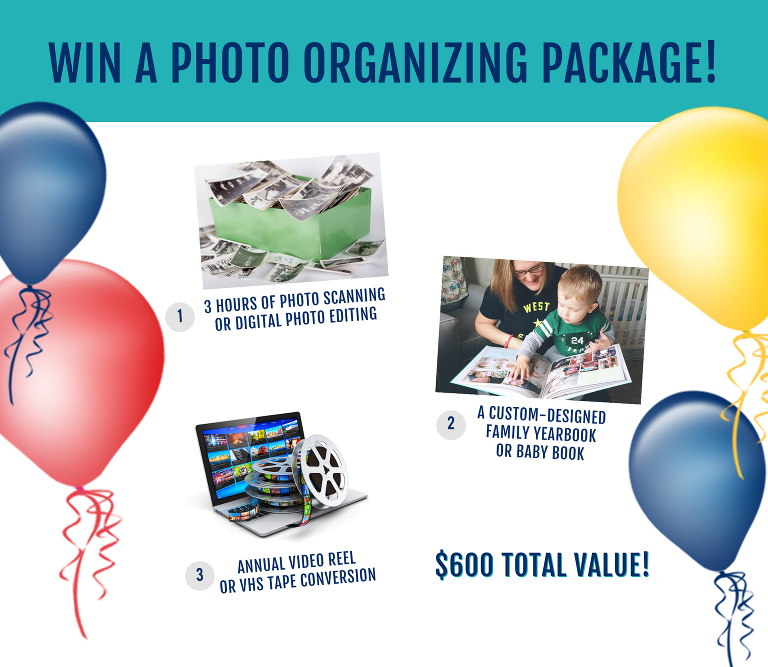 Giveaway #2:  A mini session with Miss Freddy!
I am giving away a FREE MINI SESSION which includes my 2017 travel sessions!  So, if you're in the Denver, Seattle, Minneapolis, or Milwaukee areas, you're eligible to win.  This prize is valued up to $299!  I can't wait to photograph your family!
Enter to win!
Follow the instructions below to enter the Rafflecopter giveaways.  Good luck, friends!
a Rafflecopter giveaway