We so rarely print our photos anymore.  It's the digital age.  Yet, most of us have boxes of printed photos from the past hiding in storage.  On occasion, we see the boxes and think 'WHAT should I do with those?'  We do nothing.  We see the boxes and think 'There are some great memories in there… I wish they were organized."  Yet, we do nothing.
When I read that 8 out of 10 millennials do not want their parents scrapbooks or boxes of photos (because of their minimalist tendencies and digital lifestyle), I could relate.  I don't like clutter and old photos take up SO MUCH SPACE.
I could see the writing on the wall.  Photos and scrapbooks that hold so much history and lifetimes of memories… thrown away.  Does that hurt your heart a little?  It's basically why I became a Professional Photo Organizer.
I want to help simplify YOUR lifetime of photos and turn them into a meaningful format you can enjoy.  I will scan your scrapbooks, photo albums, loose photos, and memorabilia and save them in digital form.  Then, I'll turn those digital files into a beautiful keepsake album that tells your story.  Your entire attic of photos will become a tiny USB drive (even a millennial will happily take that!) and a single, simple album that can be treasured forever.
organizing a lifetime of photos
Here's an example.  I started with EIGHT BOXES of photos and memorabilia from my mother-in-law.  The items in these boxes ranged from her parent's childhood photos (even a lock of her mother's hair!) to her own childhood photos, to photos that documented the lives of her three children (my husband included).  This project was a big undertaking for sure (but fun for a nerd like me!).

First, I organized everything into categories.  Things like "High School Years", "Trip Around the World," and "Just Married."
Then, I scanned each individual item using various scanners (I will write more about my preferred scanners in a future post).
After everything was digital, I went through the files and selected favorites from each category.  I used the favorites to design album pages and worked with my mother-in-law to write sentences telling her story.
Here's a peek into the album: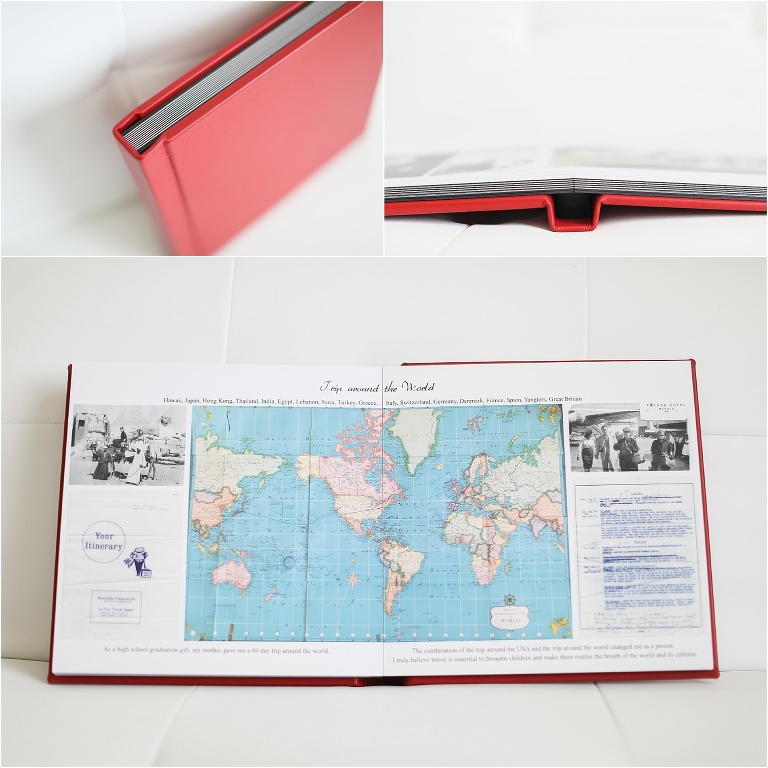 I especially had fun reading about her trip around the world (shown above).  The colorful map in the center was actually an enormous wall-sized poster, with her own scribbles, that I photographed so it could be included in the album.  Plus some scans of her original itinerary, creased from being carried around the world in her purse.  Very cool memories.
In the end I will create 5 total albums out of her photos.  One of her childhood (shown above), one of her marriage, and one for each child.  Simple.  And so very beautiful.
need help managing your old photos?
I'd LOVE to help!  And you don't need to live in Colorado to take advantage of my photo organizing services!  I can't wait to help you scan, restore, organize, or backup your photos so your family can ENJOY THEM!