Continuing with my Holiday Photo Gifts series this month, I'm back with more Pinhole Press items that are perfect for GRANDPARENTS (or really any adult).  Everything is under $50 and takes only a few minutes to design.
1. Magnetic Photo Calendar
I love the simple, traditional look of this magnetic calendar.  It really allows the photos to be the star.  The grandparents will love having this displayed on their fridge and all you had to do was drop 12 photos into the template!  So simple!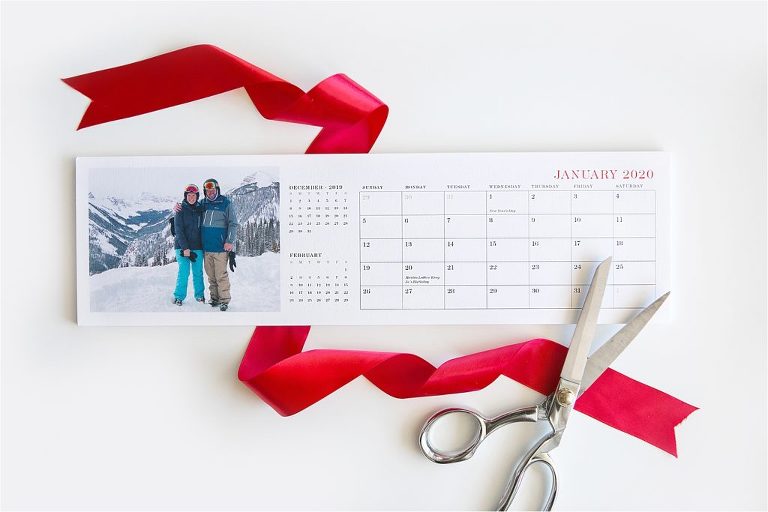 2. Story Starter Poster Frame Set
The Story Starter Poster Frame is a personalized gift where your kids can add their own artistic flair! It's the most expensive item on the list, but it's LARGE (11×14 size) and includes three beautiful prints along with the frame. I love how you can drop the photos into shaped templates (the heart is shown here).

3. Custom Wine Labels
Ok, this gift is so fun. For $10 you can get a set of 9 wine bottle labels! Slap it onto your favorite bottle of wine and gift it to the grandparents (or neighbors)! I dropped in our Christmas card photo and I love how it turned out! They also sell beer labels if that's more your "taste."
4. Weekly Photo Notepad
Again, with the simple and stunning designs… this is why I love Pinhole. This 2020 Notepad is a great gift and takes only a second to drop in your two favorite photos. It's perfect for using as a weekly menu planner (shown here)!
5. 10 Reasons I Love You Book
This 5×5 book is just the sweetest thing. It comes in a gift box, with a beautifully designed photo card! Inside the book are 10 numbered pages with blank lines where you can write in your 'reasons I love you.' Seriously, the most heartfelt gift from grandkids!
This post contains affiliate links. If you purchase one of these items using my affiliate link, I will make a small commission. Thanks for supporting my blog and helping me create more free content!