This time of year I frequently get asked by my clients and friends for recommendations on where to order holiday cards.  Your feeds are full of coupon codes for various companies, but how can you tell which ones do a great job?  I've tried a few companies over the years and a few consistently rise to the top. Stick with one of the companies below and you won't be disappointed!
WHERE TO ORDER HOLIDAY CARDS
MY FAVORITE: MINTED!  
Minted has my favorite card designs every single year.  Their designs are fresh & elegant (love their foil accents)! The color and paper quality are also impressive.  If that's not enough to convince you, they offer really fun envelope designs and will even ADDRESS YOUR ENVELOPES (see the photo below)!  What an amazing time saver!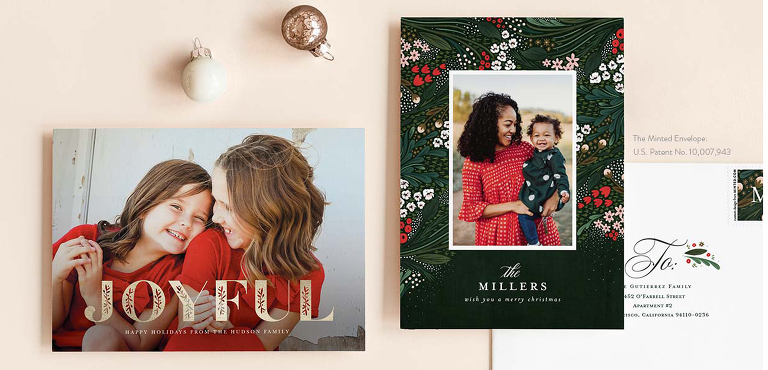 I ALSO LOVE:  ARTIFACT UPRISING!  
Artifact Uprising has stunning, minimalist designs.  The company was developed by professional photographers so you can absolutely trust that their color and quality is top notch.  You may pay a little more for their products, but it's worth it.
AND I CAN'T LEAVE OUT: PINHOLE PRESS!
I love Pinhole Press!  Their photo gifts are the best!  And their paper quality is amazing.  I love their holiday photo cards too because their designs stand out- they're bold but timeless.  While you're at their site ordering holiday cards, go ahead and throw a custom photo calendar + memory card game into your cart… you won't regret it!
Happy (early) holidays, friends!  
*This post contains affiliate links.  If you make a purchase based on my recommendation, I'll receive a small commission.  Thanks for supporting my small business!