I make sure my entire family gets in front of the camera at least once a year for updated photos.  Not only is it necessary for things like home decor, holiday cards & my facebook profile photo [just being honest]… it's important to put myself through a photo session as the subject so that I can remember what it feels like to be the client and ultimately help my own clients be more comfortable in front of the lens.
For our last photo session, the toughest thing was definitely figuring out WHAT TO WEAR!  If you're struggling with the same thing, I've pulled together a cute spring-inspired look for the entire family.  Everything you see is from Old Navy so you can look cute (and be comfortable) for a reasonable price!
what to wear for family photos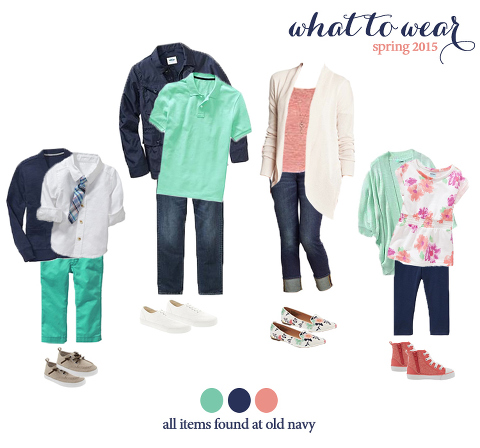 boy : cardigan I  shirt  I  pants  I  shoes
dad:  jacket  I  polo  I  jeans  I  shoes
mom:  sweater  I  shirt  I  jeans  I  shoes
girl:  sweater  I  dress  I  leggings  I  shoes
No, really… someone please show up to your spring shoot in these outfits.  Pretty please?
Disclaimer:  This post contains affiliate links.  If you purchase a product through an affiliate link, you will pay the same price, but I receive a small commission.  I only share products I love from companies I trust.