Over the years I've shared many family yearbook posts here on the blog and it's time to reveal my latest album!
It looks a little different than prior years because I tried a fabric cover- I wanted something fancier to display on our living room table. It's a 10×10 photo book from Printique (my favorite) and I actually really love the fabric, even though it doesn't match my previous years when I did the photo wrap. They have options to do full fabric or this photo inset like you see here.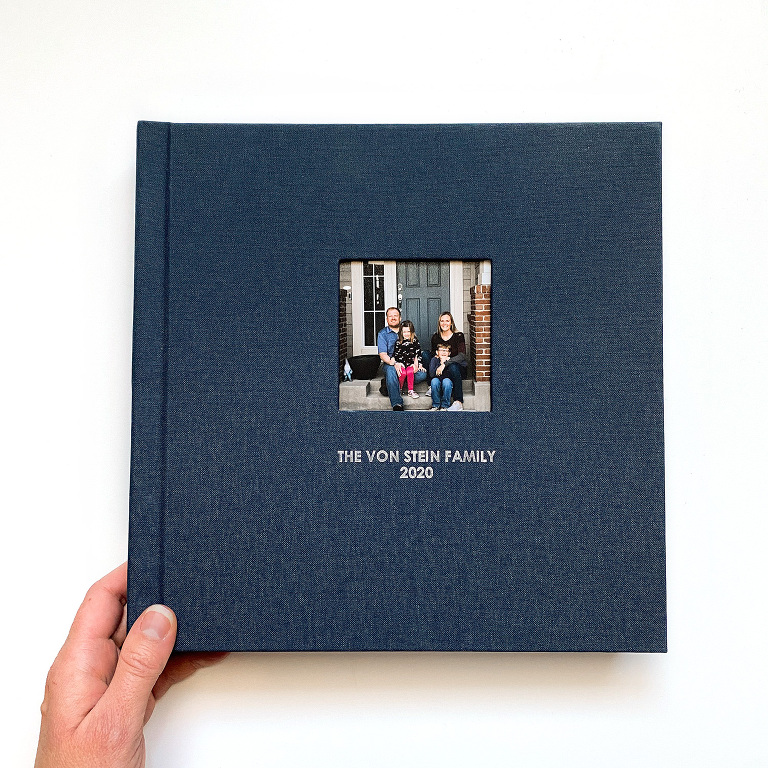 If you're new here, I have an online course that goes through ALL the details of my process, but let's jump into the book…
OUR 2020 FAMILY YEARBOOK
My book follows the same format I've used for years- a monthly summary page that has a few sentences covering the highlights of the month followed by collages of photos from that month. I design everything in AlbumStomp on my Mac (it works on PC too).

This year I added a new QR code element to some of my pages (I talked about that in this blog post) and my kids LOVE it!
Another way this album differed from prior years is that it included a LOT of screen shots. During quarantine there was just SO MUCH humor on the internet, combined with a time where I just didn't take as many photos of my family. Screenshots can definitely help tell the story, like this one of our virtual learning schedule:

I often get asked how the lay-flat albums from Printique work if you have images that cross the center of the page. In the photo above you can see that there's no gap in the lay-flat page. The photos span seamlessly across the two pages which is beautiful, though I do try to avoid placing someone's face directly on this line if I can.
Want to flip through more pages? Take a look!
My finished book was 74 pages (most are shown above, but not all) and took 3 total hours to create (yes I set a timer… I'm THAT girl).
Want to create your own Family Yearbook?
Check out my self-paced Family Yearbooks online course for video tutorials and templates to help you quickly select photos + design your book!