At the beginning of 2016 I heard about an app called 1 Second Everyday. It's a simple app that combines 1 second video clips into an annual video of your life- it's a really fun way to document everyday moments.
I was hesitant in the beginning. I really didn't want to add one.more.thing to my daily to do list and I feared the commitment required. I decided to give it a try anyway and after one week, I was SO hooked.
The app is really simple- a calendar layout where you add a second clip to the day on the calendar. All of the 'mashing' is done automatically, in months/years/whatever interval of time you want to see, and the calendar dates are automatically added on top of the video when it's strung together. It's seriously so easy. SO easy. (I'm not even going to include a 'how-to' tutorial in this post because after installing the app, the rest is really intuitive).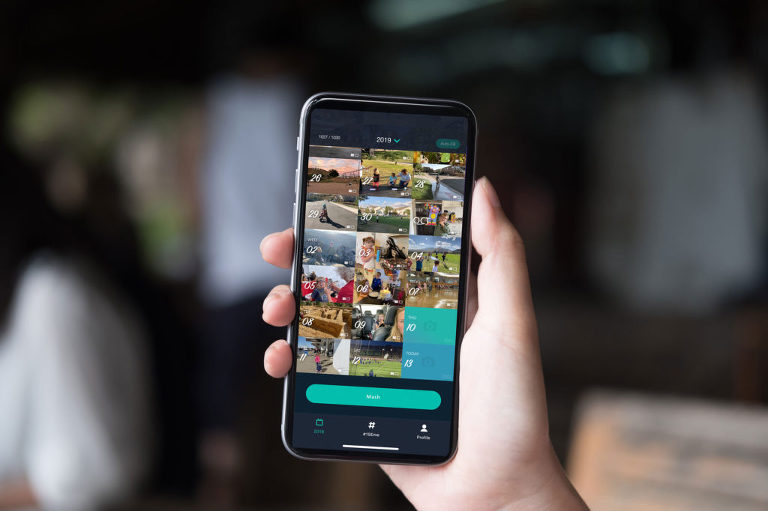 using the 1 Second Everyday App
After 3.5 years of using this app, I'm obviously a fan (and feel really silly for ever being scared of starting this project). I thought I would share some of my tips in order to encourage YOU to go ahead and START this project!
Note: All of this can be done in the free version of the app, but their Pro plan offers editing capabilities and longer length options if you want your clips to be longer than 1 second.
Take all videos in landscape style. If you're not used to rotating your phone to record video, just trust me… it makes an enormous difference in the final product! Soon it'll become second nature.
Miss a date? Add in 'filler'! Don't stress if you forget to take a video for a certain day. You can add in ANY video (when mashed, the date will show in order, not the date the video was taken). When I miss videos, I film a few 'extras' of generic things that could have happened any day- usually the dog, kids eating breakfast, something we do everyday. (When adding a snippet for a missed day, with Library selected at the bottom, tap Videos to see all of your filler options!)
Don't zoom. Never zoom by pinching your fingers on the screen- it'll degrade the quality of your movie. If your phone has two lenses, zoom by tapping the 2x instead so it switches lenses and maintains the higher quality recording. If you don't have two lenses, just walk closer to your subject!
Capture motion, while standing still. Let the motion come from your

subject

and not from

your

movement. Since the clips are so brief (one second is QUICK!), it's easier to watch as the viewer when filmed this way.
Mash + enjoy often. You can click 'Mash' at any time and select the dates you'd like to see strung together. It is fast, doesn't take up space on your phone, and really really fun to watch. My kids love to watch monthly mashups and seeing their joy keeps me motivated to continue with the project.
what do I do with my finished annual videos?
At the end of the year, I mash the full year and add a music track over the top (this year I upgraded to the 1SE Pro subscription plan that has music options included, but prior to this year I did it manually in iMovie).
When the video is finished, I upload it to YouTube (as unlisted) and share the link with my family members.
As a family, we watch the video on our TV, streaming directly from YouTube. It's so fun!
What do you think… are you going to give 1SE a try?!?!