Would you love to create family video diaries to document your memories? 1 Second Everyday allows you to do that. 1 Second Everyday is a mobile app that you can download from the Apple App Store or Google Play Store to your mobile device.
I discovered 1 Second Everyday in January 2016 and have been using it ever since!
I know that you might be wondering how you're going to learn to use a new app – I get it, you don't want another thing to add to your list when you're already a busy mom. When I first heard about 1 Second Everyday, I felt the same, but I will explain why it's the perfect app to create memories.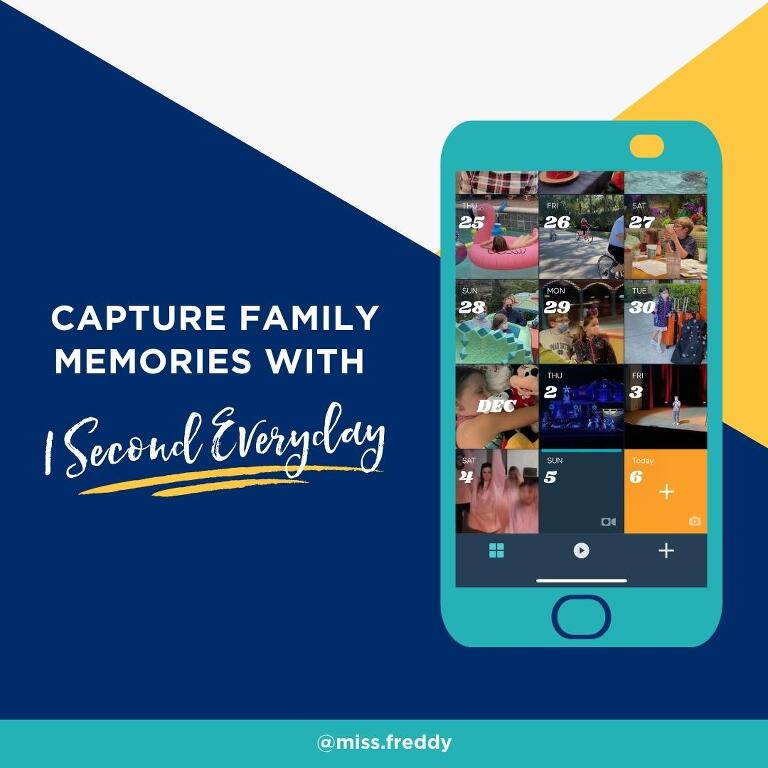 Why I love the 1 Second Everyday App:

1 Second Everyday is extremely easy to use!
When I first downloaded 1 Second Everyday, I thought it would be time-consuming. I assumed there was a huge learning curve and I did not think that I would be able to figure out how to use it, but luckily that was not the case.
1 Second Everyday is an app that does not require you to have any editing skills or be tech-savvy.
It brings us joy!
1 Second Everyday has brought me joy since 2016, which has kept me using the app. It also brings my kids joy! They are always asking to view the mashup of the past month or year, and I love showing it to them. 
It is free!
There are two versions of 1 Second Everyday. There is a free version and a paid version. I recommend beginning with the free version as it does everything you need! There is no reason to pay for the app if you are brand new to it. 
Download the free version, get into a routine of recording videos and see if you love it or hate it.
I now use the paid version because of how much I love it and want to continue supporting the creators. The paid plan is $30 per year and it allows me to create longer clips (2-10 seconds long), generate automatic backups and adjust the brightness, volume, saturation, background, music, and more.

---

How to use 1 Second Everyday

Step 1: Start recording videos of your day-to-day life
Live your life as normal and start recording your day-to-day activities with your standard camera app. There is an option to record within the app as well, however, this is not necessary.
As you continue to use 1 Second Everyday, you will become more aware of the project you are creating and you will notice that you may start to record more in your daily life. But when you are starting, there is no need to overthink the process as recording activities and parts of your day-to-day life is exactly what you need for your project.

Step 2: Commit to horizontal or vertical videos
I started recording vertical videos but the app prompted me to change from vertical videos to horizontal videos. It may feel uncomfortable or unnatural at first, but with time, you will adjust.
There is a vertical option that 1 Second Everyday introduced so you do have the option of keeping all of your videos vertical if you do not like the horizontal view. However, once you select an option, either horizontal or vertical, I recommend keeping that preference for all of your videos for a smooth and consistent viewing process.

Step 3: Select the length of time for the clip
There are two options on the free version of 1 Second Everyday, 1 second and 1.5 seconds. I use 1.5 seconds as I have noticed 1 second can be too quick and the extra 0.5 seconds gives me a little extra time to play around with.
Once you have selected the length of time, this will be saved as default so there will be no need to adjust the length of the clip each time.
On the paid version of the app, you can upload clips between 2-10 seconds long.

Step 4: Batch upload your videos into 1 Second Everyday
To upload a video, open the 1 Second Everyday app and select a square with a date on it. Once a square is selected, all videos associated with that date will show up and you can select the video you want to use. Once you have selected your video, the final step is to select the second you want to use. 
If you are unsure of which second to use, I suggest looking for a snippet that encompasses action. This could range from a child laughing or a dog stretching, if anything in the video stands out, you can use it.
I prefer to batch upload my videos to the 1 Second Everyday app approximately 2-3 times a month and I highly recommend this method. This way, you are not opening the app every single day to upload your content. Every Sunday evening, as a way of looking back on the week, open the app and select snippets from the past 7 days.

Step 5: Mash your memories together
Towards the bottom of the 1 Second Everyday app, there is a teal-colored button with a forward-facing arrow. When you click on this button, you will see the option to mash a project. You can adjust the dates and select the mashup you want. For example, select January 1st – December 31st to mashup the entire year, create a mashup for the previous month only or enter custom dates for a specific project, such as a wedding or birthday.
Once a mashup is created, click the button with the upwards facing arrow to save it to your camera roll.

---

Tips for using 1 Second Everyday Effectively

Switch on notifications:
You can select a time for a notification to remind you to upload your video in 1 Second Everyday; this is a great option if you're prone to forgetting to record. 
End of year mashup:
Mash the entire year and save it to your camera roll. Once it is saved, upload it to YouTube as an unlisted video and share the YouTube link with family and friends.
Save & back up:
1 Second Everyday will save your videos in the app consistently which will eat up space in your phone storage. When you have saved your project in your camera roll, delete the videos from the app to create more storage space for your next project.
Once your project is saved in your camera roll, save it on a hard drive or cloud storage system so that your content is never lost.
Keep the project going:
Get your family involved! Once you involve your kids, they'll be excited and will be able to remind you to record. If you have older kids in their teen years, you can ask them to capture videos too. This will take the pressure off of you to always record. If you are not in the mood to record sometimes, that's okay; ask others for help, such as your spouse, kids and friends.
If you forget a day:
The most common question I get is "what if I forget a day?" – and my answer is, it doesn't matter whatsoever!
Here are some things you can do if you forget a day:
Use an extra video from a different day
If you have an extra video from a different date, you can use it on the day that you forgot to record.
In November 2021, I was very busy and missed 12 days of the month, so I filled those dates with filler videos, which brings me to my next point. 
Record filler videos
A filler video is a recording of something that happens every day, such as:
Cooking dinner
Eating breakfast
Daily workout
Sunset/Sunrise
Videos of your pet 
Reading your favorite book
A cozy space in your home
Security camera clips
Another option is to ask someone else if they have videos of you from an event that both of you attended on that date. 
Leave the day empty
Don't worry if you forget a day or are unsure of which filler video to create; the date can be left empty.
What do you think? Ready to try it? TODAY is the BEST day to start!