iOS17 released yesterday! This update didn't focus heavily on the Photos app but there are still a few fun changes. Here are my five favorites (plus a bonus one that is coming soon)…
Pet Facial Recognition
This is the biggest update! Our fur babies now get the special treatment they deserve! You'll find pet faces automatically populate in Albums/People now, but this will take at least overnight to display. The best part? It finds them in both photos AND videos!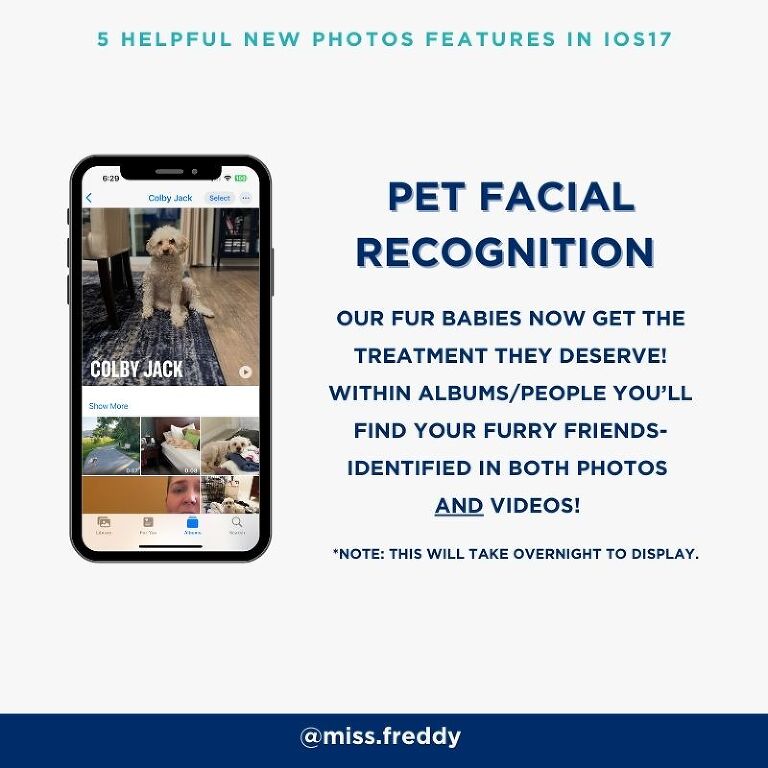 Album Widget
This one is fun! When you long press on the Home Screen and hit the + in the top left, you'll be able to find the Photos Widget. It now allows you to set a specific Album (in various size options) to sit on your Home Screen. This not only brightens your day by shuffling memories that are long-buried in your camera roll, but it can serve as a quick-reference link for Albums you want to get into faster.

Live Stickers
Last year we got the option to lift a subject from the background and this year we now have the option to turn these into Live Stickers. You can add effects to jazz them up (like the 'shiny' I've shown in the screenshot) or you can use Live Photos to create animated stickers! You can use these anywhere you use emojis. Stickers are cute, but probably not something I'll use often. Maybe occasionally on Instagram Stories.
Add People
This one is really specific, but there's a new 'add people' button at the bottom of Albums/People where you can restore previously (perhaps accidentally) deleted faces and find more suggestions! It's been a really long time since my phone has populated any 'new' faces for me (I thought maybe my facial recognition was broken) so I was thrilled to find a BUNCH of new faces here after waiting overnight.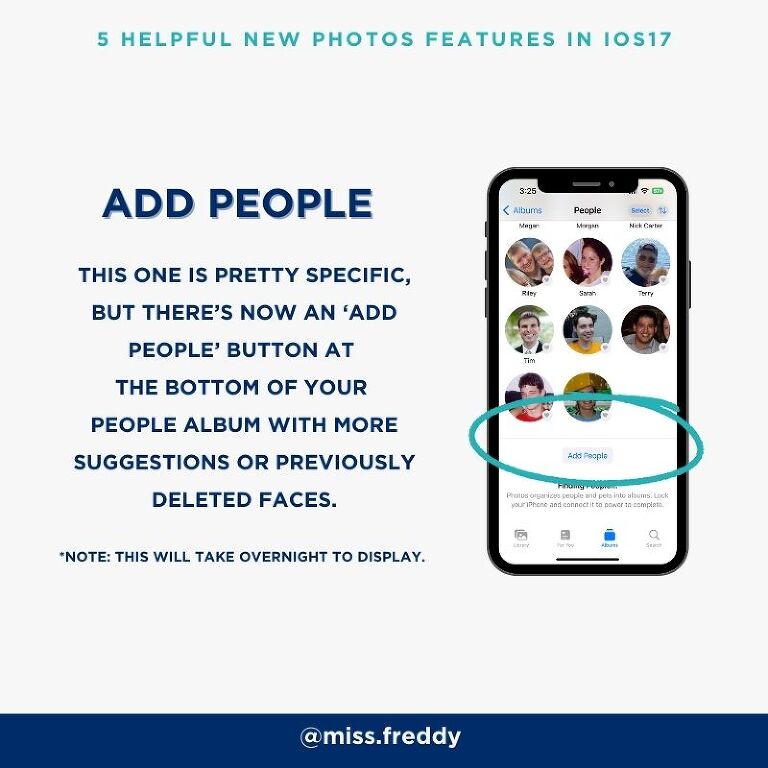 Additional iCloud Plans
This won't apply to most people, but to the ones it does IT IS BIG NEWS. I hear often from content creators and influencers who cannot backup to iCloud anymore because it's full. Now there are 6TB and 12TB options!
BONUS: Journal App (coming soon)
I've been really excited about this new app, but it has been delayed so it's not part of the initial iOS17 upgrade. I can't wait to see how it works and I'll share more when it releases!
Which feature are you most excited about?