Holiday shopping is a little extra challenging this year, right? Usually I'm a proponent of gifting experiences over things, but with travel and many popular experiences limited due to covid, I have another suggestion… gift a gadget to help you organize or enjoy your photos! I put together a holiday gift guide to help.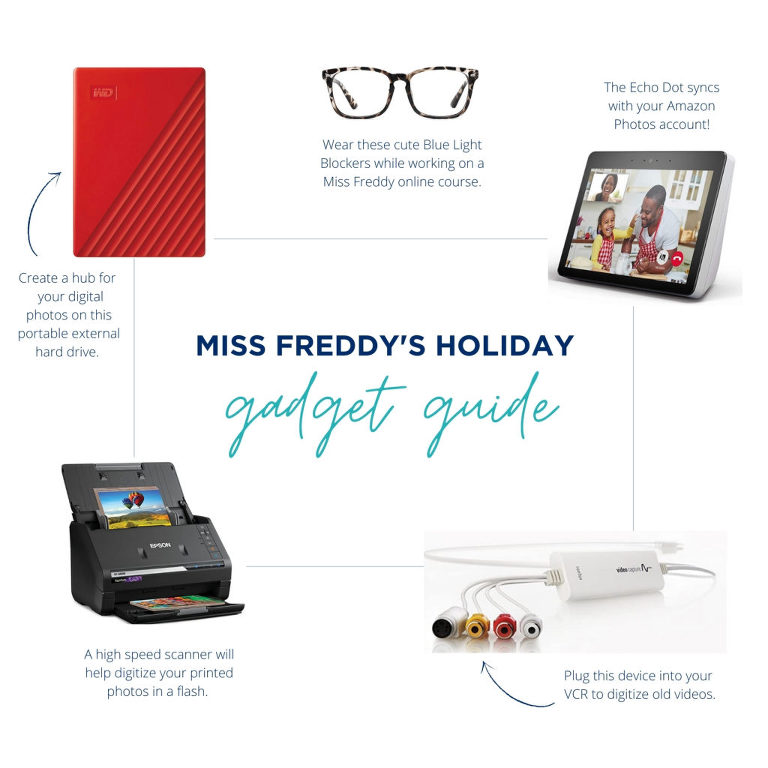 (Note: these are affiliate links so I will receive a small commission if you use these links.)
Or Gift a Miss Freddy Course!
This year I'm excited to offer gift certificates for all of my online courses. While a gift certificate is a fun and unique gift on its own, here are some ideas for pairing a physical gift with your gift certificate:
1) An external hard drive + a gift certificate for the Backup Bootcamp course.
2) A scanner + a gift certificate for the Organizing Old Photos course.
3) Cute blue light blocking glasses + a gift certificate for my Mac Basics course.
4) The Album Stomp program + a gift certificate for my Family Yearbooks course.