In my Backup Bootcamp, I share my simple process for organizing your digital photos and backing them up to the cloud.  While there are many different cloud service providers (I share a few of them in the Bootcamp), my favorite is Amazon Prime Photos.  I thought it would be fun to share some of my favorite features that you may not have discovered yet.
My Favorite Things About Amazon Prime Photos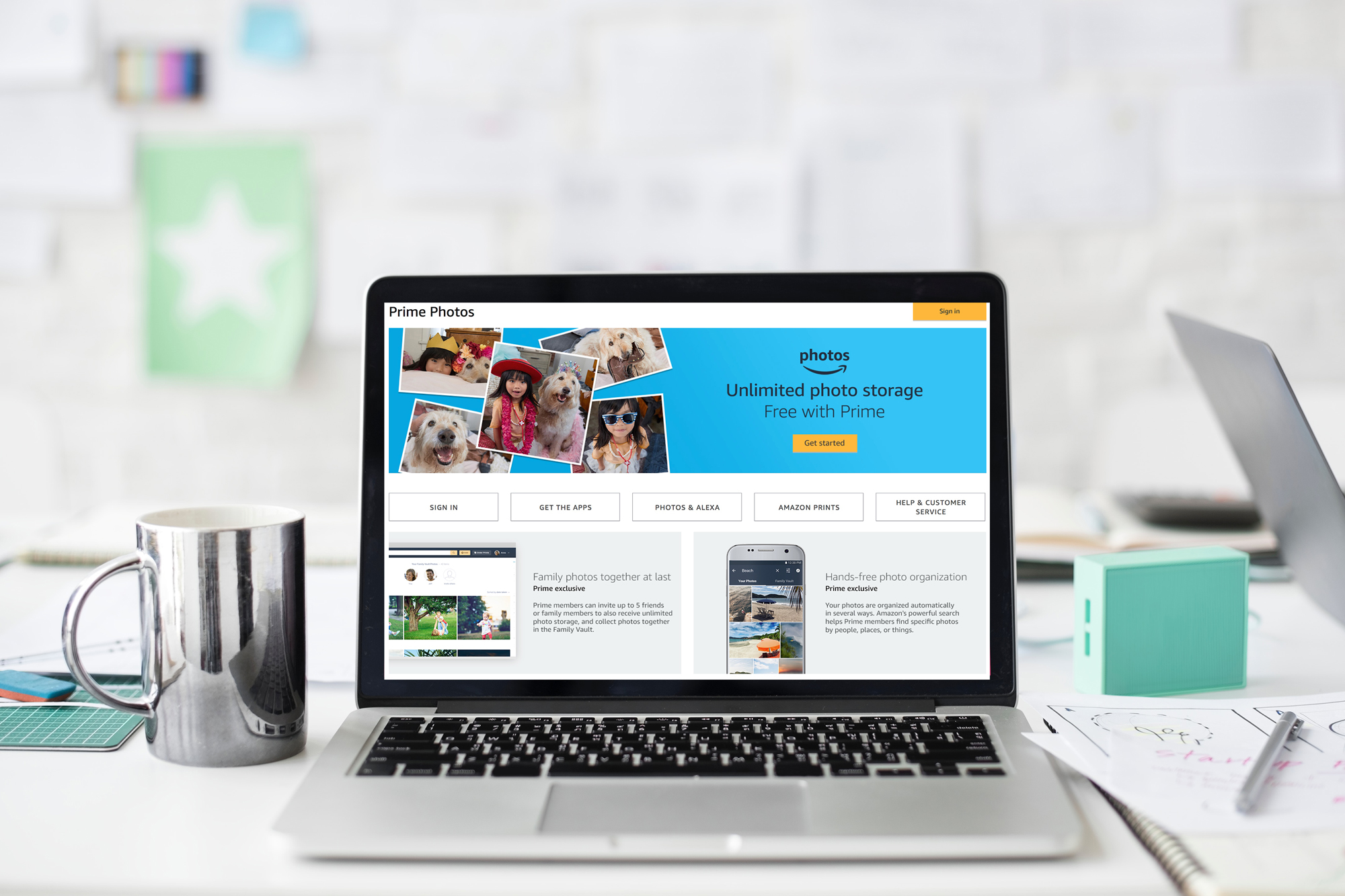 #1 Unlimited Photo Storage is FREE with your Prime Membership
Yes, FREE.  Full sized, not compressed.  RAW files too!  UNLIMITED, friends!  The limitation is video files.  You receive 5GB of storage for free with your Prime membership but most people require more if they're backing up video files.  Upgrading to the 100GB plan is only $12.99 a year though, which is significantly less expensive than other cloud-based services.
#2 Auto-Sync Functionality
I love the Prime Photos App on my phone.  The Auto-Sync makes sure the photos and videos taken on your phone are AUTOMATICALLY backed up to the cloud.  Plus, the Amazon Drive App can also be installed on your desktop computer to auto-sync your files from your computer as well.  Once auto-sync is setup on both devices, ALL of your photos will be backing up to the cloud AUTOMATICALLY.
This also means photos from your desktop computer will be visible on your phone in the Prime Photos App.  You can view every digital photo you've ever taken from your phone without taking up storage space!  So cool!
#3 Folder View AND Photos/Visual View
Google Photos is one of the most popular cloud-based photo backup services.  It really is a great program, but there's one major issue for me- there are NO folders.  I keep my digital photos organized in photos by month/year on my computer and I really prefer that format.  Amazon Prime Photos gives you the best of both worlds- a FOLDER VIEW and a PHOTOS VIEW.
The FOLDER VIEW can be seen using the Amazon Drive app or by going to amazonclouddrive.com.  The PHOTOS VIEW can be seen in the Prime Photos app or by clicking on 'Prime Photos' from amazonclouddrive.com.  The Photos view very closely resembles the Google Photos interface.
I LOVE that Amazon gives me the ability to see my files in BOTH formats, depending on my personal preference!
One reason I love having the FOLDER VIEW is that I can quickly spot check to make sure my photos are fully uploaded.  I can check the count of my 2001 folder contents on my desktop to make sure it matches the 2001 folder on Amazon Drive.  In Google Photos, I sometimes struggle to feel exactly sure my photos are fully transferred, etc.
#4 Sharing with The Family Vault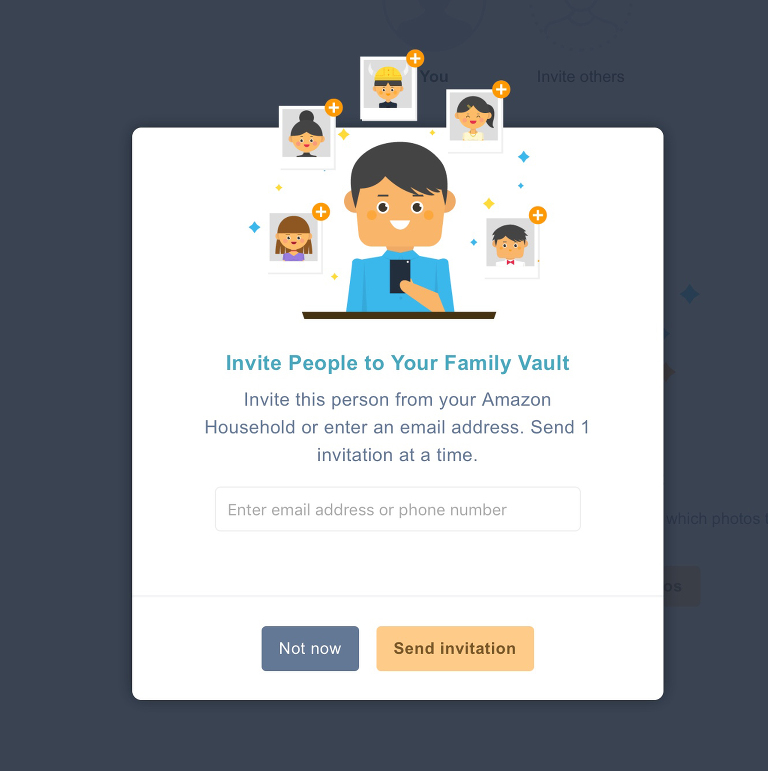 The Family Vault functionality is so cool!  You can invite members of your household to Your Family Vault and when they accept the invitation, YOU CAN SEE THEIR PHOTOS.  Think about it-  setup the Prime Photos App with Auto-Sync on your husband's phone.  Or your child's phone.  Then you can AUTOMATICALLY SEE THEIR PHOTOS when you click on their name!  Your entire family's photos in ONE LOCATION.  I love this feature!  No more "can you text me that photo, honey?  and that photo?  oh and that one too?"
#5 Searching by Keyword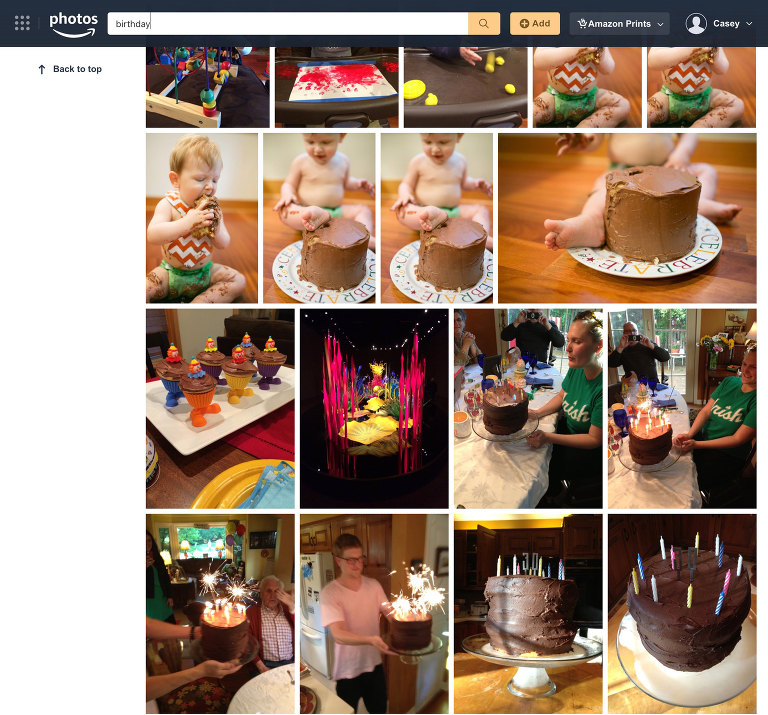 Technology today blows my mind.  That you can type in a keyword and it'll search the VISUAL COMPONENTS of your photos is pretty amazing.  The example above shows the search 'birthday' returned lots of images of cake- Colin's first birthday cake smash,  my 30th birthday party with family, etc.  None of these photos have the term 'birthday' in the filename or metadata.  IT JUST KNOWS.
Now, I'll admit… the Amazon Prime Photos search functionality is not at the same level as Google Photos.  It's relatively new and I'm hopeful it'll only continue to improve.  Still pretty cool, if you ask me.
#6 View Photos by Places and Faces

I find searching photos by Location to be helpful when I need photos from a vacation/event, but I can't pinpoint the date in my memory.  Except, I read some article many years ago that recommended turning OFF Geotagging on your iPhone (in the interest of privacy) and I'm kicking myself because now YEARS of iPhone photos have no location data whatsoever.  I recently turned it back on- you can do this under Settings/Privacy/Location Services/Camera.
Facial recognition is pretty dang cool as well.  Though, again I find Amazon's is very much inferior to Google Photos… at this point in time.  Amazon hasn't yet released the ability to re-tag incorrect photos (coming soon, I've heard!) which is frustrating too.  For example, my daughter isn't recognized in ANY photos (she's either filed under myself or my son).  Sure there's a family resemblance, but hopefully this accuracy will improve as technology advances.  (In the mean time, I use both Amazon Prime Photos and Google Photos… can't hurt to have a backup to the backup in my opinion and they're both free).
#7 Built-in Photo Ordering
Now, I haven't used this function yet, but I still want to mention it.  You can design photo gifts, photo books, or order prints right from Prime Photos.  The prices are very competitive (it is amazon after all) and of course shipping is free for prime members too.  You know how I feel about getting your photos into a meaningful format your family can enjoy!
---
Need help getting your photos organized + backed up?
Take my Backup Bootcamp course where I walk you through my simple process, step-by-step, with video tutorials- it doesn't need to be complicated, I promise!
Or consider my digital photo organization services.  I can remotely organize your digital photos FOR YOU!  Using a screen sharing software, I will centralize your photos, sort, organize, and remove duplicates.  I'll also back it all up to your preferred cloud service provider!
SaveSave