I have been printing my family's Project Life albums through Blurb for 6 years (I've printed 6 family yearbooks + 2 baby books with Blurb) and, through it all, I've never had an issue.  But when Becky Higgins launched the new photobook functionality within the app last year, I became curious.  I knew the ordering process would be easier, and the layflat would be a fun touch, but I wasn't sure if it was worth the higher price tag.  I wanted to give it a spin and compare everything before making the switch.  Then, I figured, I might as well give allllll the photo book companies I'd seen recommended for Project Life albums a shot… to be really thorough (or maybe I'm just crazy).
I ordered seven copies of my 2017 Family Yearbook and was really surprised by what I found.  I realize everyone has their own personal priorities when it comes to their family's album- some people prioritize price, others photo quality, others have strong opinions on book size or page count.  So I'm laying it ALL out in this post so that you can make the best decision for YOU!
Project Life: Photo Book Company Comparisons
Here are the books I ordered:  Adoramapix, Blurb, Blurb Layflat, Costco Premium Layflat, Mixbook, Project Life App Hardcover, and Shutterfly Deluxe Layflat.  Let's break each one down (in alphabetical order):
Adoramapix (now Printique)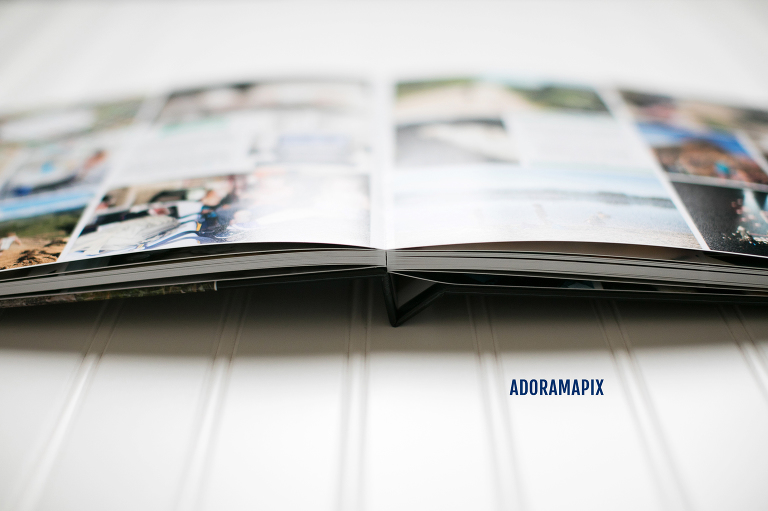 This was my first experience with Printique (previously known as Adoramapix) and I was thoroughly impressed.  It's a beautifully constructed book with excellent photo quality.  I was surprised that I could get this type of photo book for the same price I typically pay for my Blurb book each year.  It definitely has a more 'specialty' feel.  My only complaint is that I prefer a small border around my pages and this is difficult to add during the design process (I was able to do it quickly in Photoshop with a batch action though- took 30 seconds to do all the pages).  Also, the page count max of 100 was not an issue for me this year because my finished book was 74 pages, but in years past I've done weekly spreads which would end in a 104 page book.  If you have fewer than 100 pages, I absolutely recommend this book.  It's beautiful!
Blurb Book with Upgraded Proline Pearl Photo Paper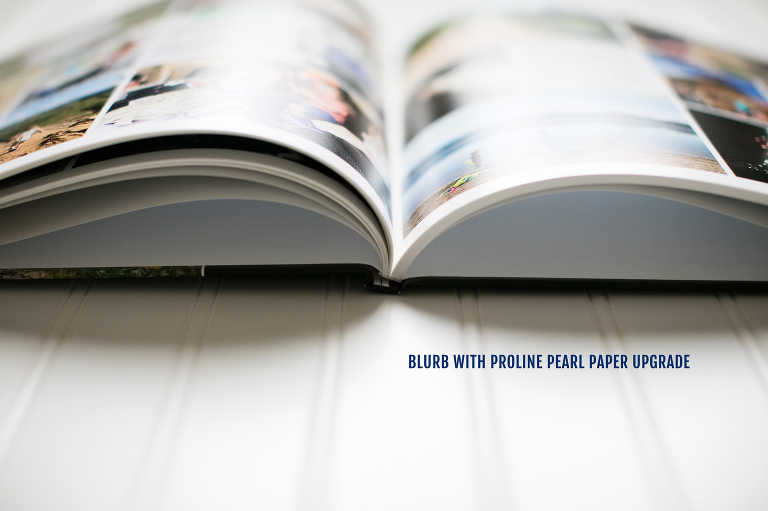 The Blurb Book.  My tried-and-true friend.  This is the book I've ordered for years and I still love it oh-so-much.  This year I switched from the Proline Uncoated Paper (like a thick cardstock) to the Proline Pearl Photo Paper and I LOVE IT SO MUCH!  The print quality has been consistently strong each year too.  Blurb offers sales every month so if you wait for a 30-40% off sale, this book is an amazing value.  The only drawback would be there's no 10×10 offering (I know many people prefer this size and I totally get it), plus it's not layflat (more on Blurb's layflat option coming next).
Blurb Layflat
I was really excited when Blurb announced a few months ago that they were offering a Layflat book that held up to 100 pages, but when I started designing my book and realized there is only one paper option (called "Layflat"), I wasn't sure what to expect.  I'll be honest- this book was a disappointment.  It's very different than the Blurb book (with Proline paper) that I've ordered year-after-year and love dearly.  The photo quality was not great.  Side-by-side the Blurb Layflat album had the worst photo quality of the 7 books- it was washed out and grainy.  I do not think this book is worth the extra price.
Costco Premium Layflat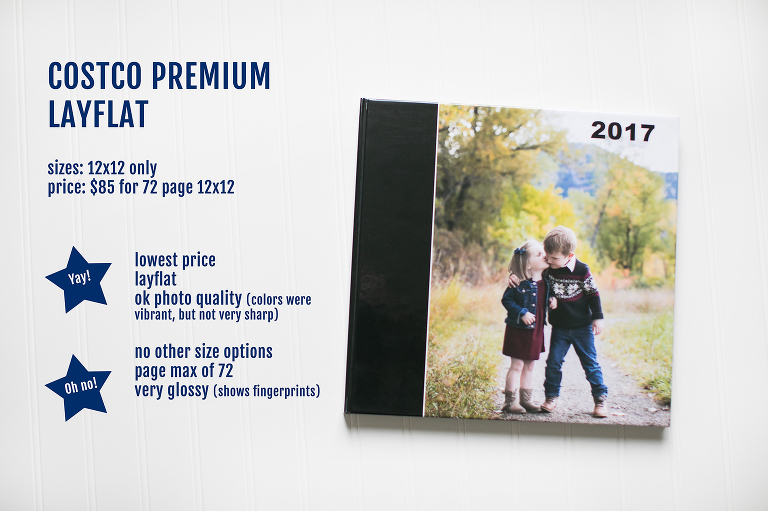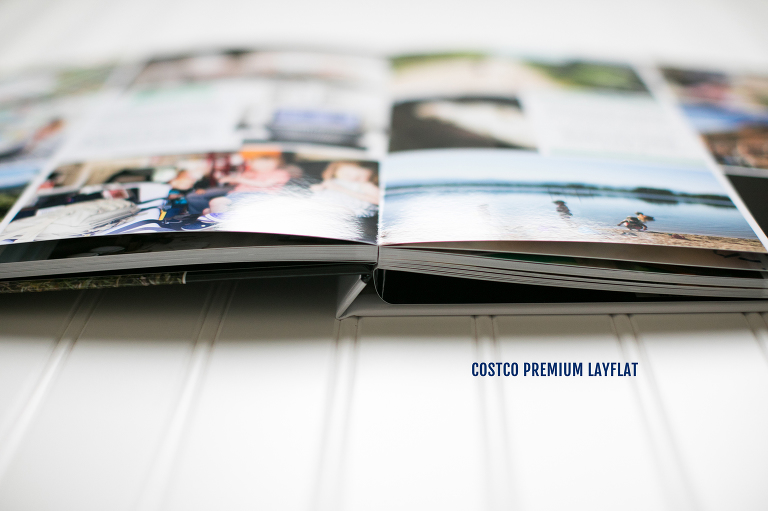 I'll admit I had low expectations for this book, but after Costco pleasantly surprised me on my print quality test, I figured it was worth a shot!  The benefit of this book is definitely the price- it's the least expensive option I found.  However, I really didn't like the high-gloss pages (matte isn't an option) because they're really different than my other books and they show lots of fingerprints (you can see them on the cover above).  The print quality was better than I anticipated though so if you're ok with glossy pages and on a tight budget, this is a great option for you.
Mixbook
Let me say… Mixbook has been recommended by SO many people and I really wanted to love this book!  But, ultimately, it's not my style.  It's really bulky (like double or triple the thickness of the rest of the books) and through this process I've realized I appreciate a slim book that fits well with the others on my shelf.  More importantly, the photo quality was off.  My photos appeared overly sharpened so they looked grainy on every page.  Also, I didn't like the texture of this particular matte cover.  I do love matte, but this one really shows scuffs and fingerprints (you can see them in the photo above even after I tried to wipe them away).  Finally, this is super minor, but there's no option to move the text on the spine- it must be centered- so it won't match my other books.  They offer 50% off your first order so you may want to try it and decide for yourself (I've heard the non-layflat books are better print quality!), but ultimately this is not my style.
Project Life App Hardcover
Full disclosure:  Becky was kind enough to let me test-drive this photo book functionality FOR FREE.  Here are my honest thoughts on the Project Life App Hardcover Book:  This book is LOVELY.  Excellent quality, a beautiful slim design, and paper very similar to the Proline Pearl Paper I loved from Blurb only it's LAYFLAT!  Not to mention the ordering process was BY FAR the easiest of all seven books.  I know many people have been deterred by the price tag of this book, but if you look at the non-sale prices of all seven books I've shared- it's pretty in-line with the competition.  In fact, it's not even the most expensive! (Mixbook and Shutterfly Deluxe were more expensive.  Shutterfly's price in particular SHOCKED me!)  I know the other companies all offer frequent discount codes or sales, which can make them more affordable, but consider the ease of ordering… putting a $$ value on your time saved will likely make up the difference in price.  The only drawback for me with this book is the 60 page maximum.  As I said my family yearbook was 74 pages and I don't want to split into two books for each year.
Shutterfly Deluxe Layflat + Matte Cover Upgrade
Last (and also kind-of least), the Shutterfly Deluxe Layflat book.  I've never been a big fan of Shutterfly's books (I really struggle with their design interface) but many Project Lifers asked me to throw this comparison into the mix and honestly I was curious about the Deluxe + Layflat offerings, as I've previously only ordered their Standard Photo Books.  I will say, I really liked the Matte Cover upgrade- totally worth the extra couple dollars.  I also think the quality of this book was great and the photo quality in particular really exceeded my expectations.  But for the price, there are absolutely better options.  Even with a 50% off coupon, this was going to be $180 for me to order my full 74 page album (I ordered a 20 page book instead for $80 just to test it out).  My frustration with the design process is evident in the fact that this book took me the longest to order and still the page borders didn't match my design (that I manually applied to each page) AND I received a white spine even though I designed a black one.  Thankfully Shutterfly fully refunded my purchase.
side-by-side photo quality comparison
I know it's so hard to compare the quality of a photo book without holding it IN your hands.  I did my best to try to compare the photo quality, specifically, across the seven books in these photos.  These were all taken with the same camera settings, in the same lighting.  If it matters, the photo of my daughter pouting was taken with my iPhone (I picked an iPhone photo versus a professional photo because most of the photos in my Project Life albums- and probably yours as well- are taken with my phone).
Here are my thoughts:  Adoramapix and Blurb are the most true to the photo.  Project Life Hardcover is also very sharp and vibrant, but a touch darker than the original.  I'd put Shutterfly and Costco in the middle of the pack (though Costco has good color, the photo seems a tad soft).  Mixbook and Blurb Layflat are at the bottom of the pack- Mixbook looks grainy and Blurb Layflat is washed out.
my final recommendations
I know each person has their own individual agenda when it comes to printing their photo books, so I don't have a one-company-fits-all recommendation to share.  Instead, here are my favorites and how they correspond with various decision-making factors.
If PRICE is your priority: Blurb with Upgraded Proline Pearl Paper (but wait for a sale)!

If CONVENIENCE or EASE OF ORDERING is your priority:  Project Life Hardcover.  No question.

If QUALITY is your priority: Printique, previously known as Adoramapix (for more of a specialty album feel).

If PAGE COUNT is your priority:  Blurb with Upgraded Proline Pearl Paper.
BEST OVERALL VALUE:  Blurb (with upgraded Proline Pearl paper). I've used them for 8 years!
But since I loved the quality and feel of Printique, I'll be switching to their book for next year.  And I'll be using their design interface to make my book instead of Project Life because it's much simpler.
Don't let the book company decision stress you out- remember a FINISHED book in your hands is the BEST kind.
---
Disclaimer:  If you decide to purchase your book from one of the companies I reviewed today, I'd love it if you would use the links within this blog post to visit their websites.  If you click one of my affiliate links, I will make a small commission from your purchase which will help cover my costs for all these sample albums.  I hope you found my reviews helpful and really appreciate your support!