As I shared in an earlier post (our roadtrip to glacier national park), John & I wanted to focus our 2015 travel plans on seeing 'local' sights and exploring more of the Pacific Northwest.  Mostly because roadtrips are easier than flights when dealing with two small children (at least for us).  One of our neighbors who has lived in Washington her whole life told us to add Bend, Oregon to our list.
So, we did!  We found a VRBO and headed south for a long weekend (conveniently over John's birthday)!
our roadtrip to bend, oregon
Bend is roughly a 6 hour drive from Seattle.  Since I had never been to Portland, we decided it would be a perfect stopping point on the way (it's about halfway).  We timed our stop with lunch and enjoyed a delicious meal at The Observatory.  Since the restaurant was situated between a tattoo parlor and a bicycle shop, I felt like I got the full 'Portland experience' even though we were only there for an hour.  (just kidding, we will definitely be back for more exploration!)  From there we continued past Mount Hood (wow!!) and eventually ran into a pretty serious detour due to all the wildfires.  The smoky haze from the fires was basically present during our entire roadtrip (yikes).
After arriving in Bend, we had two full non-travel days to explore…
day one:  smith rock state park
Smith Rock… about 20 minutes outside of Bend.  What a stark difference from the lush green mountains near Seattle!  It reminded me of hiking in the canyons of Arizona… except it was only 75 degrees when we visited!
We did the Misery Ridge Loop trail and it was pretty challenging.  Probably because of the weight we hauled up the mountain (Colin & Jill are NOT light loads).  But after reaching the top of Smith Rock, the rest of the hike was a nice leisurely stroll down in the canyon near the river.  Very beautiful.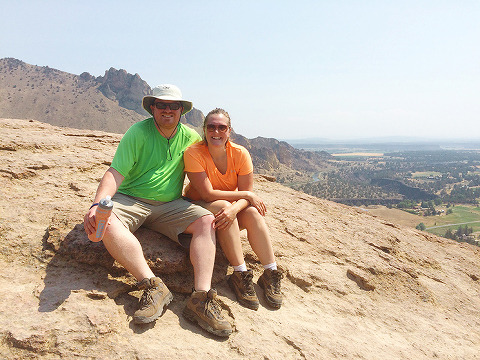 When we got back to Bend, we checked out Deschutes Brewery.  Cool place.  Very family friendly and they didn't seem to mind that we were sweaty messes.
day two:  crater lake national park


Crater Lake… seriously.  This place.  Beauty like you can't even believe.  The bluest water I've seen in my lifetime, for sure (the colors in these photos aren't edited).  I'll admit that I saw a photo of Crater Lake on some wanderlust Pinterest board, realized it was only 1.5 hours away from Bend and decided we would add it as a stop during this trip.  I didn't even realize it is a National Park until the day prior while I was researching our hiking options.  But, after visiting, I totally get it.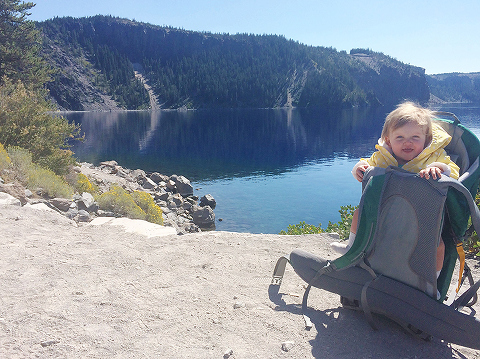 We did the Cleetwood Cove Trail hike.  It's the only legal access point to the shore of Crater Lake.  It's 1.1 miles down the crater wall to the water.  There's a boat tour that departs from there, but our kids weren't old enough to ride so we just enjoyed the hike down and then watched some of the cliff divers while we relaxed at the water.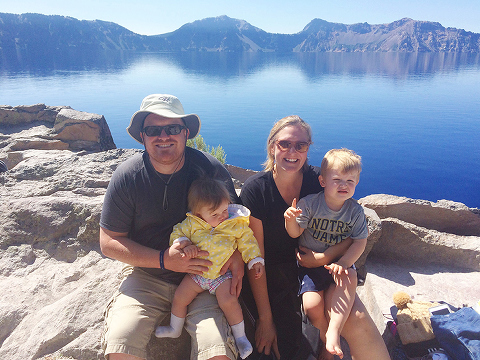 Then we hiked the 1.1 miles back out (significantly more difficult… obviously… but the trail is really well maintained) and continued around Rim Drive, stopping at a couple viewpoints along the way (oh, and the gift shop).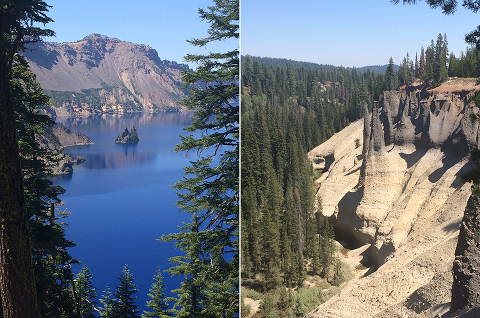 On the drive back to Seattle, I was talking about how lucky we were to visit two national parks this summer (Glacier & Crater Lake) and how much I LOVED both of them.  We pulled up the full list of national parks on my phone and started brainstorming future trip ideas.  Of course we'll have to check off Mount Rainier National Park soon (it's basically our back yard!), but after that who knows… maybe Utah?  (Did you know there are FIVE national parks there?  I sure didn't.)