I remember sitting down on the "big blue square" for the first time, Colin nestled on my lap.  He was just 15 months old when we walked into the Birds class at The Little Gym.  As I greeted the other parents, I worried about how class would go because Colin wasn't walking like most of his peers [he was a really late walker, and, no surprise, I worried way too much about that] .  Would he get anything out of it?  Would it be a complete waste of time for a non-walker?  The class was free, though… first class is always free… so really, why was I worrying?
We sang our welcome song and did some warm-up exercises.  Colin was quiet and reserved, taking in his new surroundings, but I could tell he was fascinated.  Mostly, my cautious little guy, LOVED that it was a padded paradise.  After some activities, he crawled over to the nearest wall, pulled himself up, and started walking back & forth, hands firmly planted on the wall for support.  He was happy as can be.  He didn't care that he wasn't walking [without support] like his friends.  He was having a ball, just walking along that wall.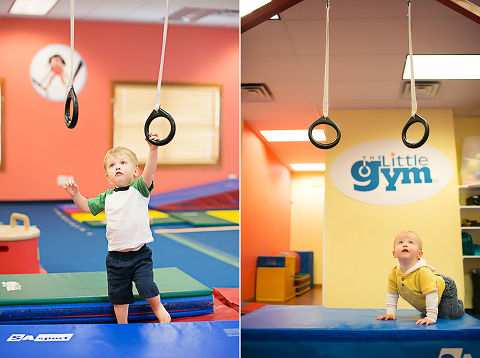 [left photo is April 2015, right is May 2014… although it does just look like an outfit change!  One year ago he was dreaming of standing to reach the rings and now he's a pro!]
Last week, while I was taking these photos of Colin, it was apparent how dramatically he's changed in a little over a year.  As if she read my mind, Teacher Dana said, "remember when his favorite part of class was hanging out with his friend, The Wall?"  How amazing is she to remember such a silly thing?  She's a great teacher.
Anyway, enough with my trip down memory lane…
three reasons why we love the little gym
1)  Teacher Dana is the best.  As I said above, Teacher Dana is an amazing teacher.  She knows exactly how to connect with kids of every personality & ability level.  She forms memorable connections (with toddlers!) and entertains both adults & kids with her easy conversation.  But beyond the personal connection, I love that Teacher Dana is helping Colin learn to follow instructions from an adult who is not mom/dad.  He certainly has work to do on that, but it's such a valuable skill FOR LIFE.
2) It is a completely safe space to play.  How many play spaces let you take your guard down while you're supervising a toddler?  Maybe it's just my kid [it's not], but he ALWAYS finds the most dangerous section of the playground and wants to play there THE ENTIRE TIME.  At The Little Gym, it's completely safe.  Everywhere.  The space was built for kids and each surface is padded.  It's the only hour of the week when I don't have to be anticipating ways that he will hurt himself.  [sleeping hours not included]
3) I can actually see confidence building with each class.  Colin took his first steps on the blue padded mat.  Because he finally believed he could let go.  Each week I see him explore a new piece of equipment or try something new.  It's so much fun to watch him have these experiences that I could not replicate at home.  [oh and there's actually research to prove this point!]
What are you waiting for?  Sign up for your FREE INTRODUCTORY CLASS!  And become a fan of The Little Gym of West Seattle on Facebook!
This post is the first in a three-part series, in collaboration with The Little Gym of West Seattle, and features my own thoughts and honest opinions.