Earlier this month we spent 10 days in Canada, visiting Whistler & Vancouver.  It was a quick & easy roadtrip from Seattle and really fun!  The best part?  TOTALLY fun for the kids too!
first stop:  whistler
It's a pretty quick drive from Seattle to the Canadian border.  (Prolonged slightly by the fact that it was Colin's first road trip sans-diapers so there were a couple additional potty stops).  It took about 4.5 hours to get to Whistler, but the drive north of Vancouver is absolutely stunning.  Incredible mountain views as you wind around the water.  Gorgeous!
Believe it or not, even though I spent 30 years of my life in the midwest, THIS was the first time either of my children played in snow!  Colin thought it was awesome… couldn't get enough.  Jill was over it in about 5 minutes.
Whistler Village is so cute.  Sitting right at the base of the mountain, you can walk the brick roads (foot traffic only) and visit shops, bars & restaurants all day long.  Plus, there's the Olympic Plaza with a playground for the kids to explore.  Both the kids thought the treehouse there was cool… or at least a means to temporarily avoid the snow (ahem… Jill).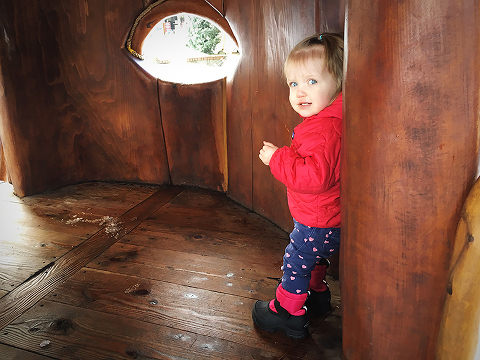 The craziest part of this trip was that I GOT TO GO SKIING FOR THE FIRST TIME IN ALMOST FIVE YEARS!  The last time I skiied was before I got pregnant with Colin & every winter since has been a mix of pregnancy, newborns or nursing.  I'll admit, I was quite nervous to get back on skiis, but I got my groove back eventually (day 2 and 3).
There are resorts that offer daycare, but Jill didn't make the 18 month age requirement so we ended up using the Babysitting Whistler service.  Amazing.  AMAZING.  They paired us with a babysitter who came to our rental property and watched the kids three full days while we skiied & one evening so we could enjoy an adults-only dinner  (we went to 21 Steps in Whistler Village for dinner-delicious!).  And in US dollars, it was basically the same hourly rate we pay our sitters in Seattle.  Absolutely recommend!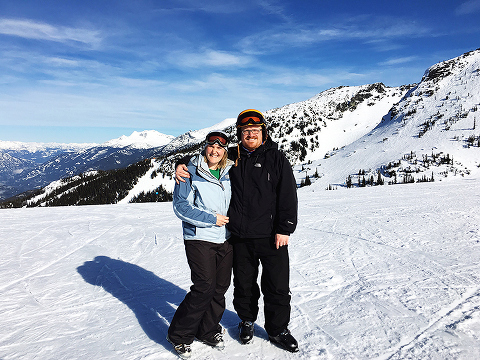 Another highlight of Whistler was visiting the Coca-Cola Tube Park with Colin.  Little kids get their own tube (I accompanied him down the run, in my own tube) and HE LOVED IT.  Seriously.  The smile on his face + the shrieks of laughter = best part of the entire trip.
The Peak 2 Peak Gondola was also a cool adventure.  We took it once while we were skiing the mountains, but then went again to ride with Colin just for fun.  The gondola has the longest unsupported lift span in the world (1.8 miles in between posts) and is the highest lift of its kind (+1400ft!)  All I can say is if you're not comfortable with heights, DO NOT LOOK DOWN!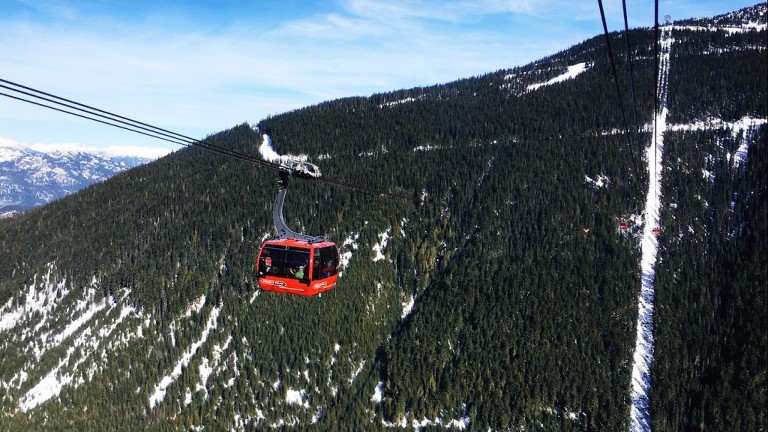 So, to recap… there are many kid-friendly things to do while you're visiting Whistler.
Our favorites:
Whistler Village & Olympic Plaza
Coca-Cola Tube Park
Peak 2 Peak Gondola
And if you want a little adult time, check out the Whistler Kids ski school or Babysitting Whistler!
next stop: vancouver
When our ski passes ran out, we drove to Vancouver for the weekend.  Unfortunately, it rained the ENTIRE time we were there which means we didn't get out & see as much of the city as we'd intended.  But the kids enjoyed lots of time at the hotel pool!
We visited the Vancouver Aquarium.  It was SUPER crowded (on a Saturday) but still fun.  A little bigger/better than the Seattle Aquarium because they had beluga whales & porpoises which were fun to watch.  Perfect rainy day activity.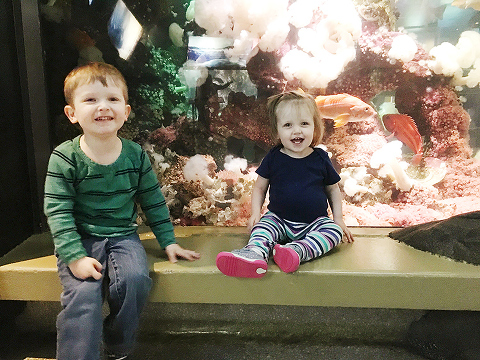 In Whistler we rented a house so we ate most of our meals at home, but in Vancouver we stayed in a hotel downtown and ended up eating out a lot.  One of our favorites was Earl's Test Kitchen.  Not terribly kid friendly (no high chairs or kids menu) but the food was very yummy.
We also went to La Belle Patate to get our poutine fix.  I don't fully understand this food.  Fries = good.  Cheese curds = good.  Gravy = good.  But for some reason when they're all together, I'm not as big of a fan… it just seems like a soggy mess.  Clearly Canadians don't agree!
My favorite stop in Vancouver was Granville Island.  A very cute place to walk around.  They had a little kids market with toy stores, a distillery, a super neat handmade broom shop (very Harry Potter-esque) & great food at the Granville Island Public Market.
We also stopped at Granville Island Brewing for a 'taster round.'  Kids allowed, but again not terribly kid friendly (no high chairs).
And that was it for Vancouver (like I said we spent a lot of time at the hotel pool due to the rain).
Here's a little 'highlight reel' video of the trip.  I'm still loving the 1 Second Everyday app– I used their 'freestyle' project for the first time to make this one.  It's a fun way to summarize a trip (when you have more than one clip to include from a given day).
Click to view on Vimeo: Whistler & Vancouver
Overall, we had lots of fun in Canada.  Whistler was my favorite of the stops & I highly recommend it as a roadtrip from Seattle with the kids!
Note:  all photos were taken with my iPhone 6s & edited with A Color Story app.