Since my baby girl just turned ONE (and because my list of photos to take in baby's first six months was quite popular), I decided to compile some ideas for 'must-have' photos that will commemorate your baby's first year!
Here is my list of twelve photos to take before you celebrate baby's first birthday.  PLUS tips for each one to help you take better photos of your baby!
12 photos to take during baby's first year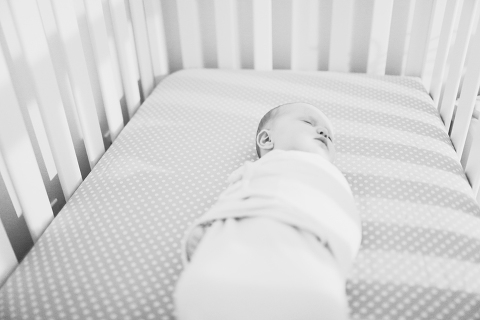 1.  Swaddled.
Though it initially seemed like both children hated swaddling, it was ultimately the secret to sleep success.  In the early days, I couldn't imagine a day where they would sleep unswaddled, but in truth, that time was fleeting.  Capture a sweet swaddled picture to remember that time once they've busted out of the swaddle for good.
Photo tip:  Convert to black and white to remove any distracting designs/colors of the swaddle or background.  This will draw focus to how sweet they look all snuggled up, instead of the fact that my baby girl looks like a boy in her brother's hand-me-down swaddle that clashes with the sheets (just keeping it real).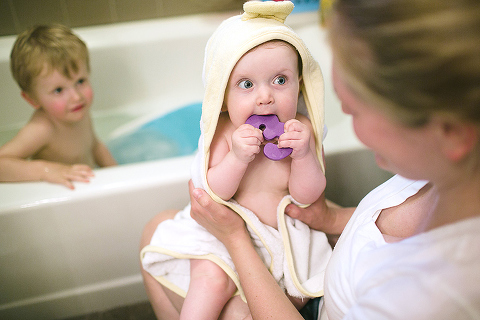 2. Bath time (or in diaper).
Bath time gets more fun to photograph after the first few months, once baby starts to be a bit more interactive.  For newborns, snap a photo while snuggled in a cozy towel.  For an older baby, capture their expressions during bathtime!
Photo tip:  Fire a whole bunch of shots ('burst mode') to capture all the silly faces!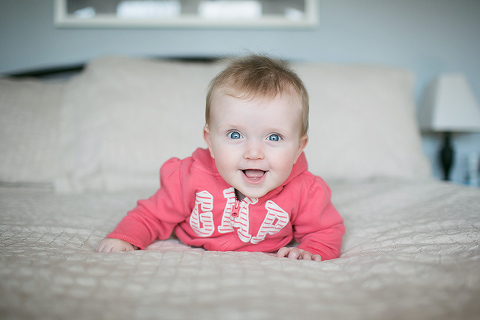 3.  Tummy time.
Not all babies love tummy time (mine didn't), so you may have to wait a little longer to snag smiling tummy time photos.
Photo tip:  Play 'peekaboo' behind your camera to make baby laugh.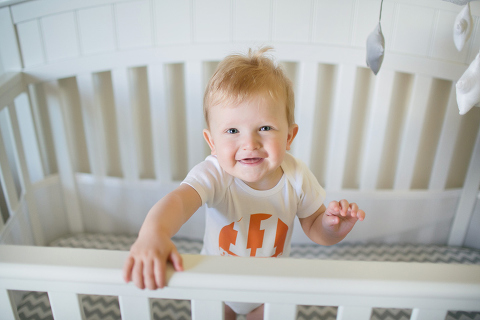 4.  Standing in crib.
I vividly remember the first time I walked into the nursery after nap time and saw my baby standing up with a HUGE grin, so proud of the latest accomplishment.  The bad news is that sleep is harder to come by while they practice the skill over & over, but the good news is that you have plenty of opportunities to snap an adorable photo of baby STANDING in the crib!
Photo tip:  Open all the blinds in the room to let in lots of natural light.  Plan to take the photo AFTER naptime so baby is smiley (aren't we ALL happier when well rested?)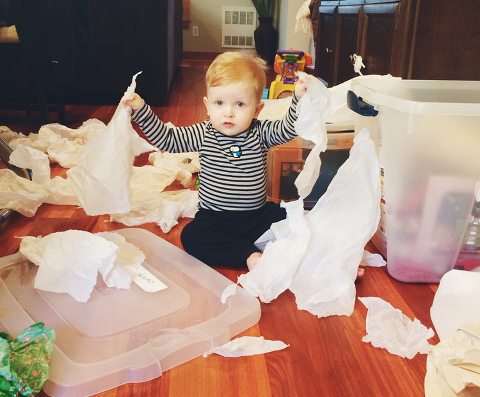 5.  Made a mess.
Baby in their element.  Dumping out the toy box.  Pulling books off the bookshelf.  Covered in spaghetti sauce.  Or, in the example above, 'helping' put away Christmas decorations.
Photo tip:  No need to pose this, just take an action shot.  As mentioned earlier, if indoors, open all the blinds to let in as much natural light as possible.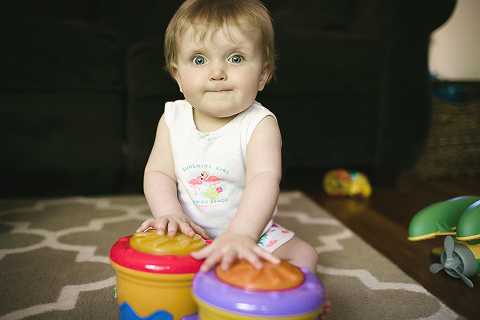 6.  With a favorite toy.
The 'favorite' toy in our house seems to change daily, but snap a shot of baby happily playing with their favorite toy of the moment.  While you're at it, text the photo to the person who gave you the toy so they know it's being loved.
Photo tip:  Lay down on your stomach and take the photo at baby's level.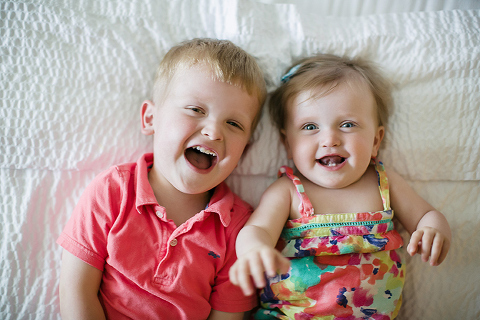 7.  With a favorite friend.
A sibling, cousin, pet, neighbor, parent.  Baby meets so many people in their first year!
Photo tip:  If you're trying to photograph two small children, lay them on a blanket (or a bed works great) and stand over them, looking down.  Tickle them & blow raspberries on their tummies to get a laugh.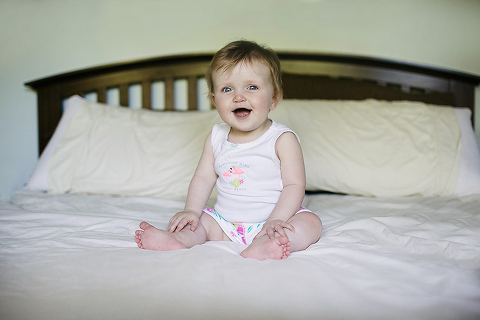 8.  Sitting up.
Babies that can sit up, but aren't yet mobile, are THE BEST to photograph.
Photo tip:  Find a flattering light (near a window) or outside, plop them down in one spot and act silly to get them to laugh.  Sing "Head Shoulders Knees Toes" and move your camera/phone to your corresponding body part as you sing.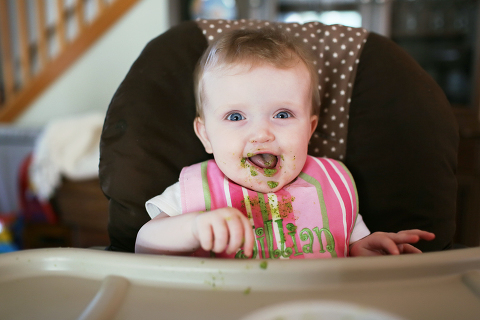 9.  Eating.
The messier the better.
Photo tip:  Rotate their chair until you can see light reflecting back in their eyes (called a 'catchlight').  Sure, the background of the photo above isn't ideal, but Jill's face is much better lit at this angle and the 'sparkle' in her eyes helps convey her joy over trying new food.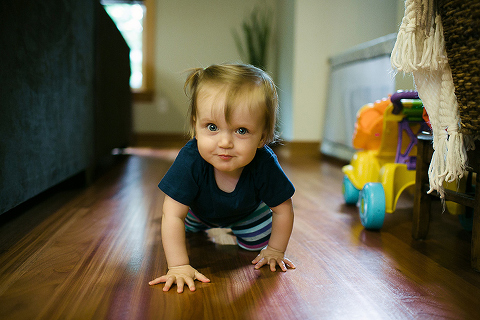 10.  Crawling.
It's so exciting when baby starts crawling!  After you bust out the baby gates, grab the camera.  The older they get, the faster they crawl, so it's easiest to photograph when this skill is fairly new.
Photo tip:  Definitely get down on their level and have them crawl across the room while you snap a TON of photos in order to get your favorite expression.  I love Jill's look of determination above because it perfectly captures her motivation for crawling:  to grab her big brother's toys!
11.  Walking or cruising.
Not all babies start walking before their first birthday (neither of mine did), but you can still capture fun photos of cruising along furniture or walking while holding mom/dad's hand.
Photo tip:  Ask a friend to take a photo with YOU IN IT.  As you can see above, sometimes walking is more fun to photograph with the context of Mom & Dad.
12.  Cake smash.
Hooray!  ONE YEAR!  Celebrate with lots of cake (and photos)!
Photo tip:  Cover the floor with birthday wrapping paper and place baby/cake on top of it.  That way you can just throw everything in the trash after it's covered in frosting.  Or better yet, just take the photos outside (see above).
From swaddled to stuffing cake in their mouth… the first year encompasses so many fun photo opportunities!  Any other 'must-have' photos you'd add to the list?
[and don't miss this list of photos to take in the first six months!]
SaveSaveSaveSave