Ok, friends, it's going to be a full week dedicated to Project Life here on the blog.  And for Day 1, we're going to start from the beginning…
why i love project life
Simply put:  Project Life allows me to USE my photos and document my family's story.  [And BONUS – in a way that's simple to do & beautifully designed!] 
How many photos do you take on your phone or camera in a week? [don't worry, there's no judgment… I'm pretty positive your number won't exceed mine.]
And how many of those photos do you print? [again, not judging]
Do you ever wonder 'why am I bothering to take all these photos of my food/pet/kids when they just sit on my phone?'
Do you ever stumble upon an old photo and think 'oh, I totally forgot about that!  I wish I'd written that story down!'
Does this make you feel sad? [me too.]
Friends, Project Life solved all those problems for me.
I started using Project Life in 2011. And I'm still using it today. The fact that I've been able to commit to something for this long gets to the core of why I love this project: It's simple.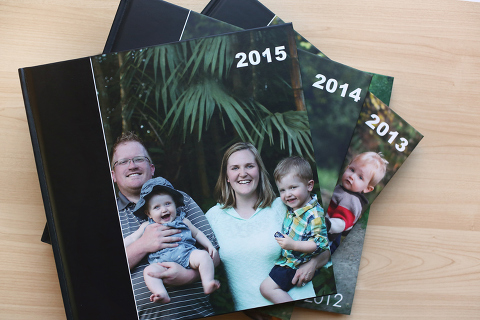 the history behind project life
Becky Higgins, the genius behind Project Life, revolutionized the scrapbooking world when she created a system where you take your weekly photos, print them, and slip them into pre-designed pockets. You take her fabulously-designed-perfectly-coordinating note cards, write quick notes, and slip them into the pre-designed pockets (which became known as 'pocket scrapbooking').  Then, in 2014, Becky revolutionized everything again when she released the PROJECT LIFE APP!  Now, you open the app, tap on the squares to insert your photos, fill out a quick journaling card and you're done.  One full week of your life documented.  In seconds.  (I'll be sharing a video later this week where I walk through that).
Truth be told, I was never a "scrapbooker".  I tried it once my freshman year of college, quickly got majorly overwhelmed, and realized I didn't enjoy it at all.  But the idea of Project Life didn't strike me as "scrapbooking." It seemed more like a yearbook or a journal.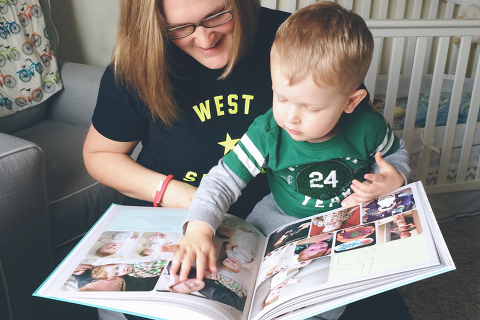 one more reason to love project life
It's truly for anyone.  You don't need to be a certain age.  You don't need to have a significant other.  You don't need children.  Heck, you don't even need to do 'interesting' things.  You just need to have photos.  When I started back in 2011, it was just me, my husband & our puppy, Colby Jack (he dominated the album, for sure).  My albums now primarily focus on the kids because my life primarily focuses on them.  I only wish this simple system existed back when I was in college because, dang, there were some hilarious stories I wish I'd written down in the moment.  Or high school!  Oh, reading the drama of teenage-Casey would be so fun now!  Anyway… it's never too late to start, friends.  There's no need to get overwhelmed.  Start by making a book for 2016.  You'll love it!
Tomorrow I'll be sharing more about exactly how I do Project Life (with a video of me creating a page in the app) so you can SEE how easy it is to do!  Stay tuned!