You guys!  I did it!  This is the final blog series of the year.  For any new friends, this year I've been devoting one week a month to a themed blog series with daily blog posts.  I've talked all about project life, shared some 'wish someone told me sooner' parenting advice, written about ways to preserve your memories/photos, revealed our favorite things in West Seattle, taught a few easy photo editing tips, celebrated my third birthday, shared ideas for documenting childhood, revealed my favorite apps, given ideas for fun ways to use your photos, dished about my family's favorite recipes, and created some fun DIY photo gift ideas.  Now I'm sharing my family's favorite Christmas traditions!
---
For today's post I turned to my friend Jen because she's the queen of family traditions and I want to copy them all!  She has six kiddos and, honestly, I don't know how she pulls everything off (she's the real Supermom). THANK YOU for taking the time to write this post, Jen!  You're the best!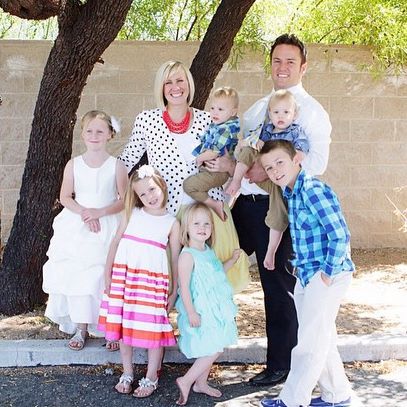 the christmas light ride
Hi! I am Jen! My hubby and I live in Arizona with our 6 kiddos and we LOVE family traditions so I am especially excited to be guest posting as part of this blog series! I spent my whole life within 20 minutes of my entire extended family and holidays were always so much fun! But, when my husband got a job that moved us out of state about 5 years ago, we quickly realized that our little family had almost NO traditions that didn't make us homesick for a house full of extended family that we love.
So, we got to work creating traditions and, oh WOW! have we been successful! In the month of February we heart attack our kids' doors with things we love about them, we order Chinese takeout and make fortune cookies for Chinese New Year, we have regular family dance parties in our living room, and have a back-to-school bootcamp to get ready for the new school year. We have pizza/movie night every Friday, keep a journal of our Thankful Things at dinner each night in November, and we ring in the New Year around 8:30pm with a countdown and a balloon drop in the comfort of our living room. We are now tradition junkies and every time we do something the kids think is particularly awesome they declare it a new tradition (Celebrating national cookie day with a cookie pot luck is a new one we added this year)! But Christmastime is when the real magic happens because those are some of our favorite traditions of the year!
Today I get to share one of those traditions with you and I am so excited because it takes minimal preparation but gives you maximum memory-making and family-connecting time! We call it "The Christmas Light Ride". Now, I can't take credit for the original idea, as I adopted this tradition from some internet search inspiration, but we make it our own and my kids look forward to it each year! The key to keeping it fun (for us, anyway) is the element of surprise! With 8 people who have concerts and commitments and homework and parties, our schedule is like a well-oiled machine with a lot of moving parts. We keep track of all our "stuff" on a great big calendar so everyone can see what is happening every day (and so the rest of the fam can remind me if I happen to forget about one or two of those things). Our favorite traditions get written on the calendar before December starts so that we can fit them all in, but we never write this one down, and the kids live in anticipation until it happens.
When the secret night arrives, we send our kids to bed early (which they have surprisingly never questioned because we pretty much always want to send them to bed early in December!) and they find a "goody bag" with instructions to put on their jammies and get in the car, somewhere they will only find it if they are actually getting ready for bed. As soon as one of them finds their bag, they get all excited and everyone makes a mad dash to get to the car. The goody bags usually have a ticket to the "Christmas Light Express", some candy or popcorn, and a ticket good for one drink of their choice at QT (our local gas station that has hot chocolate with whipped cream and fountain drinks – because sometimes December in Arizona is still not cold enough for hot chocolate).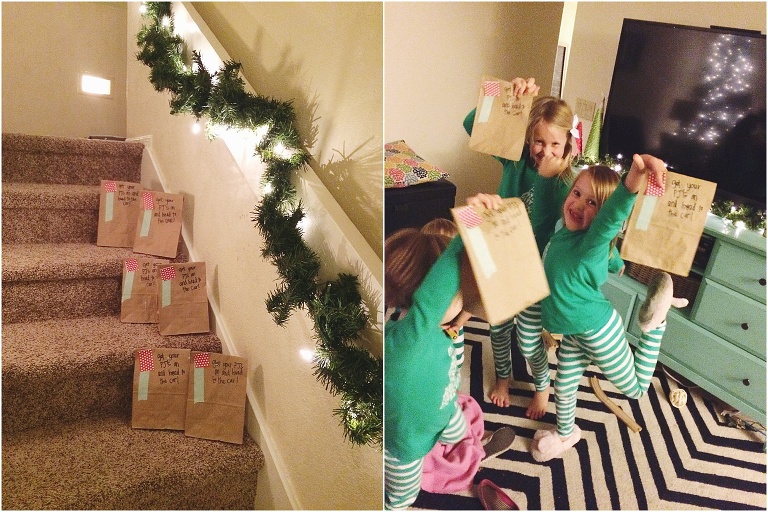 We usually head to QT first so they can redeem their drink ticket, and then we drive around looking at Christmas lights in our jammies! We listen to Christmas music and look for the "good streets". We laugh about lazy-man lights and point out the best blow up decorations. We have some favorite stops on the way: a street where every house goes all out on their decorations and a house we refer to as "gum-gum style" that does musically-synchronized light shows (one year Gangnam Style was one of the songs and our toddler called it Gum-Gum style and it stuck). Really, though, it is all about time together talking and singing and laughing.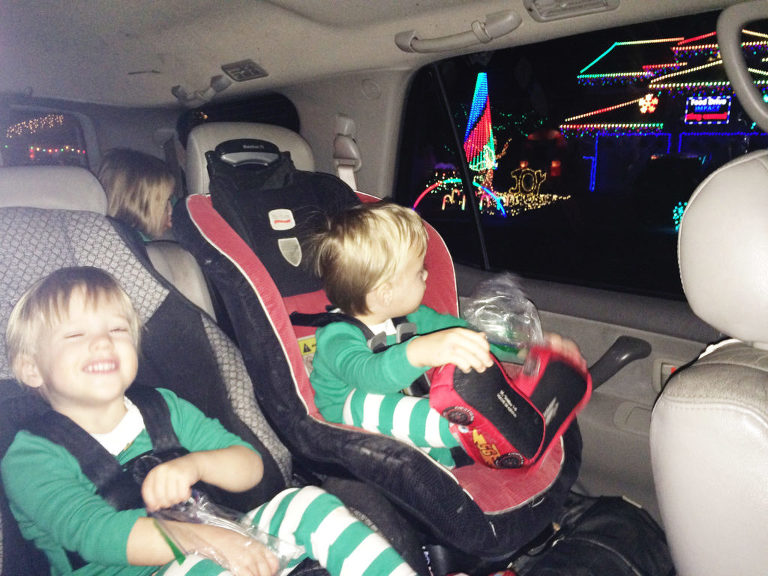 The best part is that you can customize it however you want! Do some caroling along the way, go all out with your treat bags, make it your own version of the Polar Express and look at lights on your way to go see Santa, make it a Christmas light scavenger hunt, we even have some friends that decorate the inside of their minivan with Christmas lights! Traditions aren't so much about what you DO as they are about how they unite your family together in love. I hope your Christmas season is filled with traditions that help you enjoy your family more and that fill your lives with more LOVE!
See, isn't she so fun?  Thanks again for sharing a little peek into your family's holiday fun, Jen!
---
More Christmas traditions are coming all week long!  If you'd like to receive a summary in your email inbox at the end of the week, enter your email address here!