I have been waiting one full year to get this baby in my hands.  No, not the actual baby [that wait was only 9 months]… his BABY BOOK.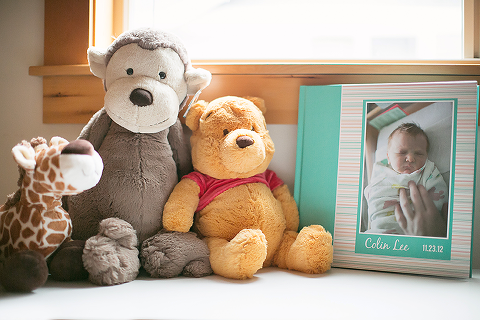 If you've seen my monthly posts about Project Life, it will be no surprise to see that I used Becky Higgins' baby edition of Project Life to complete Colin's baby book.  More specifically, I used the digital version [get your own here].
Not comfortable in Photoshop?  You can always purchase the physical version.  In fact, there were many moments throughout the year when I wished I had done the physical version for Colin's book.   It took every ounce of my patience not to see the physical, completed pages for twelve whole months.
No more waiting… here's a peek into Colin's finished baby book!

The only thing 'missing' from the digital version of Project Life is a file to use for the book cover.  With the physical format, there are plenty of beautiful binder options.  But when it came time to print my finished book, I had to get creative.  I used the cute paper included in my digital kit [this is the 'for him' version] to design this simple cover.
Want to use this cover for your baby book?  Download the templates for FREE [links below] & customize with your own baby's photo & details!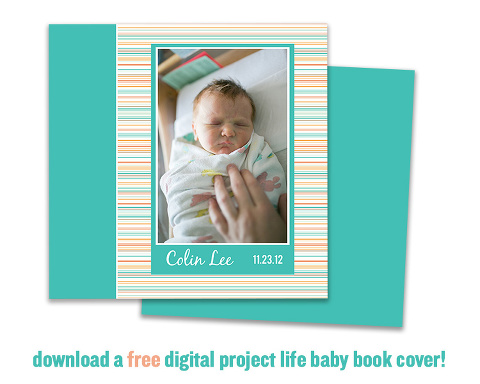 These are psd files for use in photoshop [cute baby photo not included]:  front cover  I  back cover
Don't miss my next post on how I printed my finished book in minutes with Blurb!
[subscribe to my blog to receive my posts by email or RSS feed]
Disclaimer:  This post contains affiliate links. If you purchase a product through an affiliate link, I receive a small commission.  I only share products I know & love!