There was a knock at the door.
He'd arrived.  After months of waiting, he finally stood on my doorstep.
The UPS man.  Here.  Holding a box from blurb.com.
My digital project life [baby edition].  In a real, beautiful, tangible book.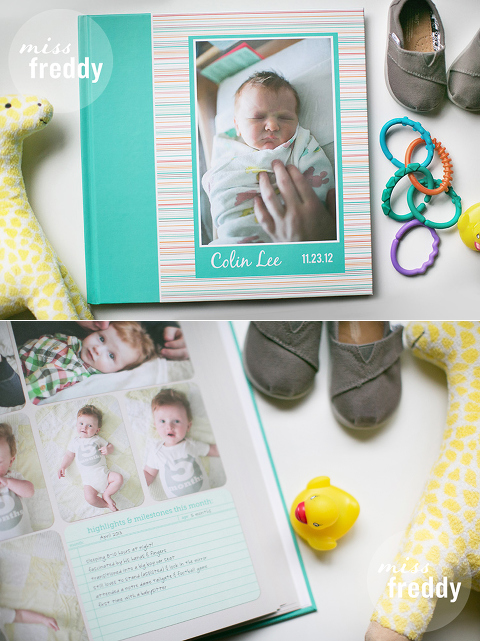 I have used Blurb to print my digital project life for three years.  I continue to return to them year after year because I'm thrilled with the quality of their books.
So, today, I want to share a little more about my process for turning digital project life into a printed book.
Adobe Lightroom has a built-in book function that partners with Blurb directly [I believe in LR version 4 and above].
Using Lightroom, I follow these simple steps:
Import your finished project life pages [mine are saved in .psd format]
In the develop tab, create a

collection

of your pages
Move over to the book tab and choose your book settings in the upper right menu [mine are: Blurb, Large Square 12×12, Hardcover, Proline Uncoated]
Select your collection of pages on the left navigation menu
Click 'Auto Layout' in the right menu [this puts all of your pages into a book for you]
Change your view settings to see all of your pages [click the icon with four squares, under the displayed page]
Important:  if you're using the page templates from digitalprojectlife.com, you'll need to add padding to the pages to ensure everything falls in the 'safe zone':
Select all pages [not the cover]
Change padding to 25 [this is found in the right navigation menu]
To make sure the 'padding' matches the template background, update the background color.  Click on background color in the right navigation, select HEX in the right corner, and enter: DED7CF [this is the color that matches the templates, provided you haven't altered the background]
Add your cover images [here's a free template of the cover you see pictured]
Update the spine to match your cover.  If you're using my free template, you can edit the background color and input HEX 43C0B3 to get a matching teal color.  Add text if you'd like and….
Click SEND TO BLURB!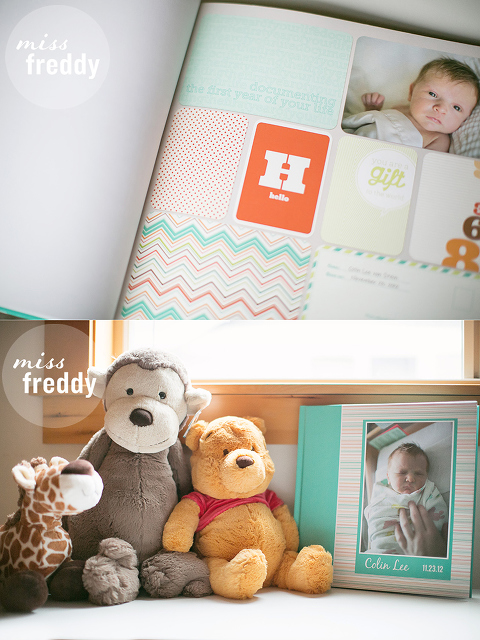 I do highly recommend upgrading to the image wrap cover [pictured above] as well as the Proline Uncoated paper.  It's more expensive, but oh so worth it.

Want to see more of the inside of Colin's baby book?  Check out the entire book!
Curious about how I make my digital pages QUICKLY?  Read about my process!
Any other questions?  Feel free to leave a comment below!
[I do reply to every comment.  Except the spam.  Ain't nobody got time for that.]