It feels like I just did my last 'day in the life,' but as re-read that post, I saw a little baby happily napping in an infant carseat, smiling in the swing, and sleeping beside our bed at night.  Now, she's all grown up in a big girl carseat, the swing has been consigned, and she's sleeping in her crib at night.  Sigh….time flies… or rather… 3 months flies.
June 8, 2015 [Colin is 2.5 years old, Jillian is 8 months]
Good morning!  Ugh, it was a rough night.  Colin woke screaming, multiple times, and eventually we brought him into our bed… where he proceeded to kick me in the face.  Jill slept through most of the commotion which is why she's in such a good mood (that, and she is totally a daddy's girl).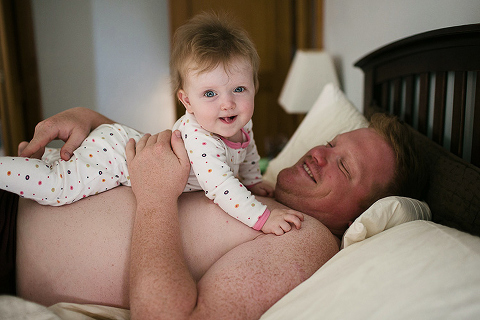 Time to get dressed.  Jill is checking to make sure I got the right diaper size (no, not really) and Colin is in the corner thinking about what he did (no, not really… he doesn't care at all that he kept Mom & Dad up all night long).
Next up… breakfast.  Who is this big kid sitting at the big table?
Monday is laundry day (oh!  the excitement!  aren't you lucky I decided to photograph LAUNDRY DAY?).  This little lady thinks it's particularly fun to take clothes off the nicely folded stack and shake them in the air.  Colby looks on, disapprovingly.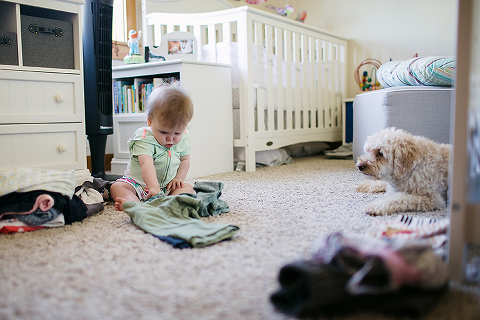 Then we headed out for a play date with some friends.  Perfect day for it.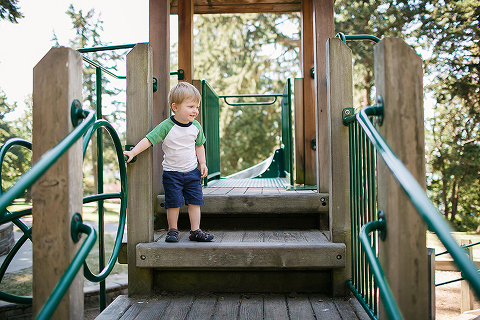 Jilly loves the swings… crazy hair blowing in the wind!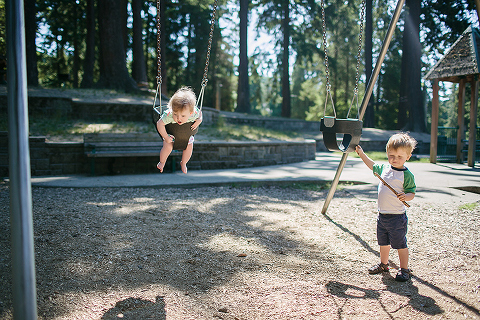 A quick Trader Joe's stop on the way home.  I was reminded of why I usually only grocery shop with one child, when Colin broke a package of balsamic chicken and dumped the juice all over himself.  Yuuuuuuuuck.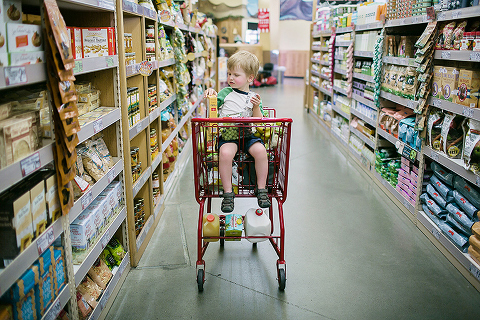 Back home for lunch & nap time.  Colin didn't rebound very well from the chicken-spilling-incident so I rushed to get him a bite to eat, changed him into fresh clothes & put him to bed… meanwhile, with Colin distracted, Jill occupied herself with his toys.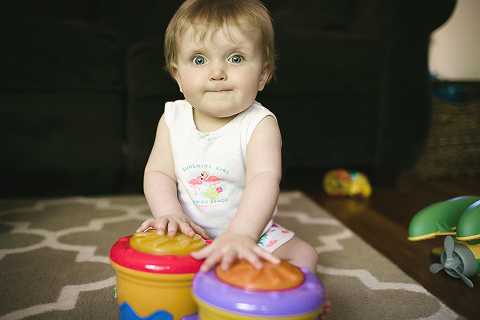 After all the late night antics, Colin took a killer nap.  Hooray!
Jill & I enjoyed a little bit of girl time until she was ready for her nap.  She sleeps in a pack & play in our bedroom because I haven't gotten the courage to attempt nap-time room sharing.  That face though…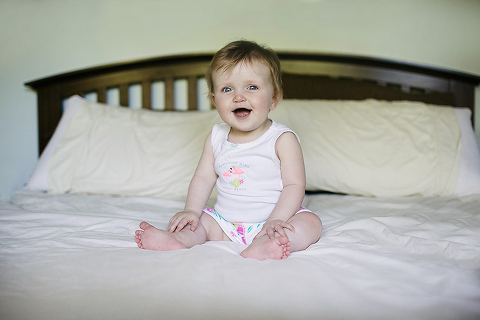 She woke up before her brother so we snuck in an early dinner.  Pears are delicious.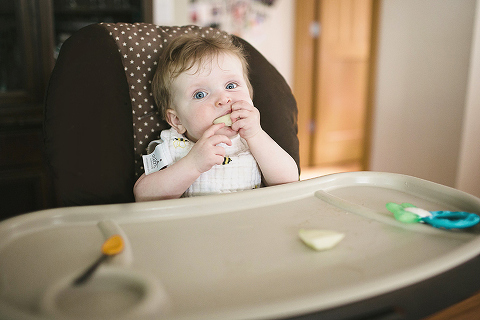 Then our (almost) daily Facetime date with Gaga & Josie.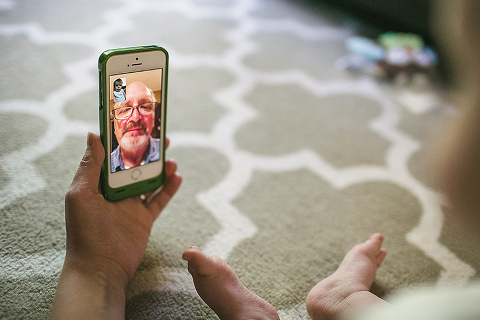 The weather has been unseasonably warm and when it's 80 degrees outside, our townhome gets unbearably hot by the end of the day (remember, no one in Seattle has air conditioning).  So when Colin woke up we headed outdoors where it was significantly cooler.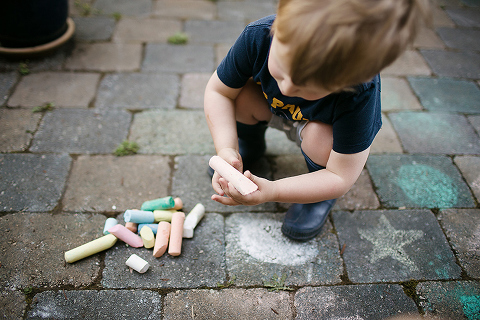 Lately he's been really into sidewalk chalk & bubbles.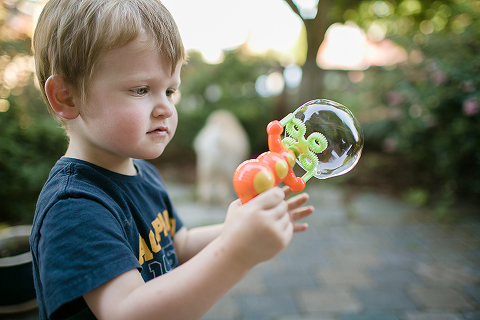 Jill laughs at the bubbles too.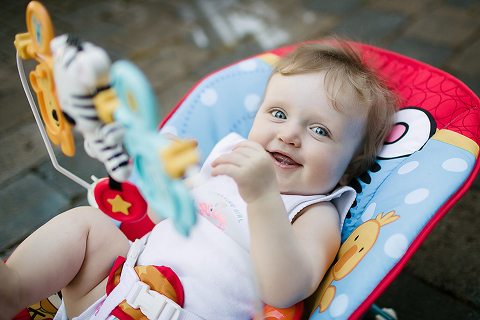 Back inside for dinner & an episode of Daniel Tiger.  Then Daddy comes home (with a new fan to add to our arsenal!) and we start bath time.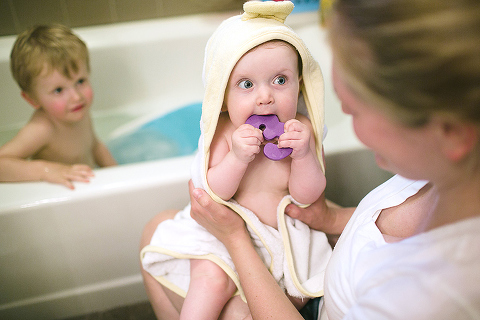 All clean!  Dad handles PJs, books & bed for Colin while I nurse Jill.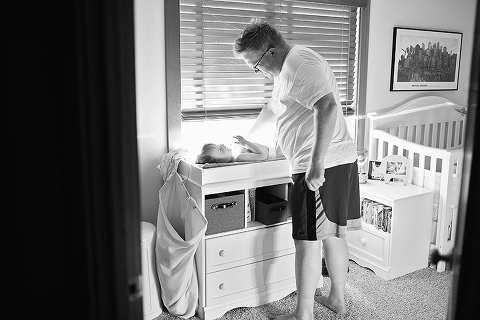 Good night, all.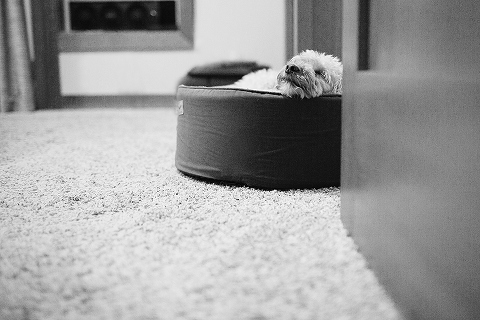 Want to see more days in our life?  Check out my previous posts in the series or follow me on Instagram!