One month ago we packed up all of our things and moved to Colorado.  That may be a complete surprise to many people as we kept the move quiet on social media.  We were working out the logistics of John's job and didn't want his current employer to catch wind of our plans to move away.
For years we have talked about Denver being our end goal.  We wanted to move closer to family (my brother & sister live here + some of John's extended family) and put down roots before Colin started kindergarten.
the house
Back in March of this year we (semi-secretly) came to Denver for a weekend to check out neighborhoods.  We stumbled upon a fabulous lot in Golden while driving back to the airport to return to Seattle and signed a contract the next day.  It surprised us both how quickly everything happened.  We didn't really expect to BUILD A NEW HOME after all, but I fell in love with the model and John fell in love with the lot… and well… here we are.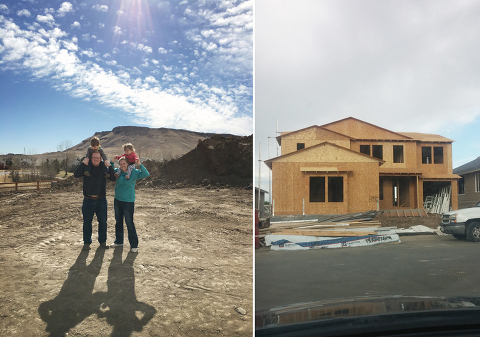 the move
Yikes.  We sent our things on a moving truck and loaded up our car with everything we needed to survive the drive AND a week in our empty home as we waited for our things to arrive.  We did an 8 hour day (to Boise) + an 11 hour day (to Cheyenne) + 2 final hours to drive into town for the closing.  It was a lot of time in the car.  I think Colby's expression sums it up pretty well.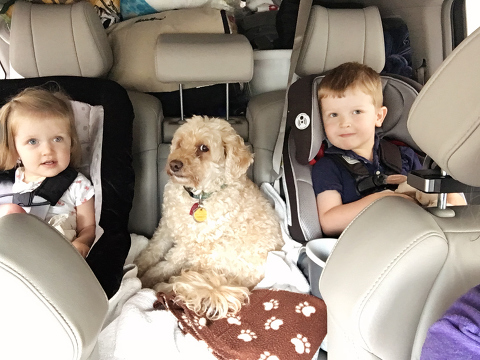 The hardest part of the whole move was living in the empty house without our belongings.  The kids turned into lunatics without their routine and any semblance of normalcy and… ugh… it was rough.  When the moving truck finally arrived a week later, we were ecstatic.  I love this photo of the kids unpacking a box in our new kitchen.
one month in
We love our new house.  We love having SPACE both inside and outside (we upgraded by 2000 square feet in this move!)  We love hanging out with family.  And we're really excited to explore a new part of the country.
For me, leaving Seattle was really, really tough though.  When we moved there three years ago, I never expected to fall in love so hard with the Pacific Northwest.  We kept a running PNW bucket list and had an amazing time checking off every last item.  But, truthfully, I don't know if all that exploration made it easier or harder to leave.  On one hand, I felt like 'I came, I saw, I conquered. We can go.' and on the other I felt like 'This is the most beautiful place on Earth… how can I ever leave?'
But, leave we did.  And my emotions were so out of whack the first two weeks that it was almost like going through a breakup.  Remembering only the best of times and crying over photos of my friends with my ex (West Seattle) in my Facebook feed.  I even got choked up at the Costco membership counter when the nice cashier showed me his WA tattoo.  (In my defense, the move made Jill stop sleeping.  Like at all.  So I was probably heavily influenced by exhaustion).
I will always have a special place in my heart for the time we spent in Seattle.  But I'm also really excited to know that this is it.  Our plans are to stay put in Golden, CO for a really long time, which feels great considering we have lived in FOUR states since we got married. We are looking forward to building a life here.

what does this mean for Miss Freddy?
My plan is to come back to Seattle 2-3 times a year for mini sessions… for as long as my Seattle clients will have me.  [My first trip back in November is already fully booked and I CAN'T WAIT!]  Unfortunately it also means that I won't be able to take newborn clients in Seattle anymore, so I have some great photographers lined up who are happy to help in my absence.
I'll be starting from scratch again, but I plan to re-build my photography business here in Colorado.  If you know anyone in the Denver/Boulder area who may need family photos, I'd be so grateful for your referral!  Eventually I'll even have a studio space here in Golden too.
And… finally… while my calendar is light on photo shoots for the foreseeable future, I'm working on a couple inexpensive online photography courses geared toward moms (that you can take from anywhere in the world!).  I'm also working on expanding my brand a little more in the memory keeping realm (offering help with managing your photo archives, etc).
come visit!
So, yeah, that was quite the update.  A lot to process (for you and me both). I'll wrap up by saying… we have lots of space to host visitors!  Hope to see you soon!