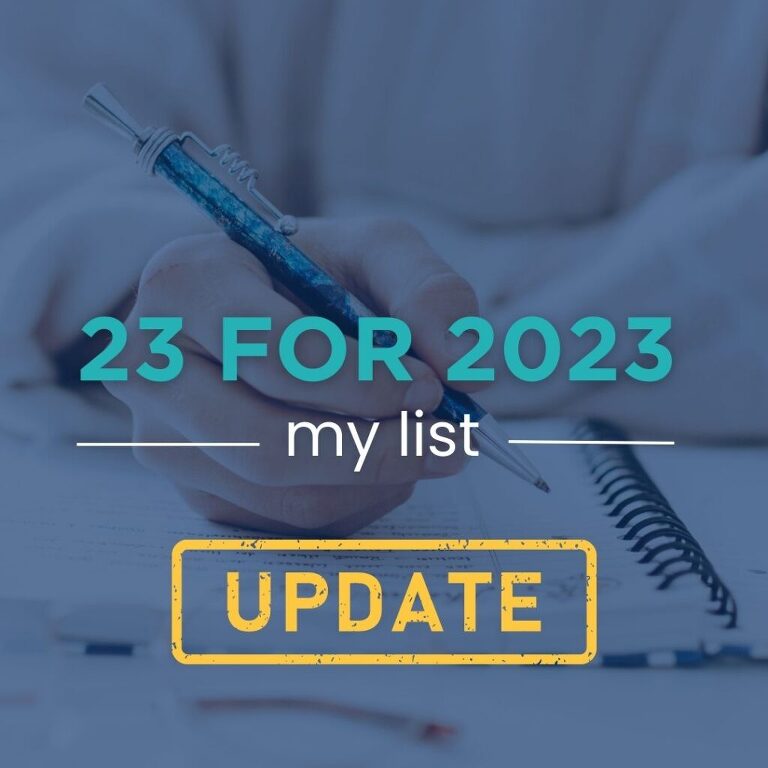 Last week on the Happier podcast they shared an update on the 23 for 23 lists in honor of 'Halfway Day' and I thought I'd do the same! Here's how the list is going so far…
[My initial 23 for 23 list blog post for reference if you want more background/explanation on any items.]
✔️ Make a 2022 Family Yearbook 
I finished this during my Family Yearbooks Support Group in January and my family loves it.
✔️ Photograph kids artwork 
Adding this to the list was the nudge I needed to take care of it… I did it back in January as well.
✔️ Create two 2022 Yearbook Videos 
Same as above- I did these two videos prior to printing my Family Yearbook so that I could include QR codes to the videos inside the back cover of the book.
✔️ Meditate daily with my Core 
I've surprised myself by sticking with this habit of daily meditation, but I'll be honest… I haven't really noticed any major changes/benefits. This summer I switched to meditating as part of my son's bedtime routine, with a kids meditation in the Core app, and he really likes it.
✔️ Visit Scotland 
Yes! John and I went to Scotland last month to celebrate my 40th birthday!
✔️ Walk Colby everyday 
This one took an unexpected turn when Colby got injured in February, had BOTH ACLs repaired at the end of March and then slowly regained his strength through April/May. But recently we have been back to daily walks.
✔️ Continue Chatbooks Monthly Minis 
Just ordered the June book this morning! This one is so fun and easy. My kids still love them. (If you want to try them, you can use code MISSFREDDY to save 20%.)
Try strength training 
Nope. Not even a little bit.
Take June, July and December off work 
I'm in the middle of my summer break as we speak!
Update our will  
Not finished, but I did

start

the process. We had a call with an attorney last month and have some paperwork to complete before she can write the will.
✔️ Read 52 books + clear my 'to read' list 
I did clear the list and it's been another strong reading year. As of today I'm at 80 books finished.
Go to New York 
Not yet. But tickets are booked for later this year!
✔️ Do a girls trip with my college roommates 
YES! We got together in February in Hilton Head… it was lovely!
Finish 5 read-aloud books with my kids 
We have finished four so far: Amari and the Night Game, The Wingfeather Saga Book 1, The Wild Robot, and Little House in the Big Woods.
✔️ Create family videos after any vacations 
Yes I created one after our trip to Florida for Spring Break and also after our Scotland trip (though the kids don't really care about that one as much since they're not in it).
✔️ Buy new underwear 
Done and done! I truly threw away my entire underwear drawer and started over… it was time. For the second half of the year my goal is to go to Nordstrom for a bra fitting. The last time I did a fitting was when we lived in Seattle (it was SO helpful).
Floss daily 
I've been slipping a little on this… need to work on this habit again.
✔️ Apply face sunscreen daily 
This habit is very well-established now and this is my very, very favorite face sunscreen.
✔️ Do Everlywell tests 
Yes, in April I finally did the tests I bought during last year's Black Friday sale! Through the metabolism test I found out I have high cortisol (I was really surprised by this!) so I've been making some changes in my diet/exercise to try and address that… will do a follow-up test soon to see if my levels have lowered.
✔️ Host a 'sissy sleepover' 
Did this last month.
✔️ Buy ice skates 
Totally forgot this was on the list, but I did buy them… hopefully I will take them for a skate this winter.
See 3 concerts 
Have seen zero concerts so far, but Taylor IS NEXT WEEK AND I AM SO EXCITED. We also have tickets to two other concerts later this year.
Complete 5 online courses 
I've completed one… need to focus on this more before my summer break ends!

If you're also doing a 23 for 23 list… how's it going?!