I have listened to the Happier with Gretchen Rubin podcast for a long, long time and every year enjoy the 'lists' they each make (20 for 2020, 21 for 2021, etc). One thing I love is that they check back in at mid-year and year-end to share their progress AND they never finish every single item.
This year, for the first time, I felt compelled to make my own list. Here's a peek + some commentary if you're curious!
If you want to make an 'official' list of your own, here's the printable from Gretchen Rubin!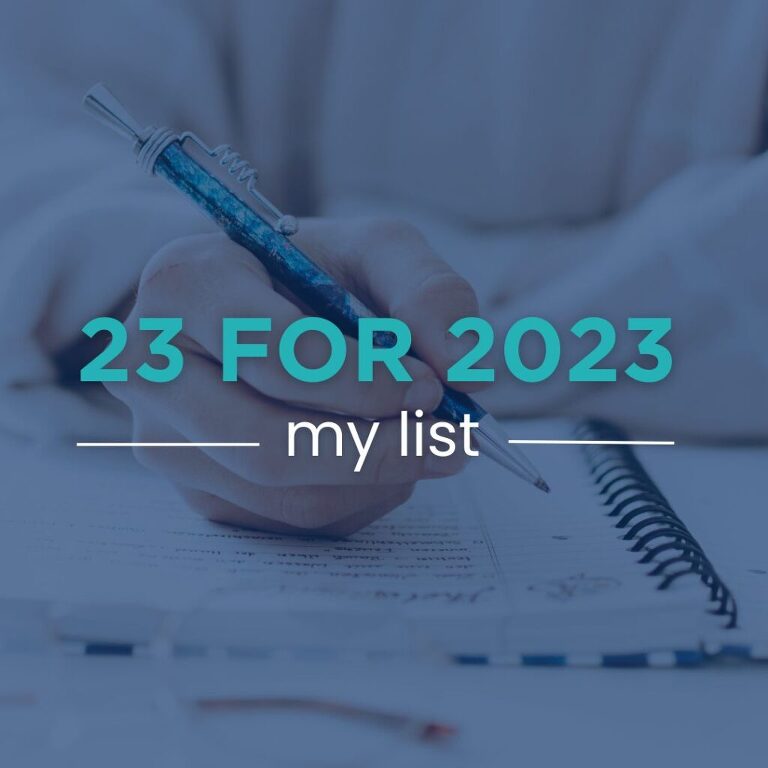 Make a 2022 Family Yearbook
I do this every January and have a course all about my process!

Photograph kids artwork
It's been maybe 18 months since I last did this and I have a large stack to catch up on. As a refresher, this is my strategy for handling kids artwork.

Create two 2022 Yearbook Videos
In 2020 I started making a custom video with our 'everyday clips' and the kids asked for it again this year- I make a Part 1 and Part 2 for the year, each about 3 mins long. I actually finished them last weekend so ✔️ this one off!

Meditate daily with my Core
I've been in a rhythm of doing this for 10 mins before bed each night, but will probably play with where it can fit best in my day.

Visit Scotland
I spent a semester in Dublin in college and the final month my bank account went into the negative so I passed on a weekend trip to Scotland, saying 'I'll just have to come back someday!' We're going for my 40th birthday… just booked it!

Walk Colby everyday
I'll be honest… during the years when my kids were tiny, Colby was so very patient with me… walks were infrequent. In 2019 I made a promise to him that I would never skip a daily walk with him again (and I haven't). This is a well-established habit now, but one I still wanted to include on my list.

Continue Chatbooks Monthly Minis
I started these in 2021 and they're a SIMPLE way to get photos from my camera roll into my kids hands quickly. 30 photos, no design decisions, and $7 a month which includes shipping. Plus you can use code MISSFREDDY to save 20%.

Try strength training
I signed up for the Sadie Active app in December and so far like the simplicity of the routines, but they're pretty lengthy so I've got to figure out where they can fit best in my day if I have any hope of being consistent.

Take June, July and December off work
This will be the 4th year taking my summer off (it's great!) but new this year is trying to do that in December as well.

Update our will
Our will is really… old. And not well done. This year I'd like to find a local attorney to help us update and solidify things better.

Read 52 books + clear my 'to read' list
After reading 126 books last year this may sound like a low goal, but I've made SO much headway on my 'to read' list that I currently only have 40 books on it and CLEARING that sounds like a crazy dream that's suddenly maybe possible?

Go to New York
I've never been! And have always wanted to! This is the year. I think we will make it a family trip.

Do a girls trip with my college roommates
We haven't been all together since 2017 so this is LONG overdue! But we booked a trip to Hilton Head so this HAPPENING! ✔️

Finish 5 read-aloud books with my kids
It takes us a long time to get through them- we pick long ones – but I think we can do it!

Create family videos after any vacations
I started this in 2020 after taking a just-for-fun video editing class and now my kids DEMAND them after every trip! I share more about this in my Organizing Videos course.

Buy new underwear
Stole this one directly from Gretchen Rubin's list… because, well, I should!

Floss daily
Last spring my dentist asked me why I hate flossing and I answered that my gums bleed. She said 'if you floss daily for 10 days, they won't bleed anymore!' Partially to prove her wrong, I started flossing regularly and well… she was right. Maybe I should be embarrassed it took me almost 40 years to develop a flossing habit, but I'd like to keep it up.

Apply face sunscreen daily
After moving to Colorado the amount of sun damage on my face sky rocketed and I've learned my lesson. This habit is pretty well-established now and this is my very, very favorite face sunscreen.

Do Everlywell tests
During a holiday sale I bought their food sensitivity test and metabolism tests. Just need to actually DO them, hah!

Host a 'sissy sleepover'
I have 4 'sisters' in town- my sister, sister-in-law, her sister, and their sister-in-law- and we have done two fun girls night sleepovers (plus a trip to the Bahamas last summer!)… I'd like to host one this year.

Buy ice skates
I recently took my daughter to an open skate at the rec center and let's be honest… rental skates are garbage. I spent years of my childhood figure skating so I think I should purchase some decent Riedell skates to use. I actually found a nice, used pair on eBay this week so ✔️ this one off!

See 3 concerts
Have tickets to see Taylor Swift this summer, but not sure what the other two will be!

Complete 5 online courses
I keep a note in my Notes app that has a list of online courses I've bought over the years + their login links… I'm going to choose 5 to complete this year.
I know I said that COMPLETION of this list isn't the most important, but I think I have a good mix of easy + stretch goals so I'm feeling optimistic!