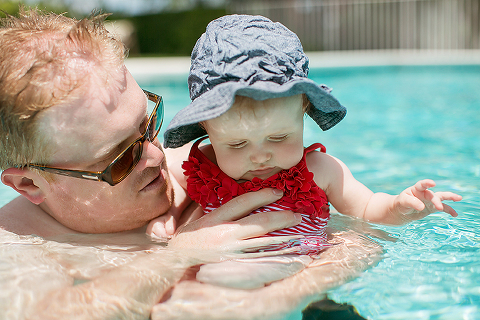 currently…
sorting through photos from our trip to Florida last week [we visited John's family].  Jill's first swim [pictured above] was a highlight for sure.  Her ruffly swimsuit was almost too much for me to handle.
recovering from cross country flights that involved way too many poopy diapers & way too little sleep.  Flying with two small children is hard work.
optimizing my website for mobile devices.  Clearly, I've been dragging my feet on this, but I put so much time into my site design and it made me sad to strip it down.  Google's announcement gave me the kick in the butt I needed.  I'm actually pretty happy with how it's coming together. [if you're viewing this on your phone, let me know what you think!]
working on my summer capsule/minimalist wardrobe.
filling our new under-the-stairs storage closet.  Hooray for a teeny bit of SPACE!
loving the way Colin laughs at Jill in her jumperoo & the way she smiles back at him.  It's fun watching their sibling bond develop.
reading Attachments. 
watching episodes of Shark Tank.  Love that show.
catching up on Project Life.  I haven't done anything since early February but I'm not stressed… the Project Life app always saves the day. 
feeling so very touched that I was nominated [and now a finalist!] for Seattle's favorite family photographer!  Help me out by casting a vote!