"I can't this round.  My husband travels for work and it'll be too hard to make the classes."
"Not this time.  No childcare."
"I can't this session.  We joined a gym so I'm good."
You name the excuse. I'm pretty sure I gave it to Emily (owner of Fit4Mom West Seattle) when she asked me (persistently) to try Fit4Mom Body Back.
Finally, she said "Casey, there will ALWAYS be an excuse.  Moms ALWAYS find reasons to keep from making themselves a priority.  Just say yes."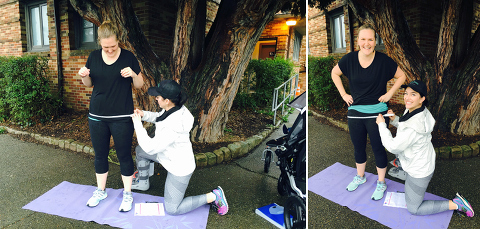 no more excuses
I had Jill 17 months ago and, for me, the weight loss looked VERY different the second time.  With Colin, it slowly came off as the weeks passed.  With Jill, it just stayed there.  I breastfed.  I drank more water.  I ate less food.  I ate more food.  I wore a Fitbit.  We joined a gym.  Literally, the scale has not moved a single pound (up or down) in more than a year.  (It's not broken. I checked.).  So, with Emily's voice in my ear repeating "do this for YOU", I said yes.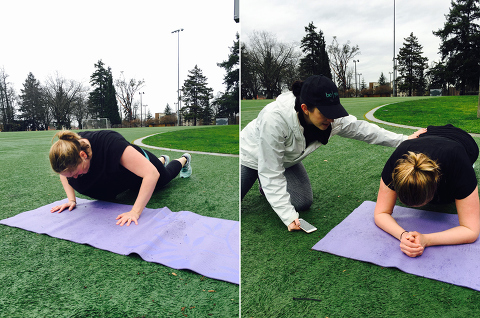 Body Back is an 8 week intense fitness training program designed for moms to get their 'body back' after baby (no matter how long it's been).  It consists of two group workouts each week + one at-home workout.  There's also nutrition counseling and a focus on clean eating throughout the program.
To kick things off, there's a fitness assessment.  All of the photos in this post were taken at my assessment (which was in the rain… like Emily said, no excuses!!)  She took my measurements, snapped a couple "before" photos, and pushed me to my limit on sit-ups/pushups/plank/burpees/wall sit/mile run.
I wasn't expecting much from my assessment results.  Truthfully, I left a LOT of room for improvement, but with Emily's support & encouragement, I posted better numbers than I expected.  [I foolishly thought she may prefer lower initial numbers to make my final results look better, but there are no excuses!!]
I mean, look… she even did the wall sit along with me WHILE WEARING A BOOT to prove that I could hold it longer.
so many emotions as i begin fit4mom body back
I'm scared [that I won't be able to do the workouts].
I'm excited [to challenge myself in new ways].
I'm fearful [that I won't see results].
I'm encouraged [that others will hold me accountable].
I'm nervous [that everyone will be stronger].
But mostly, I'm proud [that I finally said yes]!
I'll be posting weekly blog updates through the 8 week program (along with before/after results + photos).  So if you'd like to follow the journey, consider subscribing to my blog!
[Update:  my final results are in!  Or check out all of my weekly Fit4Mom Body Back posts!]