Two years ago I did a photo book comparison where I ordered the exact same book from seven different places to compare quality and value. That post was really popular and I continue to field a lot of questions for my thoughts on 'xyz' photo book company that wasn't in my initial comparison. So I decided it was time for Round 2!
Now, in the initial comparison I discovered Printique (known at the time as Adoramapix) which became my absolute favorite photo book company. I'm still thrilled with them. So I want to be clear that I didn't do this Round 2 comparison in hopes to find a new company– it was simply to be a resource and provide information to those asking.
One quick note before I share the results… I am only comparing 'premium' photo books here. I find the economy level photo books are all so similar that you can just make a choice solely on price. For Family Yearbooks, I like to use a more "premium" book because I put a lot of work into the books and I want them to be impressive.
No more waiting… here are the results!
PHOTO BOOK COMPANY COMPARISON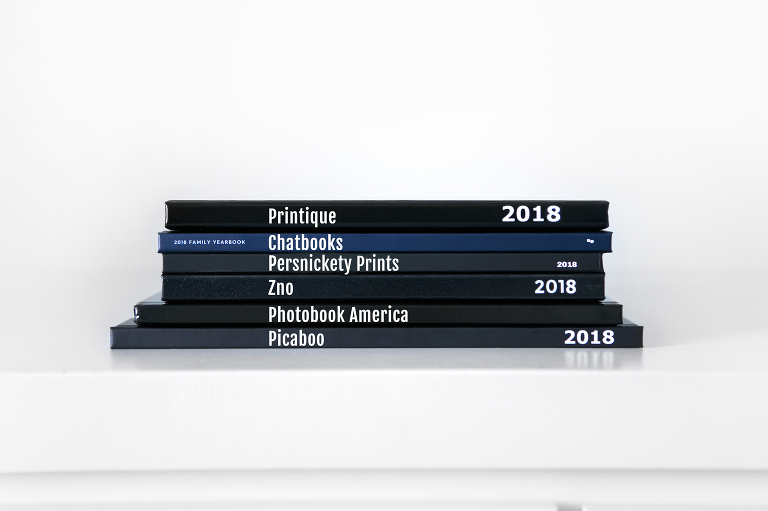 chatbooks
Ok, the first to arrive was the new Chatbooks Premium 10×10 Layflat book. This is a new offering from Chatbooks and I'm honestly thrilled with it. I use a Chatbooks softcover series for my kids' artwork and the quality is just so-so. This Premium Layflat is a totally different ball game. I love the quality, the feel of the cover, and the lovely layflat pages.
My only disappointment is the limited cover/spine design options. You are unable to customize the spine and the background colors are limited to navy/white/gray. This won't match my series of Family Yearbooks but I think Chatbooks could still make great gifts or maybe a special occasion/vacation book.
Another limitation currently is you can only order this book type through their app and I like to order my books on my computer through their website. Perhaps that'll change in the future- this is still a very new product offering for them.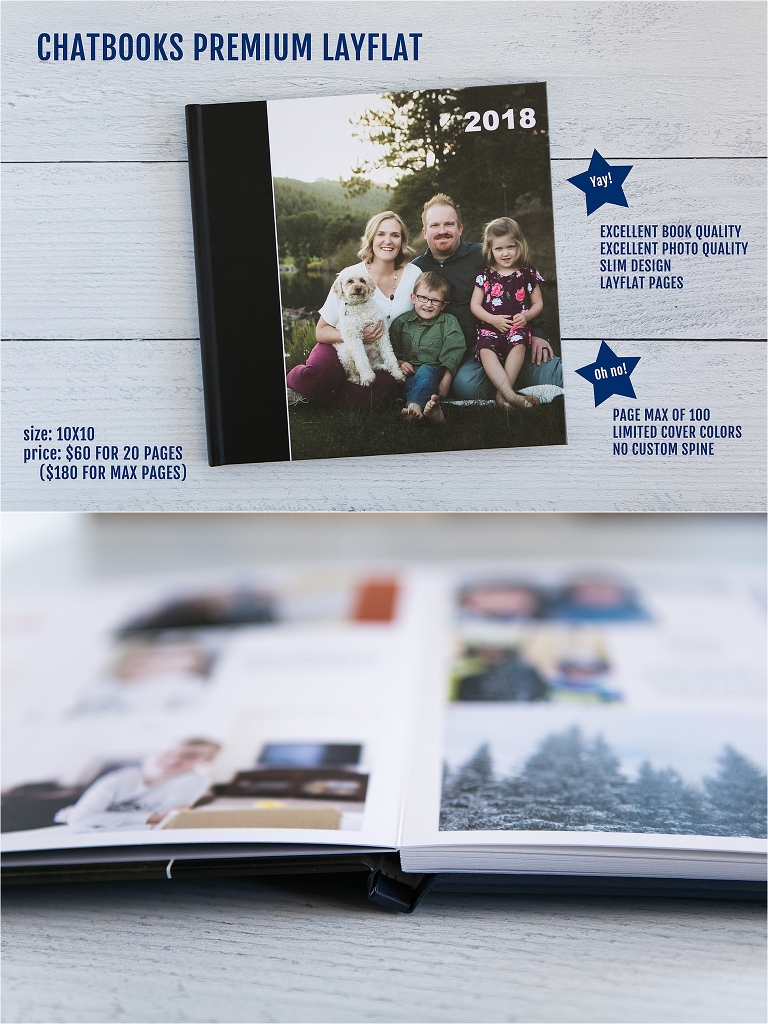 persnickety prints
Next up: Persnickety Prints. I was really surprised by this book and honestly not in a good way. Persnickety offers such high quality photo prints that I assumed I'd love this book… and I didn't.
The color quality was nice and it will fit a LOT of pages, but they didn't offer Layflat pages and the pages are quite thin in comparison to the other 'premium' books in this comparison- yet it was the the most expensive book I purchased.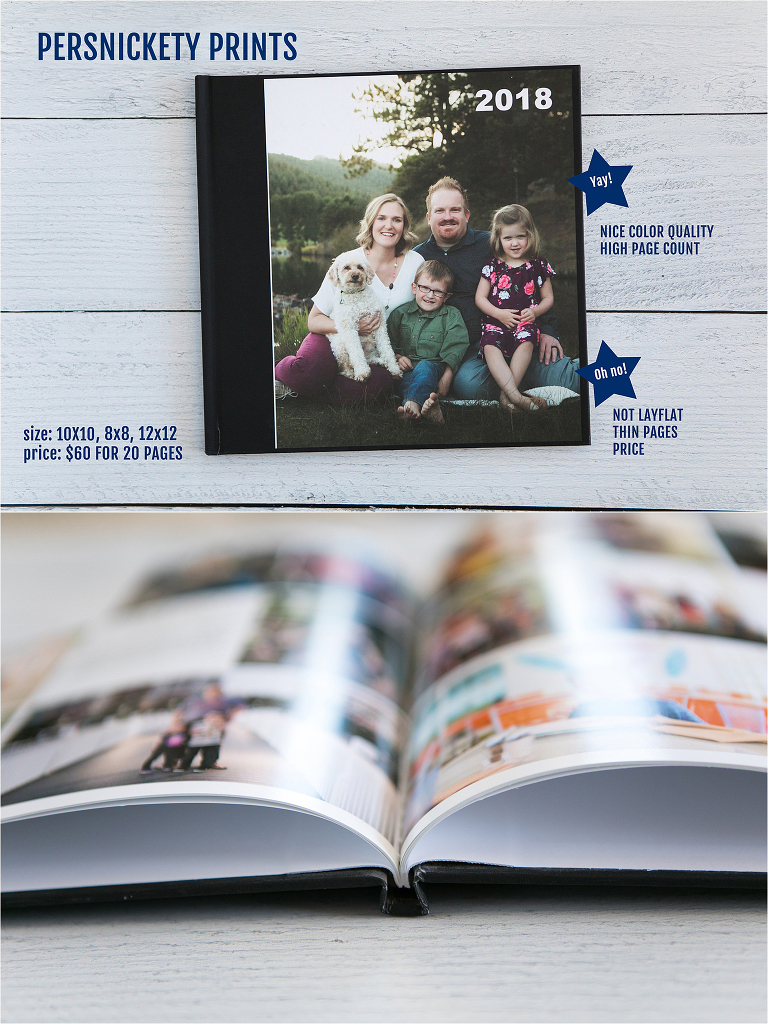 picaboo
Picaboo was a heavily requested company for this comparison. The quality of the book was nice but overall I'd put this one as 'just ok.' I personally prefer the 10×10 book size which they don't offer so I ordered a 12×12 for the comparison.
One thing that was disappointing is my page borders were uneven- the left side pages were cropped to cut off my white border but the right side pages left it intact. Perhaps if I contacted Picaboo they'd fix this, but I haven't reached out. They do offer very big sales and the color quality + Layflat pages are nice, so I think that's why they're so popular.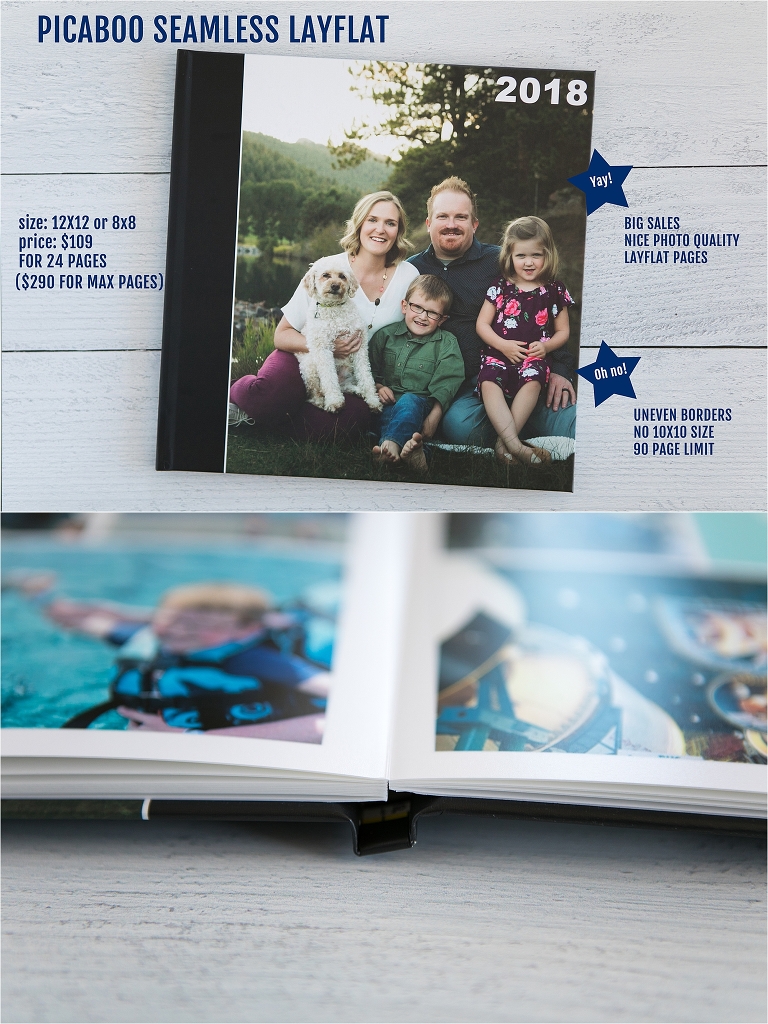 photobook america
I got a lot of requests to review Photobook America because there aren't many companies that offer international shipping. Guys, this book was awesome! Great quality, excellent color, beautiful Layflat pages (holds up to 150- that's the largest Layflat book I've found!) and they have huge sales frequently which make the prices really competitive.
My complaints are that there's no 10×10 size + I couldn't figure out how to add a label on the spine. Their 11×11 size is what I ordered for the comparison.
The quality was really impressive and the price was a great value so I definitely recommend this one for my international friends!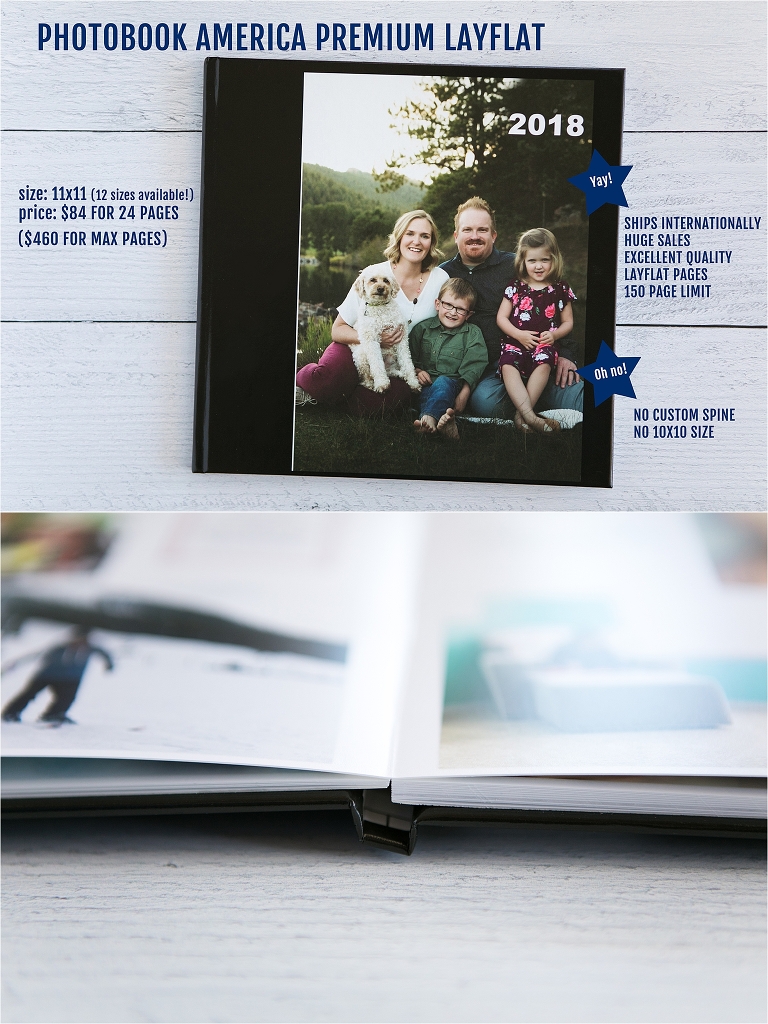 printique
Oh, my favorite Printique. I didn't order an extra copy for the test so I threw in my most recent Family Yearbook for this photo comparison, my apologies that it's not a perfect match.
I love everything about Printique- the quality is so, so good and I love their simple design interface (I love it so much that I created a whole Family Yearbooks course about it!).
I just wish they'd ship outside the US/Canada for my international friends to enjoy.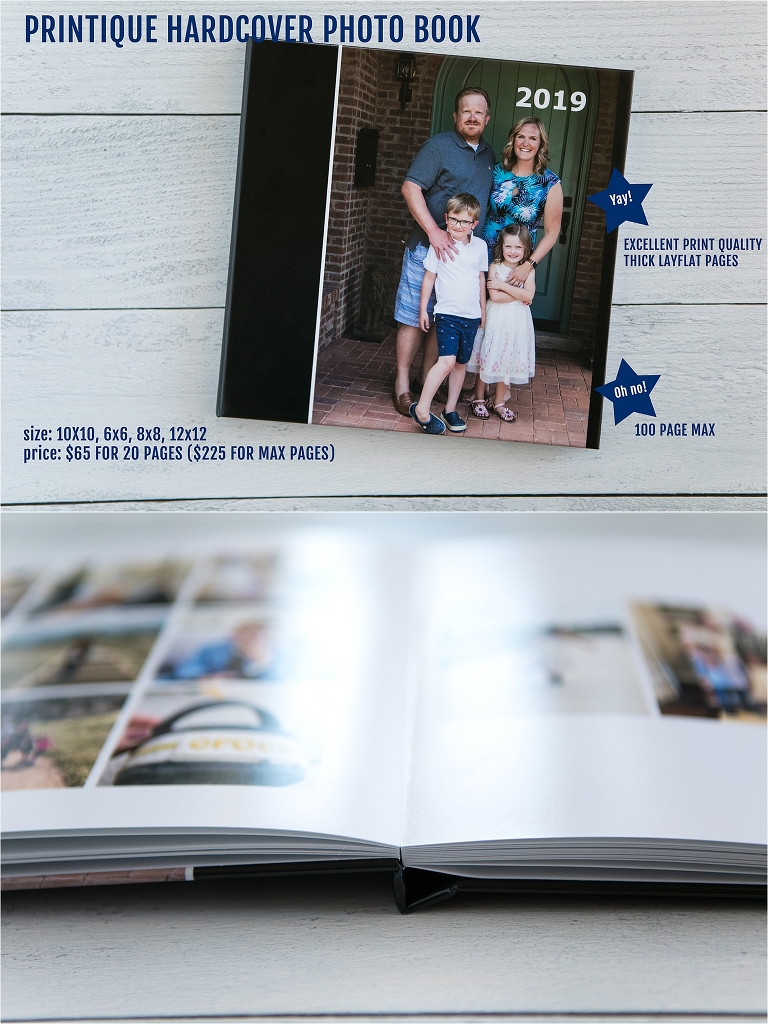 zno
Zno was another new company for me and another 'just alright'. Again the page and print quality was great… love the thick Layflat pages. But I didn't like the texture of the cover. It has a sort of a leather-look texture but with my cover design it makes it look dusty or dirty. Not for me, personally.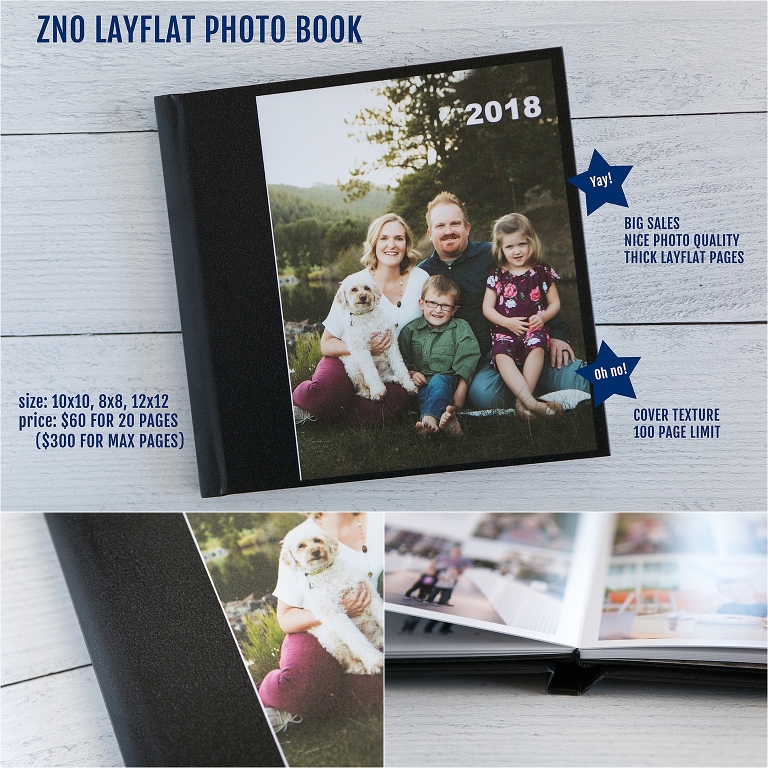 ---
MY FINAL RECOMMENDATIONS
I know each person has their own individual agenda when it comes to printing their photo books, so just a quick reminder that ANY PRINTED BOOK IS A GOOD BOOK! Don't let the deciding-which-company-to-use prevent you from taking action on your family's yearbook!
The winner for me… again, it's Printique. Love them.
Since they don't ship internationally, my recommendation for friends outside the US/Canada is Photobook America.
Runner up: Chatbooks new Premium Layflat!
I hope that was helpful!!
---
Disclaimer:  Some of the links in this post are affiliate links which means I will make a small commission from your purchase which will help cover my costs for all these sample albums.  I hope you found my reviews helpful and really appreciate your support!