We celebrated Colin's THIRD BIRTHDAY at The Little Gym of West Seattle this weekend and it was a BLAST!  After attending a party at The Little Gym earlier this year, I knew we would be hosting Colin's party there as well… they're just so much fun & convenient!  When we landed on a train themed birthday party, I wasn't sure how we'd tie trains in with a gym (not that it really matters), but my mom came up with a cute rhyme to print on invites (which were designed to look like train tickets).  Turned out really cute!
"You're invited to celebrate on the Island of Sodor
You'll find it through The Little Gym door!"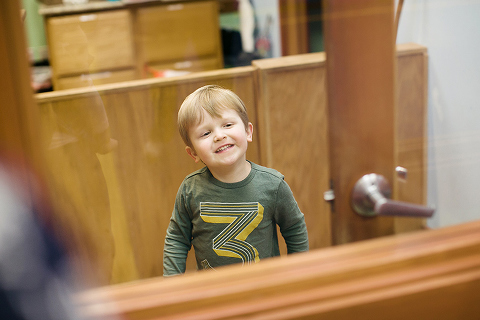 Love that shot of Colin peering into the gym from the lobby.  Of course in a shirt that says his age (because it's tradition).  The best part of a party at The Little Gym is that there's SO MUCH ROOM for the kids to run off energy.  There were two instructors leading them through activities and plenty of free time to explore.  The parachute was Colin's favorite…

They also blew up the air track for some bouncing fun.  Many of Colin's friends have younger siblings that are closer to Jill's age so the instructors put down a little ring on the air track to have an area the babies could bounce in… safely tucked away from the big kids.  It was really adorable (scroll down for the photos)!

There were some cute train themed birthday party details that I of course didn't have time to properly photograph during the fun of the party, but the two snapshots below show a few of them.  If you're looking for easy party decor ideas for a train-themed toddler birthday party, here's a little more info!
train themed birthday party decor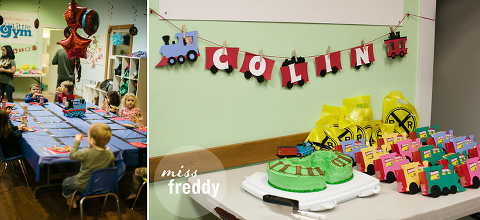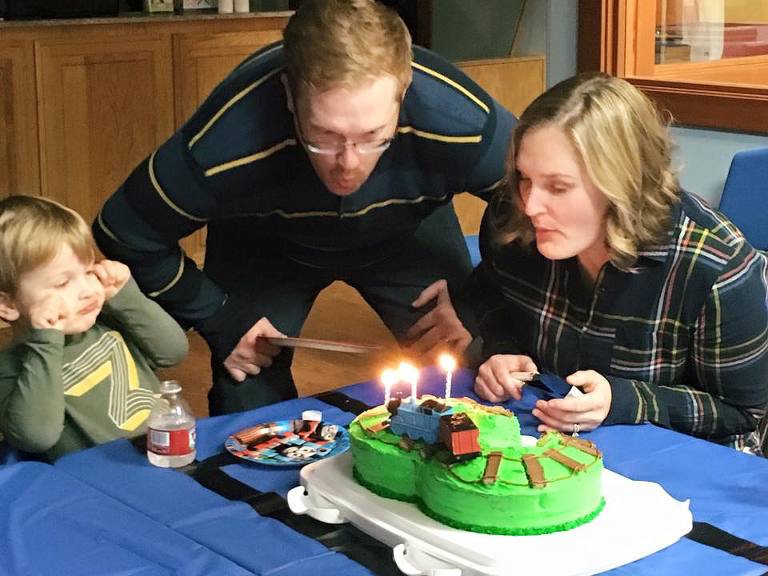 ["Blow out the candles, Colin!"  ::: blows raspberries and spits all over the place :::  haha!!]
Want more birthday fun?  Check out Colin's second birthday party at Curious Kidstuff Art Studio!
the best gym birthday party!
The Little Gym was named Best Gym Party by Parents Magazine!  The Little Gym's "Awesome Birthday Bash" is perfect for kids 0-12 years of age.  Your group will have the whole place to yourselves while trained instructors lead all the fun and The Little Gym of West Seattle team will handle everything from setup to cleanup, which means you get to go home to a clean, quiet house when all the fun is done.