Happy February, friends!  It's funny… I was never really 'into' Valentines Day as a holiday until I had kids.  Now, suddenly, I love to send Valentines cards to our friends near & far, I bake Valentines cookies for the teachers and neighbors, and do Valentines crafts with the kids.  I don't understand it either. But at least it breaks up the dreariness of this time of year!
Here's a fun Valentines craft I recently did with the kids… it's a quick + easy way to USE YOUR PHOTOS!
easy valentines craft for kids
Step 1:  Hot glue popsicle sticks into the shape of frames.  You can make them single-wide or double-wide (like you see below).
Step 2:  Paint the frames!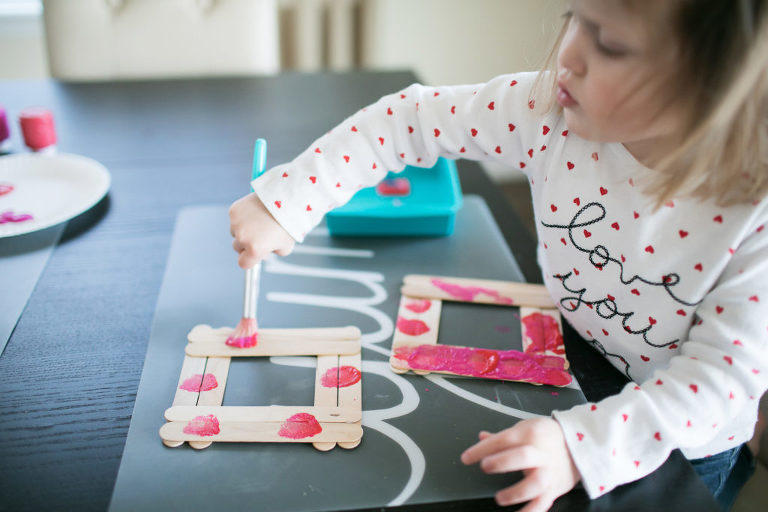 Step 3:  Let the paint dry, then hot glue conversation hearts to frames.  The Brach's conversation hearts are cuter, but the Sweet Tart ones are much more delicious (in my opinion) so, since we had to eat all the leftovers of course, I went with the Sweet Tart hearts.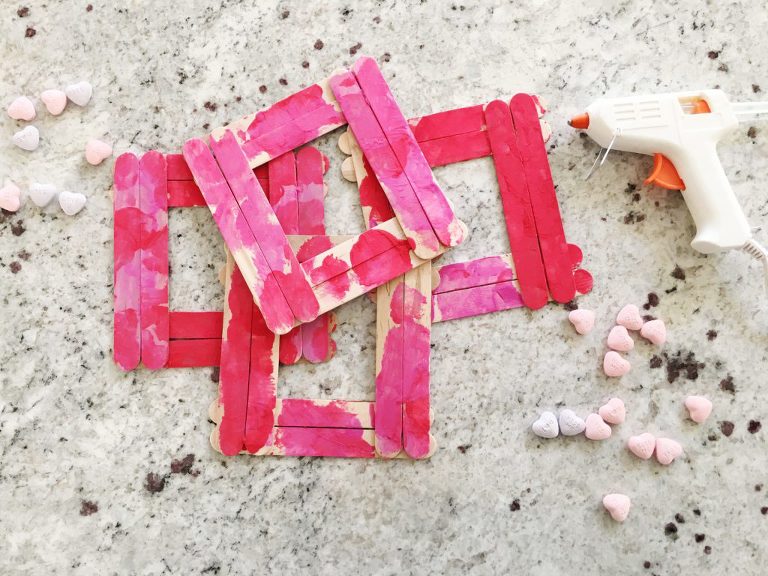 Step 4:  Tape in your photo!  I used the Project Life app to create a 4×6 collage that was two side-by-side copies of this vertical photo, printed, and cut in half.  They fit perfectly!
Step 5:  Display in a place where no one will try to eat the hot-glued candies (only my kids do that?) or gift to Grandma!
Looking for another easy Valentines craft for kids?  Check out these 'Cupid Yourself' photo Valentines or one of these free Valentines decor banners!