This year I've been devoting one week a month to a themed blog series with daily blog posts.  I've talked all about project life, shared some 'wish someone told me sooner' parenting advice, written about ways to preserve your memories/photos, revealed our favorite things in West Seattle, taught a few easy photo editing tips, celebrated my third birthday, shared ideas for documenting childhood, revealed my favorite apps, given ideas for fun ways to use your photos, dished about my family's favorite recipes, and this month I'm sharing fun DIY photo gift ideas!
---
Photo calendars are SUCH a great gift!  A day will be instantly brightened when your (mostly) sweet child/grandchild's face is smiling at you from the personalized calendar displayed on your desk.
Sure, it's SUPER easy to make a photo calendar through many online companies (Pinhole Press's are my favorite), but if you're on a tight budget or just really like getting crafty, I created a FREE template that you can print to make your own photo calendar!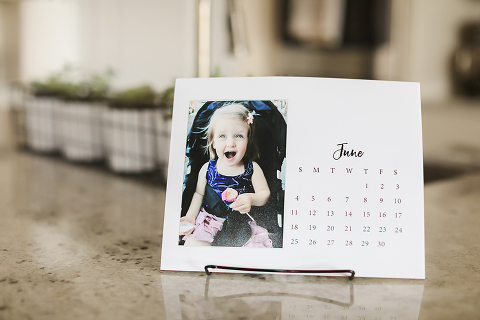 make your own photo calendar
Pictured above is an 8×10 photo calendar.  Here's how to make your own:
Download the free calendar template.
Print calendar pages (I recommend using a thicker paper like cardstock).
Order 12 of your favorite 4×6 photos (vertical/portrait style, not landscape).  Check out my post comparing print quality of various companies if you'd like to know where you should order prints!
Adhere photos on the given space.  (I use a tape runner to do this).
Display on a photo stand (I use this one).
OR… another idea.  Using my favorite Project Life App!
 Save each calendar template onto your phone. (On an iPhone, click the link below, then hold your finger down on the calendar image & select save image).
[ january  I  february  I  march  I  april  I  may  I  june  I  july  I  august  I  september  I  october  I  november  I  december ]
Open the Project Life App and select the collage section (it's the orange button).
Drop in the calendar template + your favorite photo.  Create one for each month.
Order the prints!  You can do this right in the app or send to your preferred printer.
Display on a photo stand (I use this one).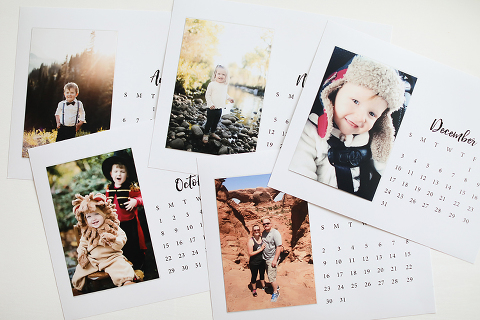 There you go!  Another holiday gift checked off your list!
---
More fun DIY photo gift ideas are coming all week long!  If you'd like to receive a summary in your email inbox at the end of the week, enter your email address here!