This year I've been devoting one week a month to a themed blog series with daily blog posts.  I've talked all about project life, shared some 'wish someone told me sooner' parenting advice, written about ways to preserve your memories/photos, revealed our favorite things in West Seattle, taught a few easy photo editing tips, celebrated my third birthday, shared ideas for documenting childhood, revealed my favorite apps, and this week is all about fun ways to USE YOUR PHOTOS!
---
Now that you know the best places to PRINT your photos, here's a fun way to put them to use in your home!
My mom is the queen of printing photos.  I'm pretty sure she is single-handedly keeping their neighborhood Walgreens Photo counter in business.  She's constantly updating frames all over the house & at her work desk, but my favorite display of photos is her MONTHLY PHOTO WALL in the living room of my childhood home.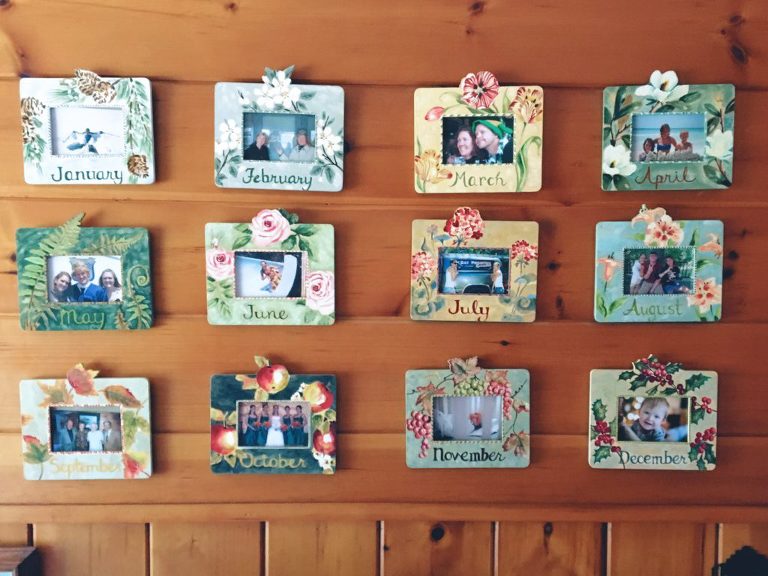 These frames have been hanging there for 20 years-ish (she ordered them from a specialty catalog once upon a time) and every time I'm home for a visit, I sneak a peek to see how they've been updated.  Certain photos stay pretty static (hello high school spring break to Florida in the April spot!), but others change every year.
make your own monthly photo frames display
As I was prepping this post, I spent quite a bit of time on google & etsy & amazon trying to hunt down frames with the months already labeled on them, but came up with NOTHING.  So, it'll have to be a bit of a DIY project.  If you're like me and not very talented with the art supplies, here's what I recommend:
 Pickup 12 of these plain (and cheap!) white frames from Ikea.  If you can't get to an Ikea, here's a basic white frame from amazon that'll cost you a little more, but it's still pretty reasonable.
Buy some Sharpies.
Go crazy.
Honestly, it'll probably take you longer to narrow down your favorite photos to ONE from each month, then it'll take you to 'decorate' the frames.  BONUS:  once you've done the hard work of selecting 12 favorites, you might as well order some fun calendars for your office or to give as gifts this Christmas!
Don't forget to check out Monday's post if you need advice on the best place to order prints!
---
More fun ways to USE YOUR PHOTOS are coming all week long!  If you'd like to receive a summary in your email inbox at the end of the week, enter your email address here!