"Smile for the camera, kids!" "Look at me and say cheese!" "No, not THAT smile… your REAL smile!" "Seriously, why can't I just get ONE NORMAL PHOTO?" Ever said any of these things? (I know I have.)
Today I want to share one simple thing that will transform your photography. This simple thing will lead to more natural poses from your subject and more authentic expressions. That thing is MOVEMENT. Instead of asking your subject(s) to stand still and smile for a photo, try having them MOVE!
… I know you're probably cringing. I can't possibly tell my toddler to MOVE, Miss Freddy! If she doesn't immediately run away, the photo will just be a blurry mess! (I've been there, too.) But, if you use movement strategically, you'll find it actually engages your subject in a way that keeps their attention longer and gets better results for your photo!
Here are a few of my tips + tricks for using movement to improve photos:
1. Play a game. At the park, I asked this toddler to hide behind the willow tree branches and then jump out at me. You can do this as 'peekaboo' or tell them to hide until the count of 3 and then jump out and say BOO. Those games take their focus OFF the camera in your hand and focus their mind on the game/task/movement instead.
2. Jump or twirl in place. These movements are natural for children. Hop like a frog. Twirl, twirl, twirl, and STOP. Or switch it up and ask them to do the movement in slow motion. For the little guy below, I asked him to crouch down until I counted to three (they usually smile really big during the countdown!) and then jump. It led to cute "poses" and expressions in both positions. Bonus: positioning squirmy kids on a big, flat rock helps too!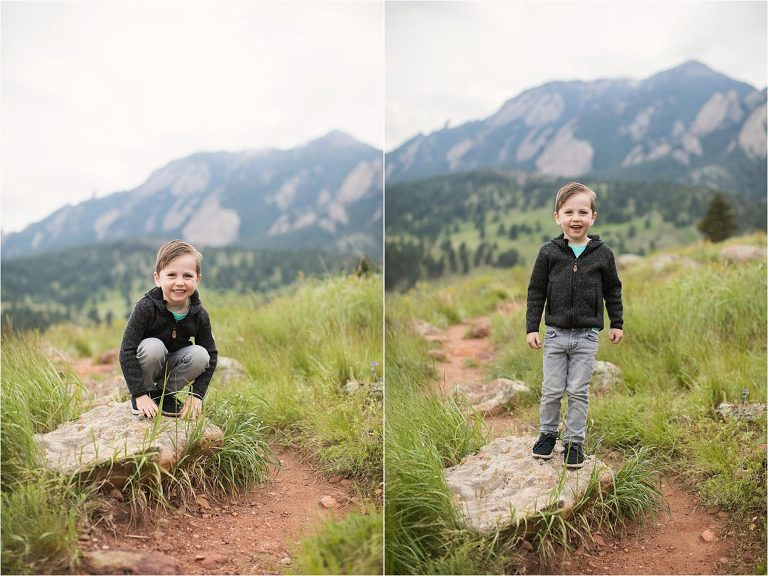 3. Hop toward me or race. It's not natural for a child to stand still so let them move! In this series, I asked this little boy to race around the Christmas tree. Then I asked him to stand in a little rain puddle and splash (in his rain boots).
Sure, when you're encouraging lots of movement, you're going to have blurry and unflattering shots happen. My advice is to take a lot of photos. Keep shooting through the movement. Then review the results and you'll probably find a brilliant photo in the mix (keep that one and toss the rest). Maybe it's a lot of work in order to get that ONE photo, but the smiles above are worth it!
---
Want more tips for photographing kids? I shared all my greatest tricks inside my FREE "Photographing Kids" online course!