As a professional photo organizer who has invested quite a lot of money in scanning equipment, my stance has always been that phone scanning apps can't achieve the same high quality results of a scanner. But now that phone cameras are pretty decent, I was curious about how the scanning apps would stack up side-by-side. I downloaded TEN of the top rated scanning apps and put them to the test.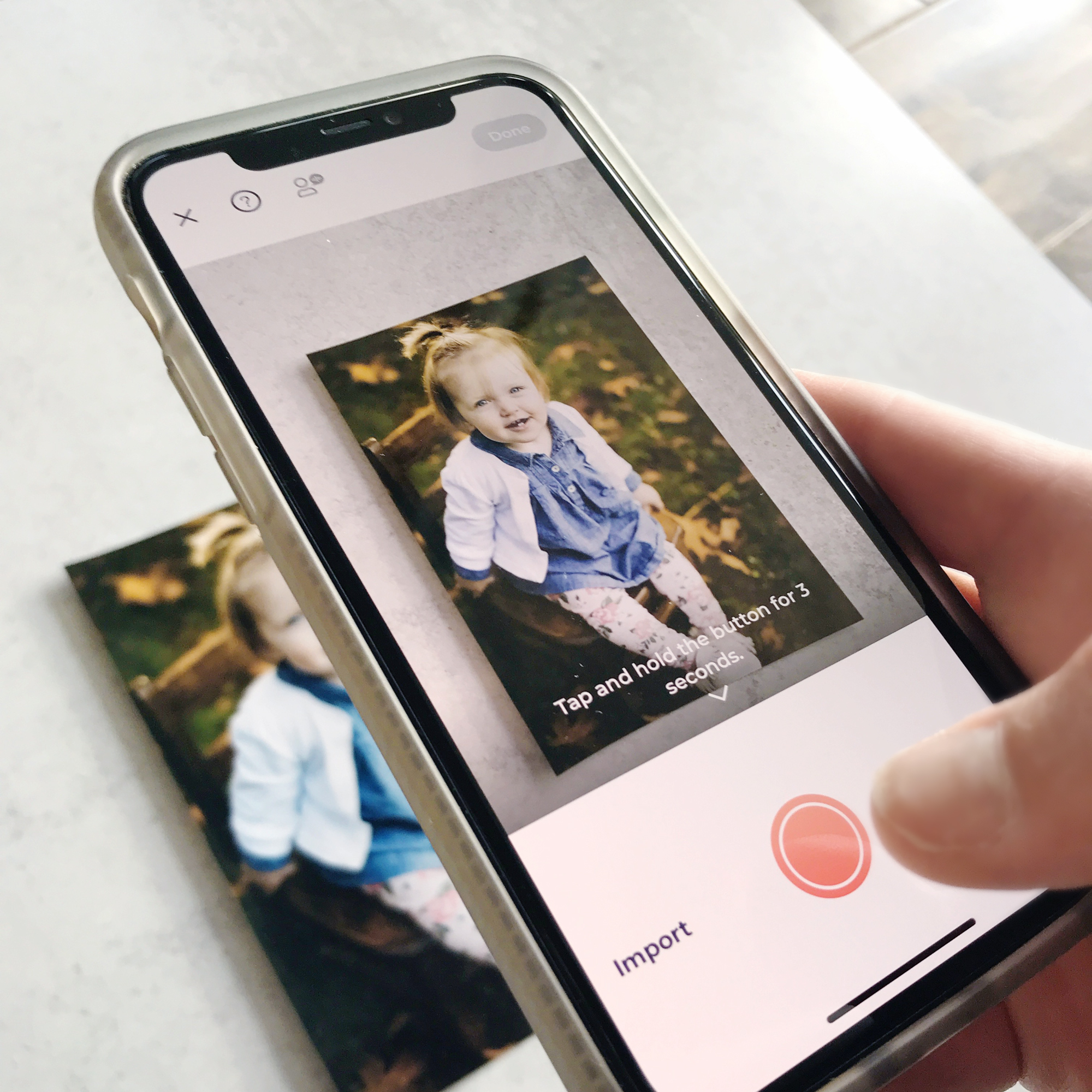 tips for scanning photos with your phone
Before I get into the results, I want to share how to scan photos with your phone. The quality of the scan is heavily influenced by the quality of your camera and your environment/lighting. To get optimal results, here's what I recommend:
1. CLEAN YOUR LENS! This is hands down the most important thing you can do. Wipe the lens of your camera to improve clarity and color of your final scanned image. The photos below were scanned with the same app, in the same setting… all that changed was a quick wipe of the lens. Check out the difference it made: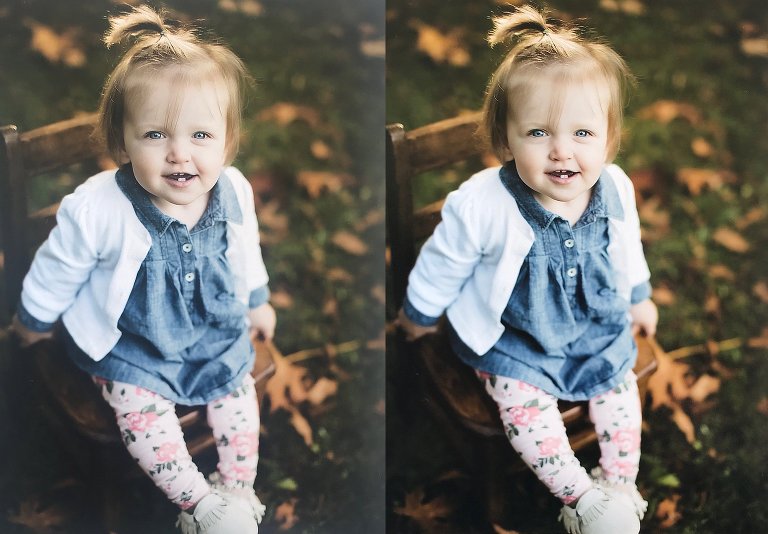 2. Use natural light. Scan during daytime hours so you can avoid artificial indoor lighting or flash (these create glare). Photograph in indirect daylight near a window or door.
3. Use a plain, neutral background so the photo borders are visible to the scanner when it does automatic cropping. Avoid bold colors as a background (like green, blue, yellow, or red) because they will throw off the white balance of your phone camera.

---
photo scanning app comparison
For this comparison, all scans were taken with the same phone, in the same location with the same lighting (on the same day). I was so surprised the results varied as dramatically as they did!
How did the "app scanned" files compare to files created by a scanner? The final scans from the apps were 1-2MB in size versus 9-10MB from my scanner. What does that mean? If you want to print/enlarge the digitized photos, you should stick with a physical scanner. If you're digitizing images to share on social media or keep only in digital form, you may be ok to use a scanning app instead.
Photomyne ($9.99/month, $39.99/5 years)
This was a great scanning app. It automatically detected the photo, cropped accurately, and moved quickly. You are able to download the app for free, but it cannot export the files to the Camera Roll without the paid plan (kind of a crucial feature). The main advantage of this app is that you can scan multiple photos at once- a huge time saver. If you'll be scanning lots of photos that are in old albums, you can scan the entire page and it'll automatically crop them into individual photos- pretty cool. Pro Tip: The default scan setting applies a 'restore' filter automatically to every scan- disable this in in Settings if you wish to keep your scans true to the print.

Unfade ($4.99)
This was another great scanning app. It was quick, easy to use, and pretty accurate. The advantage is it's a one-time payment instead of a subscription. Free to scan 20 photos, $4.99 for unlimited scanning or $9.99 for unlimited scanning with editing functions (including 'magic restore'). The disadvantage is that it's not available on android devices.

Photo Scan (free)
I've heard this app recommended many times because it's free and created by Google. I was encouraged because it requires you take four photos and merges them together, which I thought would lead to larger image size + less glare. But this was not the case. The final file sizes were no different than my other scans and it was actually the ONLY app that had glare visible in the final image! Plus, taking four images takes four times as long to complete your scan.
In both tests crops weren't accurate and in the image of my daughter it distorted the photo so her face is wider (strange). I wouldn't recommend this app.

PicScanner $3.99
The app was easy to use and inexpensive, but I found the color + crop of the final images wasn't as accurate as the other apps. I wasn't impressed.

PicScanner Gold $7.99
This is the upgraded version of the previous app, promising higher resolutions and additional editing capabilities. One of my tests resulted in a 10MB file, but the other was a 1MB so this was inconsistent. Again, I wasn't impressed.

---
Check out the side-by-side results:
Photo #1 (30 year old, slightly faded print):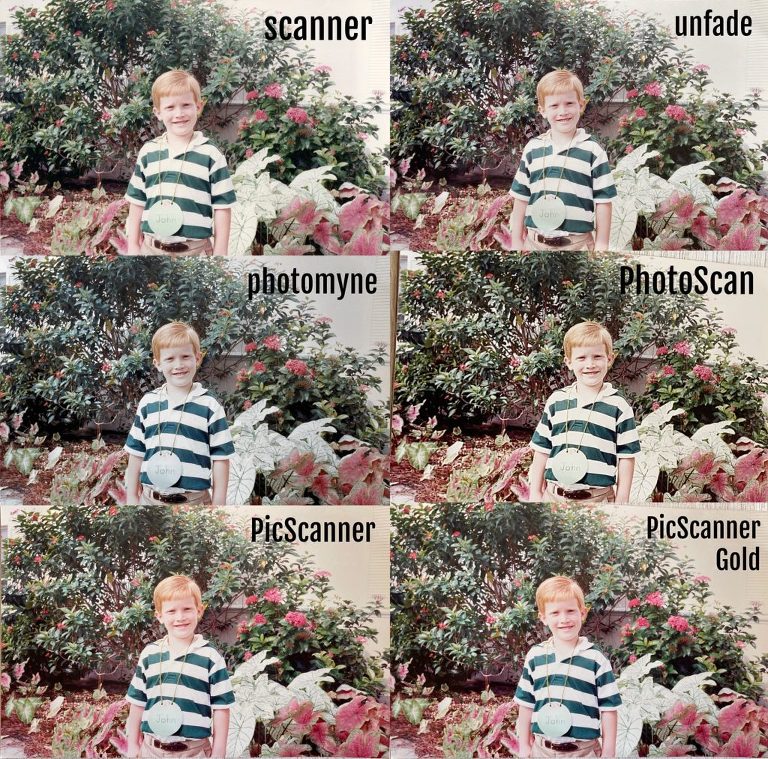 Photo #2 (5 year old print):
---
The Results:
Photomyne and Unfade were my favorites. They were both easy to use + more accurate than the others in terms of crop and color. The advantage of Photomyne is you can scan multiple photos at once which will help if you're tackling a BIG project + it's available on iPhone AND android devices. The advantage of Unfade is that it's a one-time payment instead of a subscription, but unfortunately it's only available on iPhone.
Both allow you to download the app for free and test it out- see which you prefer!
---
Other Apps Evaluated:
Photo4Album Scanner ($2.99)
I tested this app multiple times, but it kept crashing when I tried to export the photos to my camera roll. Not recommended.
Family Search (free)
The description of this app mentioned photo scanning, but the only feature I could find inside was taking a photo using your regular phone camera.
CamScanner (free)
This app is meant for scanning documents and allegedly had issues with Malware so I decided not to use it.
Genius Scan (free)
Again this scanning app is meant for scanning documents so I did not include it in the test.
Shoebox (no longer available)
This app was mentioned in several articles I found online, but is no longer available.
---
Want more information about scanning photos? This blog post has my favorite scanners and my Organizing Old Photos online course has all the step-by-step tutorials!