I cannot WAIT for my upcoming spring mini photo sessions!  If you're not sure what to wear, check out these simple spring looks I put together from OldNavy.com.  They're cute, well coordinated, reasonably priced & will work for summer too!
what to wear for spring family photos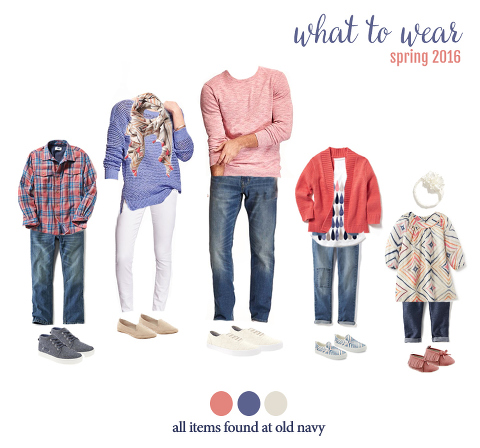 boy:   shirt  I  jeans  I  shoes
mom:  scarf  I  sweater  I  jeans  I  shoes
dad:  sweater I  jeans  I  shoes
girl:  sweater  I  shirt  I  jeans  I  shoes
baby:  headband  I  dress  I  leggings  I  shoes
Looking for more outfit inspiration?  Check out last spring's looks (I doubt the items will still be available at oldnavy.com, but you can still get some general ideas)!
Disclaimer:  This post contains affiliate links.  If you purchase a product through an affiliate link, you will pay the same price, but I receive a small commission.  I only share products I love from companies I trust.