Ok now that it's officially November, we can start discussing Christmas!  (More than just announcing my christmas tree farm photo sessions.)
This time of year I frequently get asked by my clients & friends for recommendations on where to order holiday cards. Since my digital files include a print release, my clients are welcome to take their photos anywhere they'd like, but I'm always thankful when they ask for a recommendation because there can be dramatic differences in quality & color across companies.
So, here are my recommendations.  And spoiler alert: they're the same companies I recommended last year, but I did score some new promo codes you CAN'T MISS!
where to order holiday cards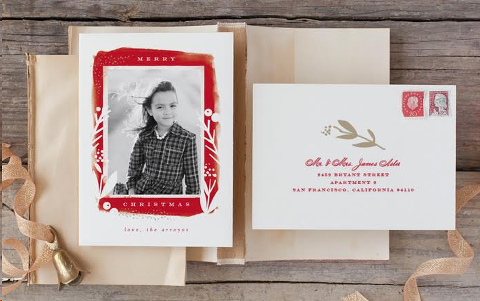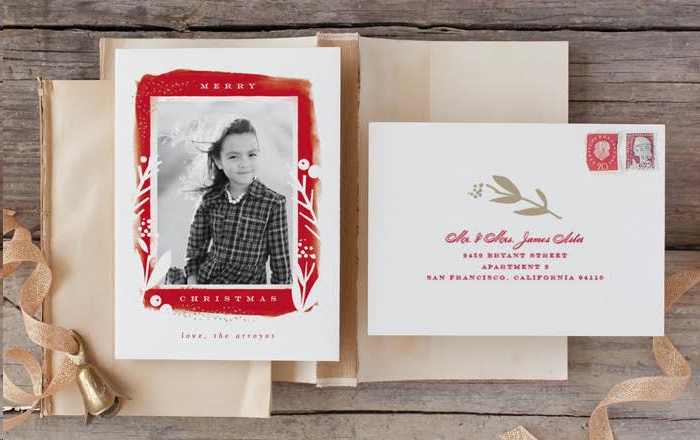 [photo credit:  Minted]
BEST PRICE/VALUE:  Tiny Prints.  They're owned by Shutterfly, but I find their quality & designs are far superior.  Plus, they are offering fans of Miss Freddy an EXCLUSIVE 40% OFF YOUR ORDER!  Use the link above and code TPPH9FB469 (let me know if you have any trouble with the code… it's only good for the first few customers, but I will ask for another if there is more demand).
BEST DESIGNS:  Minted is my favorite for holiday cards.  You'll pay a little more than Tiny Prints, but their quality & designs are worth it, in my opinion.  They have excellent color/paper quality.  PLUS, this year they've released really fun envelope designs [pictured above] and will even ADDRESS YOUR ENVELOPES!  What an amazing time saver!
BEST QUALITY:  Pinhole Press.  I was introduced to Pinhole Press when I attended a photography convention a couple years ago.  I was drawn to their booth because their products were simple & stunning, but as soon as I touched the paper I was in love.  The quality is top notch.
And it probably goes without saying but if your holiday cards are featuring images by Miss Freddy, I'd LOVE to be added to your recipient list!  Happy (early) holidays, friends!
Disclaimer:  This post contains affiliate links. If you purchase a product through an affiliate link, you will pay the same price but I receive a small commission.  I only share products I love from companies I trust!