Ever wondered how to include VIDEOS in a photo book? This is how I do it!
When I discovered the 1 Second Everyday app 5 years ago, I started taking more and more video clips with my iPhone. Gradually I noticed my memory keeping behaviors shifted- the number of photos I took decreased and the number of videos increased. I love the way our memories come to life through these clips. I think both photos + videos are important.
Each year I make a Family Yearbook to combine my favorite photos from the year with journaling that tells our stories- it's a tradition I started in 2011 and my family LOVES these books. The first week in January I spend a few hours picking out my favorite photos + putting together my book. [If you want to get more information on how I create these books quickly + efficiently, check out my self-paced Family Yearbooks online course.]
This year I decided to incorporate our family video clips in a new way– through QR codes on our pages! When the book arrived and I showed my kids how we can scan the QR code with my phone and instantly watch the movie- it BLEW THEIR MINDS! They were so excited about this year's book!
The best part? It's SUPER simple to do!
How To Include Videos In Your Photo Book
Upload your video to a web-based location. I saved my family videos as "unlisted" on YouTube. You can also use Vimeo or Dropbox or another website where your video is saved. Tip: Do not upload to Youtube as "private" because this is only visible to specific authorized email addresses and you don't necessarily know who will be scanning the QR code in your books in the future (ex: my children don't have email addresses yet).

Create a QR code that links to this web address. I used QR Code Generator to make mine. Another popular one is QR Code Monkey (this one offers more color customization options). Save the QR code as a photo. Note: you should not have to pay to generate a QR code- these are

free

services.

Add the QR code to your Family Yearbook, just like a regular photo! Because I had 7 total videos/QR codes that I wanted to include in my Family Yearbook this year, I got a little fancy and added text below each code using Canva (a free graphic design website). It helped me keep the different codes straight and make sure they got added to the proper page in the Yearbook. This is what my codes looked like, coming out of Canva:
And here's what they look like in my 2020 Family Yearbook: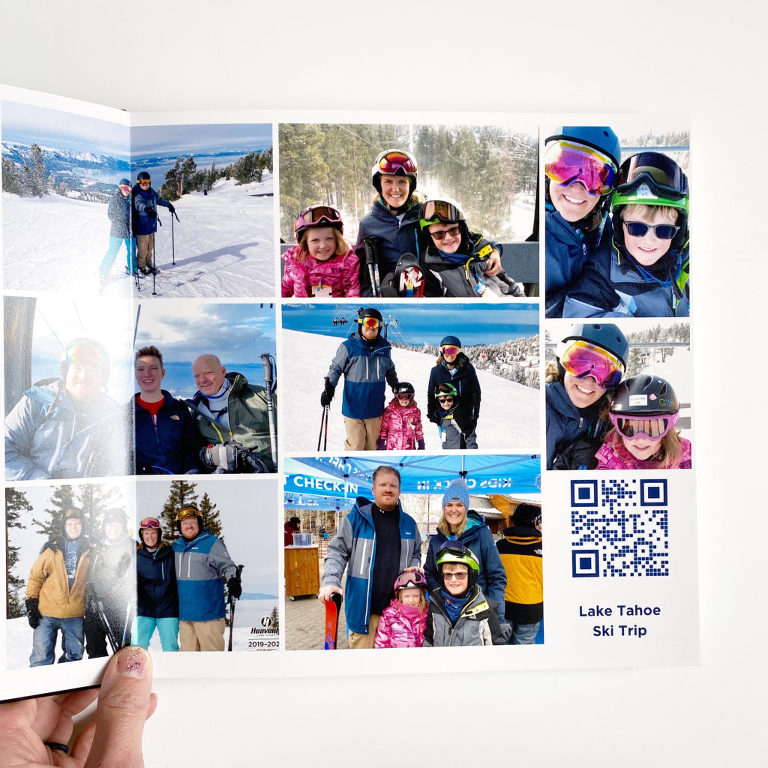 Not as 'pretty' as the rest of the photos on the page, but still really fun! (P.S. Do you like my glitter manicure my 6 year old gave me last night? 💕)
---
Need help creating custom family videos to link to your QR code? Check out this blog post about how I create "annual reels" for my family each year or this post about how I create custom videos for our family vacations!