Ever wondered if you should scan old scrapbooks? Recently I worked on a fun personal project: digitizing four very bulky scrapbooks my mother-in-law made 70 years ago during a road-trip around the USA she took with her parents (look below- they're almost as tall as my computer!), turning them into a fresh, modern keepsake album.
In the last 3 years I've made seven red leather albums for her, covering various 'chapters' of her life: childhood (I shared that one here), early married life, welcoming each child, her current marriage, and her trip around the world as a 16 year old. This USA road-trip project is the eighth book in the series.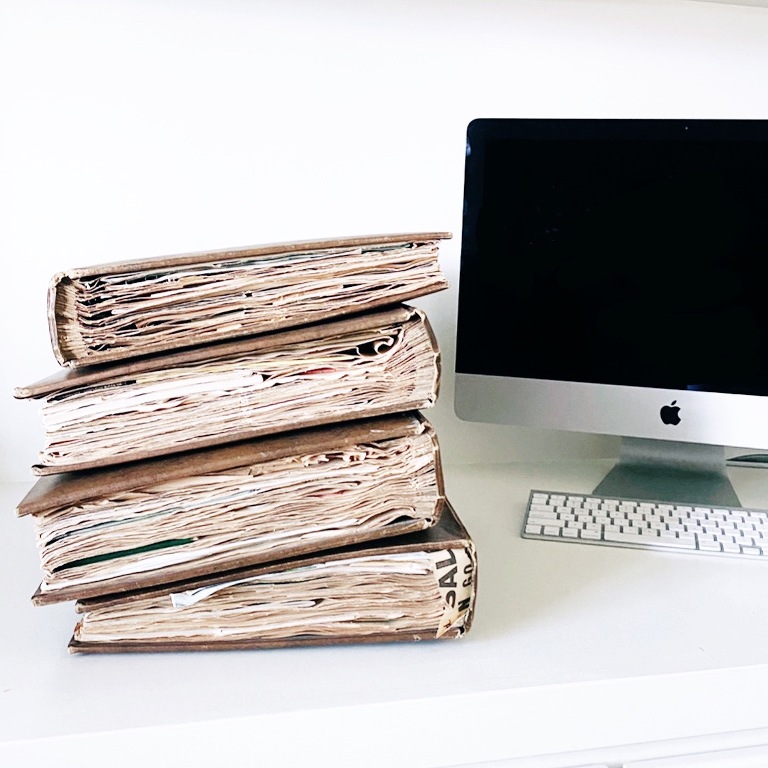 Here's a quick outline of my process:
1. First, I wanted to digitize the old scrapbooks. Normally I scan old scrapbooks with my A3 flatbed but since these were beginning to fall apart, I decided not to scan them on a flatbed. Instead I used my DSLR with a copy stand + lighting to photograph each individual page. If you don't want to invest in a copy stand, you could photograph in natural light and use a tripod with an overhead arm (this is the tripod I have and LOVE)!
2. Once all four books were digitized, I cropped the photos in Lightroom down to the outline of each page. There were 280 final page 'scans.'
3. Next I reviewed all of the digital files to flag the ones I thought should be included in the new album. I use Adobe Bridge to flag my favorites (the 5 key on the keyboard adds 5 stars to the file). I focused on pieces that told the story well, were visually interesting, and not repetitive. The scrapbooks had a LOT of blank space too.
4. For the pages I flagged as favorites, I cropped the full page photos down to individual photo files for the elements (ex: cropped down to capture one brochure from the whole page).
5. I brought all of these favorite photos, now cropped individually, into Album Stomp to begin designing the pages. I pulled the photos into collages and added a 'first pass' at the story text based on the scribbles I read in the scrapbooks (she was only 9 when she made them) and things I pieced together from the memorabilia.
6. After designing all the page spreads (16 total), I sent proofs to my mother-in-law to get her edits. She made some minor changes/additions to my text.
Then I ordered the book! It's a 10×10 beautiful lay flat album with a red leather cover from Madera Books (only professional photographers can order these, but my other favorite vendor Printique offers similar leather albums!).
The cover reads "JJJ USA" because they called the trip "JJJ over USA" (all three of them have names that begin with the letter J).
Here's what it looks like!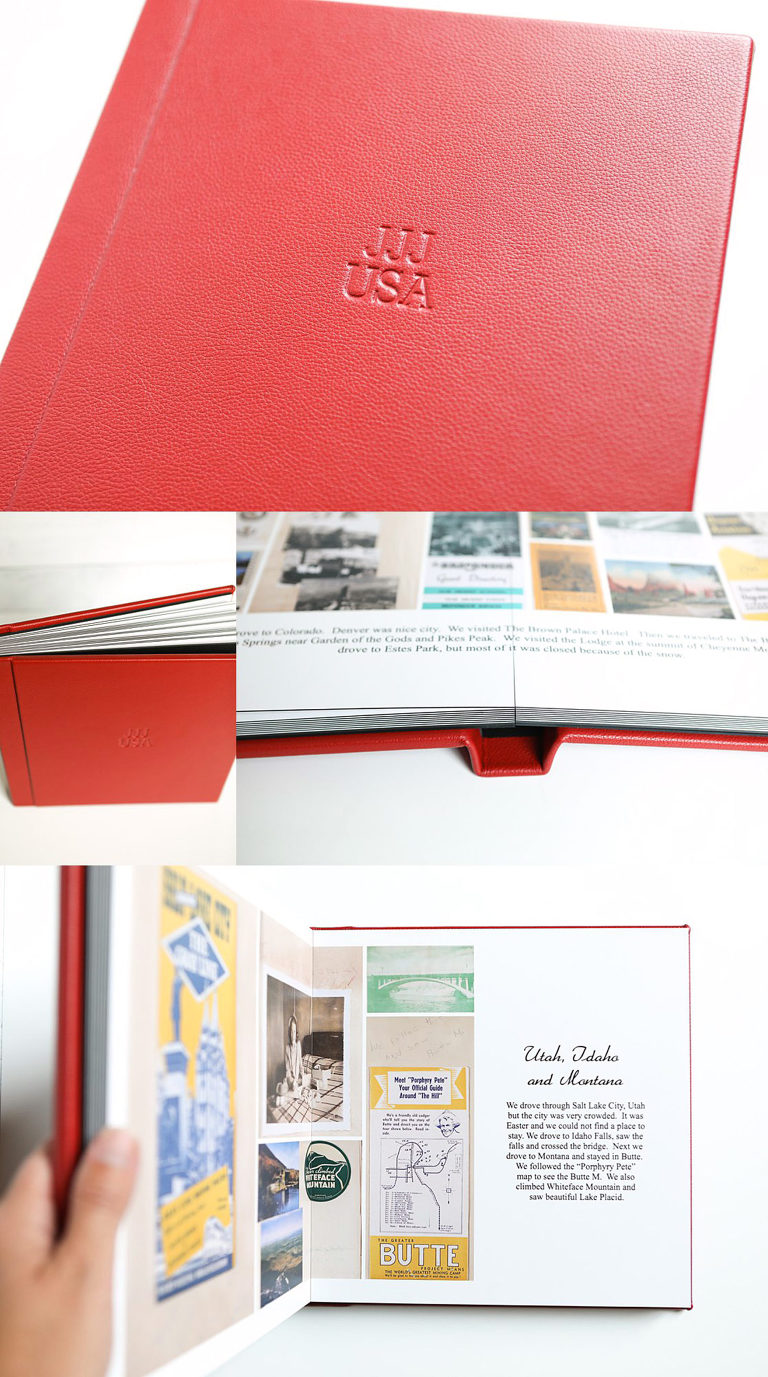 If you'd like to see a full flip through of the page designs, here's a quick 1 minute video of the book!

Want to see more behind the scenes of this project? I shared a LOT of information on Instagram stories as I was working on this project. It's saved as a highlight called "Scan Project" in my bio.
Have a similar project on your wishlist? I'd love to help! Check out my Photo Organizing Services (this is the Custom Keepsake Album)!