This year I've been devoting one week a month to a themed blog series, with daily blog posts.  I've talked all about project life, shared some 'wish someone told me sooner' parenting advice, written about ways to preserve your memories/photos, revealed our favorite things in West Seattle, taught a few easy photo editing tips & celebrated my third birthday.  This week, I shared fun & easy ways to document childhood!
---
fun & easy ways to document childhood
How is the week already over?  To quickly recap, I shared free monthly photo signs for baby's first year, tips for creating a baby book quickly (with a free notes page download to organize your thoughts!), a fun way to preserve your child's artwork, and a template for a cute DIY birthday banner to showcase your child's progression over the years.  Today, I'm sharing a freebie that'll help you document the school-age years.
I've shared this in prior years, but the new files are updated for the 2016-2017 school year!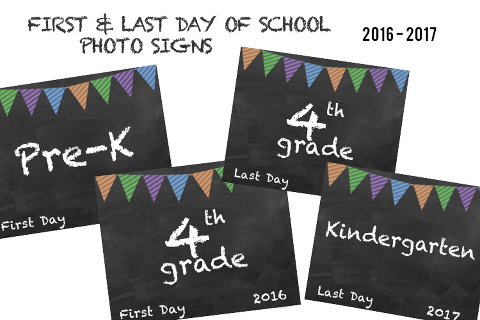 Document the big first day with these cute (FREE) signs, designed by Miss Freddy!  Simply print the necessary grade(s) for your kid(s) and have them hold the sign for a quick photo.  Also included is a 'last day' design so that you can repeat at the end of the school year, compare the photos & see how much your child has grown.
As a bonus, I'm including a matching first day of school interview template (also FREE)!  Have your little one(s) fill out their answers- it's the perfect way to keep a record of their handwriting & personality at this age!
download your free first day of school photo sign
Download your FREE BACK TO SCHOOL PHOTO SIGNS + FIRST DAY INTERVIEW by clicking the link.  And consider subscribing to my blog so that you never miss a freebie (and are clued in for next month's blog series)!