I knew I wanted to do one more 'day in the life' post before the end of the year [it's been three months since my last one], but after busy season I wasn't itching to pick-up the big camera.  I saw this date on our calendar… a random Wednesday… completely blank.  No preschool.  No daycare.  No work.  No playdates.  That never happens.  I wasn't sure exactly what I'd photograph on such a 'boring' day, but, I photographed LIFE.  And this is what it currently looks like…
December 16, 2015 [Colin is 3 years old, Jillian is 14 months]
Usually Colin strolls into our bedroom in the morning, but when we still hadn't seen him at 7:45, I went into the kids' room to see what was going on (hooray for sleeping in!).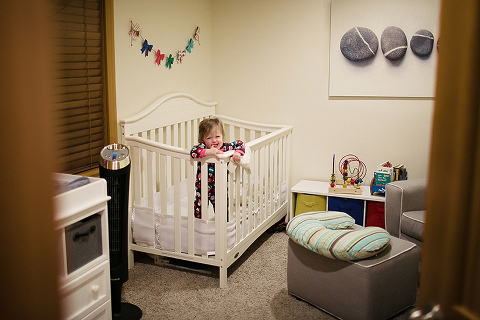 Both of them were awake, but still in their beds.  When I told them it was time to get up, Colin gathered up his three lovies + Sophie (not sure what sparked the interest in her again, but she must come everywhere).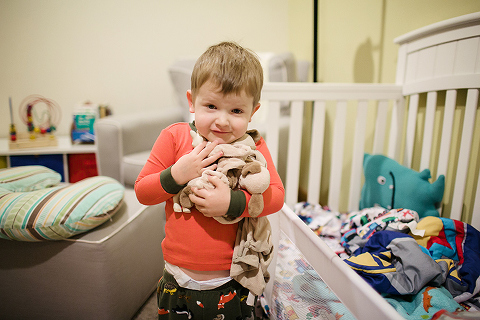 Colin told me that he'd found a Christmas tree in his bed.  Colby was very curious, hoping it was a treat, but was disappointed to find it was a wooden tree from Colin's train set.  Although I wouldn't be surprised if Colby found something edible in Colin's bed one of these days… toddlers are weird.  
Lately, the first stop is always our [mini] Christmas tree.  Colin stands nearby and waves his arm, exclaiming 'MAGIC!' while I turn on the lights with a remote control.  Then he checks on his favorite ornaments: snowman, coffee cup, baby sleeping in stroller, Thomas, and Santa.
After breakfast, we launch into the usual hanging-out-around-the-house routine:  Jill climbs into the tiny chair for a sit.
Jill's 'lovie' is always in her hand these days.  Even though she has the most adorable bunny lovie from Grandma Josie, she has attached fiercely to these burp cloths.  It's kind of sad, but at least we have a billion of them!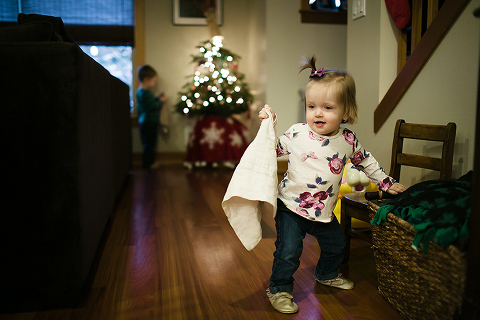 Then, Jill's favorite activity:  taking out the storage bins and emptying them… piece by piece.
This happens at least 15 times a day (or rather… as many times as I will humor her by putting everything away).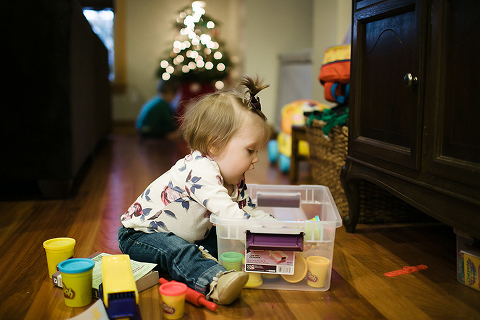 Next we ran a quick errand [met Daddy at the bank to notarize a form we'd been putting off for six months!]
Then we went back home for the rest of the morning and eventually I decided it would be fun to take the kids out for lunch.  I loaded up the stroller and we walked to West 5.  We don't go there often because it's not terribly kid friendly, but they do have TWO tables in the front where kids are 'allowed' (no high chairs or kids menu though).  However, their food is delicious and an awesome treat for Mommy.
This next photo is a pretty accurate view of what lunch looks like with small children… at least before the food arrives.  Napkins & silverware strewn all over the table.  The glasses pushed far enough away so as not to be reached by the baby.  And a giant rock.  Obviously.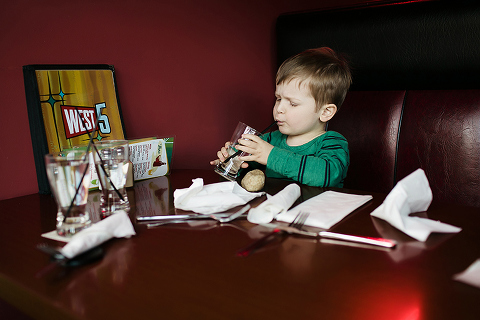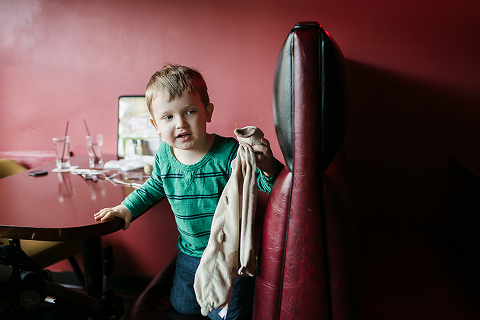 After lunch we walked back home so Jill could take her afternoon nap.  All she needs is a quick bottle & she's fast asleep.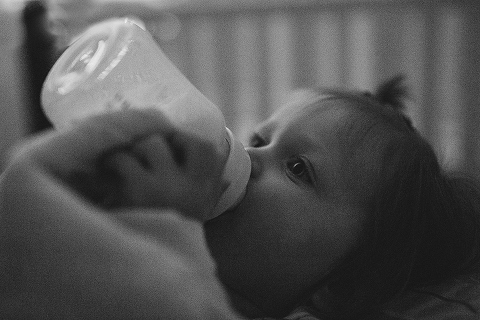 After her bottle, she rolls over: buns up.  Her little feet!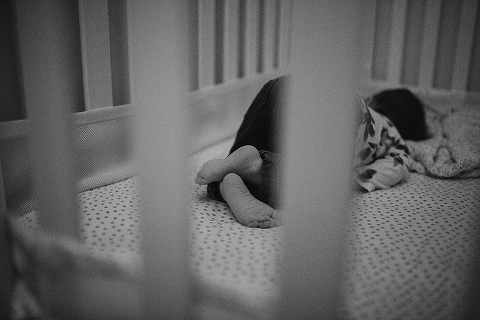 While Jill naps, Colin usually has 'quiet time' which means he gets to watch TV.  But today we had to make a special treat for Colin's 'spotlight week' at preschool.  I decided to make Oreo truffles (because I crave them around Christmas!) and since they're sometimes referred to as 'reindeer poop' I thought they'd be a hit (what 3-4 year old doesn't find poop funny?).  Bonus: Colin was actually able to help with the entire no-bake recipe!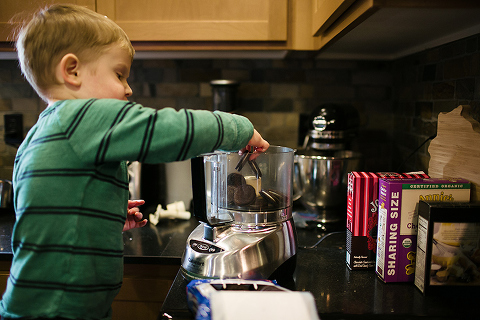 While they chilled in the fridge, he went back to Bob the Builder.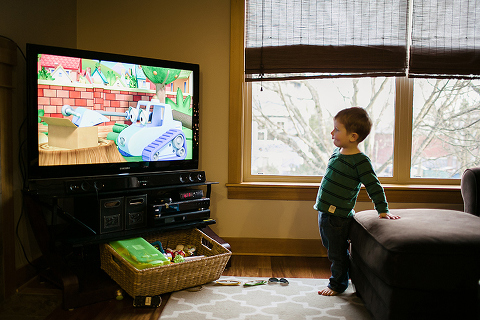 Meanwhile, Jill woke up.  Her bedhead is awesome!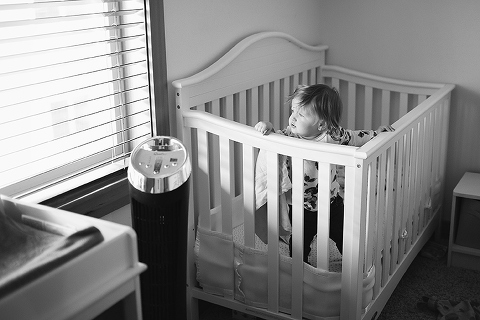 We played in the nursery for awhile…  Colin requesting book after book after book [see this post for his current favorites] while Jill pulled everything out of the toy bins.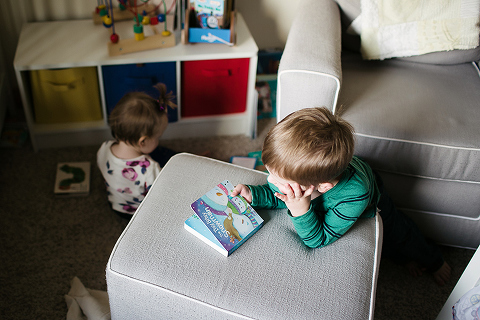 Going a little stir crazy so it's off to the gym!  (Seriously, built in childcare is the best!)
Totally boring photo, but I didn't want to lug the big camera into the gym.
Home for dinner.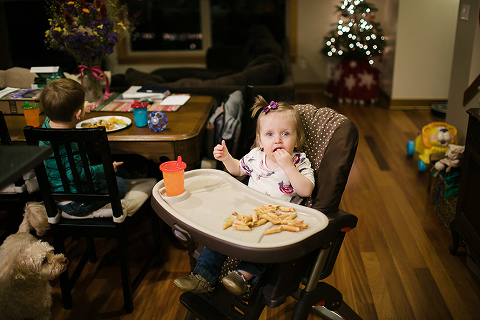 Oh, and we can't forget those truffles: time to dip in chocolate and add the sprinkles!  Colin was REALLY good at making sure each one was adequately sprinkled.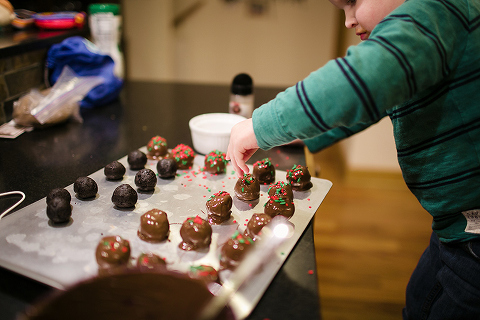 Bedtime routine starts EARLY (bath around 6:15).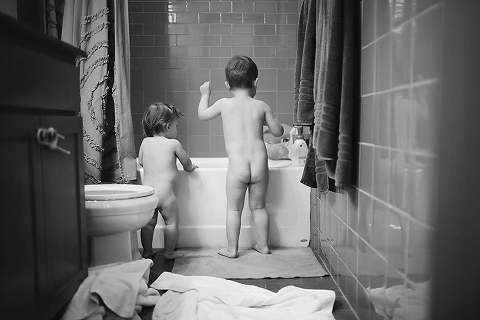 Unfortunately that means Dad isn't always home for bedtime, but sometimes he catches the tail end… and then Colin requests 'tackles' (being thrown onto the bed).

Books, bottle & bed by 7.  That's a wrap!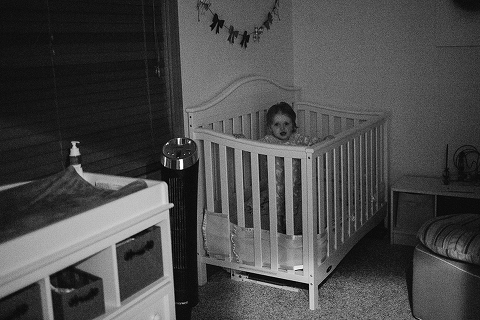 Want to see more days in our life?  Check out my previous posts in the series or follow me on Instagram!
All photos were taken with my Canon 5DMarkiii & 35mm f/1.4 lens [see more of my camera gear recommendations]!