I previously shared that I finally stopped making excuses, signed up for a session of Fit4Mom Body Back, and will be blogging weekly updates about the 8-week adventure.
Well, last week was Week 1.  Except… it coincided with our trip to visit John's family in Florida and I couldn't actually attend any of classes.  I was a little nervous that I'd miss out on some of the kickoff excitement and relationship forming, but luckily a major component of the program is a private Facebook group.
In the Facebook group, fellow Body Back mommas share healthy recipe ideas, laughs and encouragement.  They even help with accountability by requesting 'sweaty selfies' after the at-home workouts.  I was able to jump into the community even though I was all the way across the country!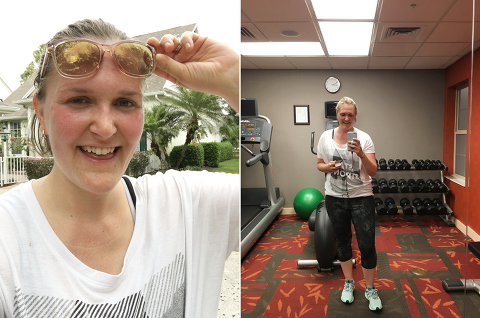 When I signed up for the program, I knew I'd be out of town for kickoff week.  I intended to 'live it up' while on vacation, perhaps over-indulging before my return to Seattle where 7 remaining weeks of Body Back would be waiting for me.  But once I was invited to the Facebook group and could see all these inspiring women kicking BUTT, I was motivated to start right away.  I made healthy food choices (as best I could while constantly eating out) and even managed THREE workouts to stay on par with the group.
After a week away, we returned to Seattle and I stepped on the scale.  I LOST TWO POUNDS!  [potentially the first time in history I've returned from a trip weighing LESS than when I left!]
I'm so glad I jumped right in.  There was absolutely no need to wait.  There will ALWAYS be an excuse to keep from making yourself a priority (trust me… I'm the queen of excuses!), but if you want to see a change, you have to make a change.
[Update:  my final results are in!  Or check out all of my weekly Fit4Mom Body Back posts!]