Two weeks of Fit4Mom Body Back are in the books already!  (Actually, nearly three weeks are complete now… had to delay this post because of my 'preserving your memories' series this week!)  The bad news: the scale didn't move this week.  My routine & diet were in flux while entertaining a visitor.  I had to introduce her to my favorite bakery & Beecher's macaroni and cheese!  Duh!
The good news: week two brought my first in-person fitness classes.  Because we were traveling during week one, I participated 'remotely' with at-home workouts.  The in-person classes are so much fun!  Don't get me wrong… they're hard.  Like really hard.  But, unbelievably, I find myself smiling during the workout, encouraged by the amazing group of women surrounding me and energetic instructors.  [It's hard not to smile when the instructor squats in front of you with a goofy grin while you're trying to hold a plank!]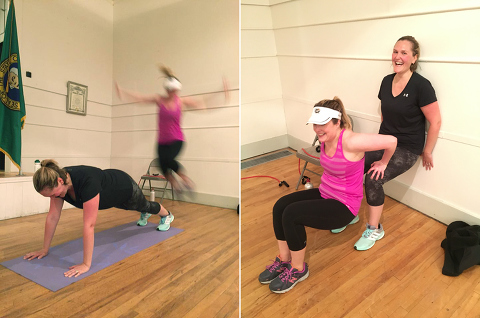 we all start somewhere
The Body Back group is nice and small.  Each class is limited to twelve women.  The coolest part is that there's so much variety in my group- girls who were just cleared to workout after baby, experienced mommas going through their third or fourth consecutive session (I guess they're addicting!), and everything in between.
I was really intimidated to start Body Back.  Mostly because I was scared I wouldn't be strong enough to keep up with the exercises.  I knew the HIIT (high intensity interval training) program would include things like push ups and burpees and exercises I couldn't do without modification.  I knew I'd be more comfortable walking on the treadmill at the gym, reading my Kindle, going at my own pace… not really challenging myself too much and then wondering why I wasn't getting results.
After the first couple in-person classes, it was obvious that I had no reason to be scared.  The group is so full of encouragement.  The instructors will push you, encourage you, challenge you, while still respecting your limits and your position on the journey.  We all start somewhere… so just start.
[Update:  my final results are in!  Or check out all of my weekly Fit4Mom Body Back posts!]