It's been a little while since I checked in about my Fit4Mom Body Back journey.  There was a bump in the road, called Hand Foot & Mouth, that knocked me off course.  Surprise!  Turns out I'm one of the lucky few adults capable of catching this disease and, even better, the older you are, the worse the symptoms.  I couldn't leave my house (it's suuuuuper contagious) for the entirety of Week 6.  Bright side:  it was excellent for weight loss (I couldn't eat anything at all) but that quickly changed after I discovered how wonderful a McDonalds milkshake felt on my poor, disgusting throat.
So, yeah, week 6 was a big fat NOTHING.  No workouts.  No (lasting) weight loss.  Hence, no blog post.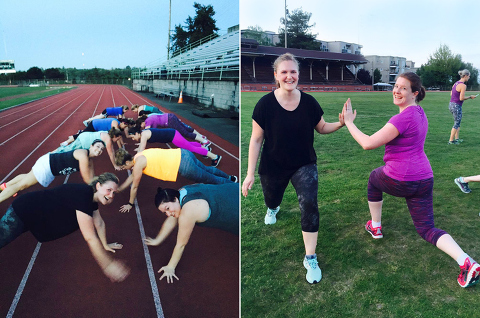 getting back on the fit4mom horse
The pressure was on for week 7.  After spending a full week too sick to get off the couch, that pesky inner (very lazy) voice crept in: 'it's pointless, casey.  you've lost all your progress & momentum.  doesn't it feel good to just do nothing?'  I was feeling defeated and lacking motivation.  As if all my hard work had been erased.
Thankfully I had the accountability of the group (and this blog!) to offset that lazy devil on my shoulder.  Final assessments were scheduled for Sunday!  I really wanted to get my strength back in time for that milestone and I only had one week to do it!
So, I worked HARD during week 7.  I did both group classes & hit the gym on the 'off' days.  I found that my endurance came back quickly (a pleasant surprise).  And the scale budged a little more, bringing my total weight loss to 7 pounds (in 7 weeks).
As I'm sharing this post, it's the last week of the Fit4Mom Body Back session.  Two whole months FLEW so quickly.  I had my final assessment over the weekend and I was really pleased with the results.  The numbers are currently being calculated & the before/after photos haven't come out yet, but I'll be sharing my FINAL results next week!  Stay tuned!
[Update:  my final results are in!  Or check out all of my weekly Fit4Mom Body Back posts!]