Is it really Friday already?  It's been quite a week!  To recap, we've talked about how to safely handle & store your family's photos, how to quickly scan photos to create digital copies, how to back up those digital files, and how to create photo memory books.  But for this final post in the 'preserving your memories' series, we will be switching gears a little and talking about…. how to organize VIDEOS!
Now, let's start by setting expectations.  I'm a portrait photographer.  I take photos for a living.  I, however, do not do video professionally.  My video experience is very limited (taking iPhone videos of my children) and I'm certainly not an expert on this subject.  However, I found a SUPER easy technique for organizing & saving my family's photos that I think others will enjoy.  If I can do it (with no video experience), anyone can handle this!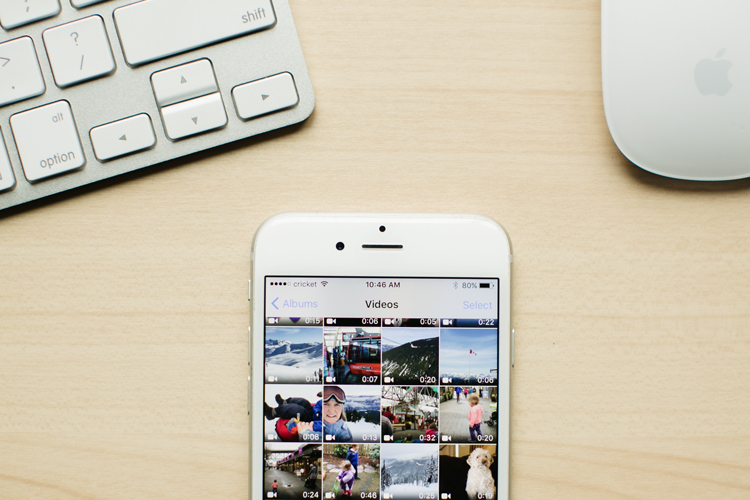 how to organize videos with a highlight reel
I have fond childhood memories of popping a VHS tape into the VCR and watching moments my parents recorded.  Camcorders may be a thing of the past, but since it's so easy to record a video with your phone, I still have PLENTY of family home videos.  And, even at just 1 & 3 years old, my children LOVE to watch clips of themselves.  So, at the end of the year, I decided to try something new.  I took all of my iPhone videos from the year and turned them into one giant video reel (and by giant I mean 20 minutes long).  Even though I expected it to be a monumental feat, once I had everything organized on my computer, it took all of ONE MINUTE to make the reel using iMovie.
Check out this tutorial to see just how easy it is:
If you don't have an Apple computer, you're in luck:  iPhones now come with iMovie installed on them!  You can use the app on your phone to create a video reel too!
After I created my 2015 video reels (one for each child), I saved them on youtube (as private/unlisted) and shared the link with family.  I will be including the urls in the back cover of my Project Life album so that my kids will be able to find them in the future.  Oh and they've also proved to be quite effective at silencing (I mean "entertaining") my kids in a restaurant!
preserve your memories in 1 second everyday
In addition to the annual video reels, I've discovered another way to preserve my family's video memories:  the 1 Second Everyday app.  This app is SUPER slick and REALLY fun!  You can see some of my 2016 clips on Instagram.
At the end of the year it'll only be six minutes long, but full of SO many memories!  I highly recommend this app!
---
Well, that wraps up the 'preserving your memories' blog series!  But don't worry, there will be more fun coming later this year… I have a 'themed' blog series planned for every month.  Make sure you're on the list so that you receive all the fun in your inbox!