Continuing with the Miss Freddy birthday week theme, I thought it would be fun to share a list of my family's FAVORITE BIRTHDAY TRADITIONS!  These are fun things (you may already be doing) that will delight your family year-after-year!
Growing up, birthdays were a big deal in my family.  My mom loved to dream elaborate themes for our parties and decorate intricate cakes.  I have fond memories of my birthday parties- some of which you'll see here as we take a little photo journey through Miss Freddy's childhood.  If nothing else, hopefully these photos serve as proof that I didn't *actually* look like Fred Flinstone for my ENTIRE childhood.  It was a special resemblance that thankfully was exclusive to my newborn days (and sparked the nickname Freddy that's lasted for life).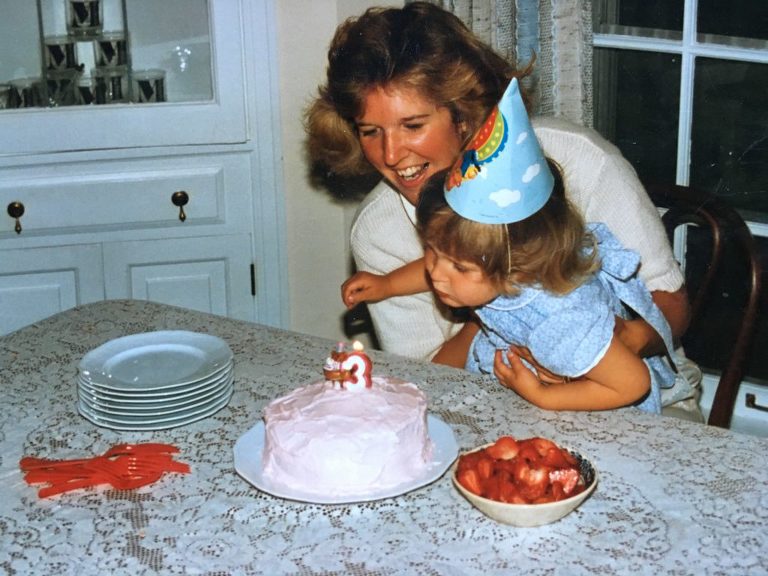 our favorite annual birthday traditions
1. take new portraits.
Ok, you saw this one coming right?  I'm a professional photographer OF CHILDREN.  I don't usually do this tradition ON the actual birth date, but I try to take the birthday child out for a quick photo session within a month of their birthday.  After photos?  ICE CREAM… obviously.
I don't want this to turn into a sales pitch, but if you're in the Seattle area, a great way to get updated individual photos of your child is a Playdate with Miss Freddy!  Quick, fun & super affordable!
2. write a birthday letter.
My kids aren't aware of this tradition, but it's one that I treasure and I hope they will too someday.  I write a personal letter to each of them on their birthday (you can find examples here & here) and plan to turn them into a book when they're 18.  It's a heartfelt tradition that doesn't cost a cent.
3. serve birthday pancakes in the shape of their age.
This started by accident because we were having pancakes on Colin's first birthday and I thought it would be fun to make one in the shape of a 1.  Then, I did it again for his second birthday.  And for Jill's first birthday.  And, well, I guess now it's a birthday tradition!  I purchased one of these pancake pens to make it a little easier and maybe I'll even attempt a double digit one for John's upcoming birthday.
4. let the birthday girl/boy pick the dinner menu.
I grew up with the tradition where I got to pick my favorite meal for dinner on my birthday and my husband did too (perhaps it's already a staple in all households), but one way to make it a *tiny* bit more special is to say there are NO RULES.  Ice cream for dinner?  Whatever you wish!  It's only one night after all… make some fun memories!
5.  one-on-one dates with mom & dad.
We are going to start this tradition this year because until this point the kids have been a little too young to understand, but Colin is turning FOUR this fall so I think it'll be perfect.  The birthday gift is a special one-on-one date with Mom AND another one-on-one date with Dad.  For the dates, the birthday boy/girl gets to pick the activities.  And Mom/Dad will be delighted… even if the choice happens to be Chuck E. Cheese (fingers crossed that Dad gets that one. Not enough Excedrin in the world!).
Does your family have any fun birthday traditions?  I'd LOVE to hear about them!  No, really, leave a comment because I think traditions are really fun and would love to incorporate more into our family.