It's here!  Our 2013 family yearbook!  I know I've already shared many of the digital pages, but there's something different about holding the final, printed book in hand.
For those of you who are already Project Lifers and contemplating switching to the digital version, here are my thoughts:
PRO:  No hassling with printing photos.
PRO:  Easy to duplicate in event of emergency (or to make additional copies for family members)
PRO:  The printed books are slim & sleek, taking up much less space than the binders.
PRO:  No stressing over 'perfect' handwriting (or is that just me?)
PRO:  Layouts are more flexible since you can easily resize photos.
CON:  Need to be pretty comfortable in Photoshop to be most efficient.
CON:  Waiting all year for the final book!!
Digital is the only way that works for me, personally.  It's all I've known & I have a system that works well for me (takes about 1-2 hours/month).  If you have any questions, you can always send me a note!  I love to talk about Project Life!
I use Blurb for printing my completed books [I outlined the process, step-by-step, in this post] and I am thrilled with the quality.  I upgrade to the wraparound image cover & proline uncoated paper- these upgrades are SO WORTH IT!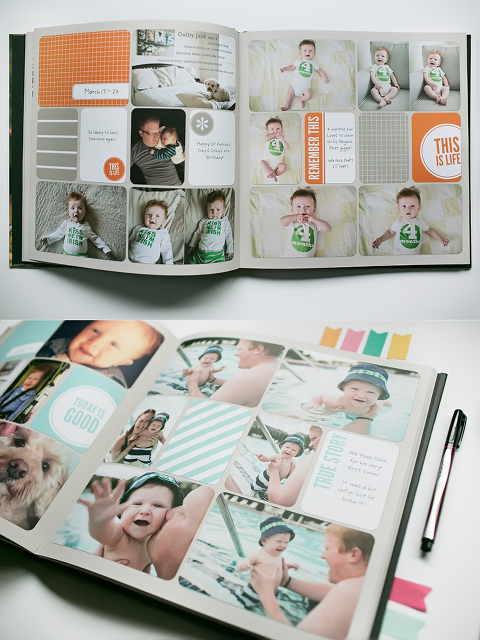 free cover template for digital project life!
The digital project life kits include everything (and more) to make a digital book, except no cover template.  I have used the same cover for the past two years- I kept it simple with just one family photo & the year.
Like it?  Download your own copy for free!  [this is a .psd file for use in photoshop]
Are you doing Project Life this year?  Leave a comment below!