When I posted last month about my experience with Project Life, I never anticipated I'd get so many responses. My little ol' blog went from basically no visitors [except you, Mom!] to thousands & thousands of hits in a day.
The part that was most interesting to me was how the simplicity of my pages resonated with so many people. I've seen others share their beautiful pages, wonderfully embellished, using all kinds of unique techniques & supplies. I was hesitant to share mine because who would want to see my super basic pages? I was touched to see how many people appreciated the benefit of keeping it simple.
So, I'm going to share more!
August 11-17. We had visitors in town for two weeks [our first visitors since moving here!] so there were a LOT of photos. With the exception of the green screen shot at the Space Needle [top right], all photos were taken with my iPhone 4S [I will be sharing more about how I edit my iPhone photos in an upcoming blog post.]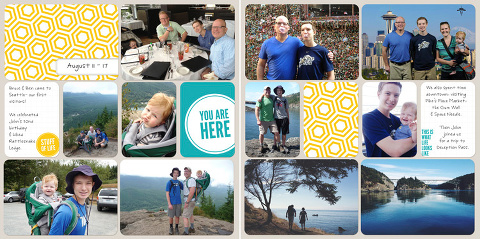 We celebrated John's 32nd birthday, hiked Rattlesnake again, visited Pike Place Market/Gum Wall, toured the Space Needle & hiked around Deception Pass. WHEW that was a big week!
August 18-24. Our visitors were still here for the beginning of the week. Again there were a LOT of photos. The right page is mostly from my 'big' camera [a Canon 5d mark iii], except for Colin in the shopping cart which was an iPhone photo.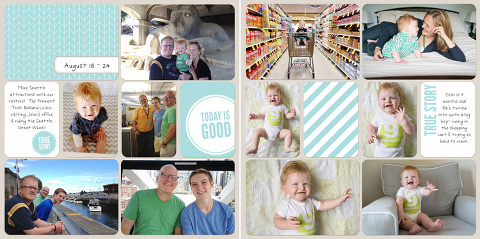 [psst… recognize this layout? Earlier I shared it with photos from April & June. Remember how I recycle layouts to save time? Love it.]
We visited the Fremont Bridge Troll, saw the Ballard Locks & rode the Seattle Great Wheel. After our visitors left and things slowed back down, I was able to take out my camera for Colin's monthly photo shoot. NINE MONTHS OLD! I include his monthly photos in our family book, as well as his baby book [I'll share his full baby book once it's finished… three more months.]
In total, it took me about 30 minutes to upload my photos & create both pages. The benefit of keeping it simple!
Want to read more about my process for creating digital pages? Check out this post.
Want to purchase the digital templates and start your own book? Click here.
Think digital may be over your head & prefer to buy the hard copy Project Life kit? Click here.
Want to see more pages? Let me know by 'liking' or leaving a comment below!