Geez, December 2013 feels like it was a YEAR AGO already.  December seems to be different than other months– I majorly rush through the pages because I am SO ready to move onto a fresh design for 2014 [I'm using the Kraft edition] and SO ready to order the finished book.
Speaking of finished books: as I was working on this post, the FedEx man showed up at my door, with our PRINTED BOOK [ordered from Blurb.com].  Yes, it's sitting next to me on the couch as I type.  Later, we're going to spoon and watch the season premiere of Downton Abbey.  But we'll talk more about the finished book in a blog post next week.  Today, we're remembering December in all its holiday glory.
December 1 – 7.  Picked out a Christmas tree from our church's lot.  Since we're residents of the Evergreen State now, a live tree was the only way to go.  We also enjoyed a mid-week date night and saw Jimmy Fallon's comedy tour [love that guy].  Then Colin & I took off for Los Angeles to visit my college roommate and her 8 months pregnant belly.
December 8 – 14.  Back in Seattle, we resumed the play date scene.  Colin met Santa for the first time & we got into the Christmas spirit by making ornament gifts for the Grandmas [I know, I was surprised the Pinterest find worked out too].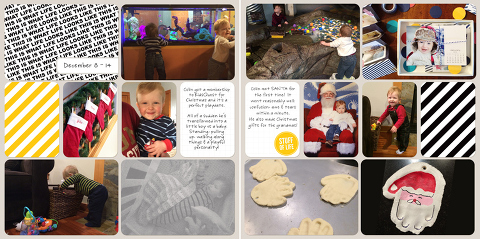 December 15 – 21.  More fun in our own city.  Playdates galore this week:  the aquarium, the kids museum & a coffee shop with a playroom.  We also toured the Christmas lights in West Seattle and enjoyed our first snowfall!  We got about one inch and schools were closed/delayed.  ONE INCH.  After nearly 8 years in Minnesota, where I once had to go to work after twenty two inches, this absolutely made my day.
December 22 – 31.  Our Midwest 2013 Holiday Tour began in Minneapolis with John's family and continued in Milwaukee with my family.  We were beyond blessed to be able to see so many of our family members this year, even though Colin greeted them with his new 'scrunch face' [he uses it for strangers & family alike].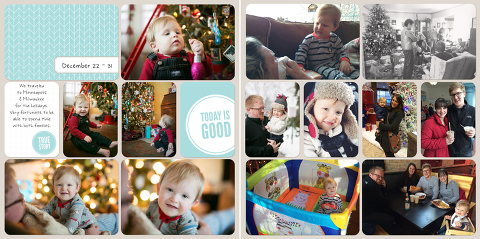 That's a wrap for my 2013 Project Life!  What an adventure-filled year it has been!